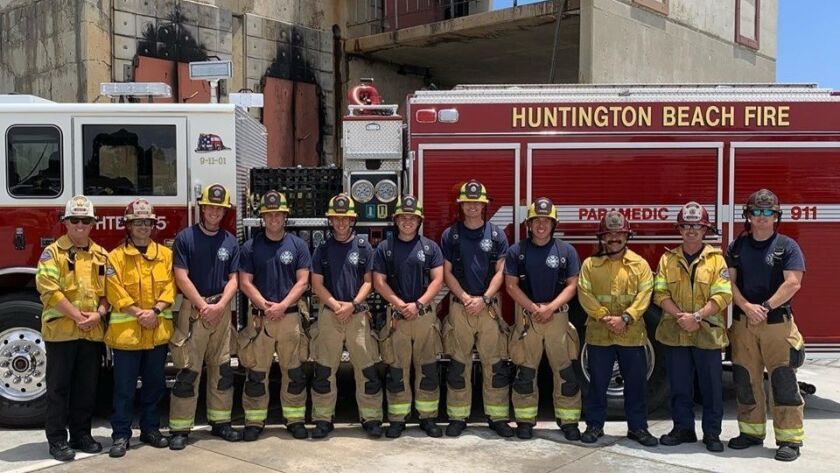 The Huntington Beach Fire Department has added six new members to its ranks.
Joining stations in Surf City are firefighters Gerrit Hill and Caesar Zurita and firefighter-paramedics Mathew Joncich, Tim Keating, Rich Sanchez and Matt Tosches.
"These new employees just finished a rigorous eight-week academy and are now out providing quality service to our citizens and visitors," the Fire Department wrote in a Facebook post Wednesday.
First phase finished for Laguna's Village Entrance project
Nearly nine months after breaking ground, Laguna Beach's Village Entrance project wrapped up its first phase this week.
So far, the project has redesigned Lot 10 on Laguna Canyon Road and Lot 11 on the corner of Forest Avenue and Broadway Street. The project introduced wider sidewalks, fresh landscaping, updated fencing, two electric vehicle charging stations at Lot 11, new lighting and 75 trees.
Work on the Laguna Beach entryway will resume in September and is expected to be completed by summer 2020.
"This newly renovated area brings beauty and an environmentally friendly design to our Civic Arts District with parking, walkways, benches, bike racks and green space to be enjoyed by residents, downtown business patrons and visitors to our summer festivals," Laguna Beach Mayor Bob Whalen said in a statement.
The City Council approved an $8.4-million construction bid in August for the Village Entrance project and broke ground in September after nearly 30 years of debate about its design.
The finished Village Entrance project will provide 370 vehicle parking spaces, as well as eight for motorcycles and 104 for bicycles, according to a news release.
Laguna Beach rolls out new parking app
People can now find a parking space in Laguna Beach before getting into their cars by using the Laguna Beach Parking mobile app the city rolled out this week.
Users can find the available parking that's closest to their destinations and pay and keep track of meters — all from the app. Officials also can use the app to track parking data and enforce parking rules.
"The goal of the city's new 'Laguna Beach Parking' app is to help users find available parking as easily as possible," Assistant City Manager and Director of Public Works Shohreh Dupuis said in a statement. "By showing all available parking in real time, drivers no longer need to circle for spots or unnecessarily search areas where there aren't any spots."
The city appropriated nearly $1.3 million in April to install the "smart" parking system. A month later, two companies that lost the bid for the system complained that the process was unfair.
Lauren Conrad — an author, fashion designer and star of the MTV reality shows "Laguna Beach: The Real Orange County" and "The Hills" — starred in the city's public service announcement for the app. The video is a self-aware parody showing Conrad looking for parking around town while on her way to film the PSA.
Stephen Colletti, another actor from the "Laguna Beach" show, makes an appearance in the PSA, rolling up alongside Conrad in the city's trolley shuttle to advise her to use the app.
OCC re-accredited for seven years
After a review, Orange Coast College has been re-accredited for seven years.
The decision from the Accrediting Commission for Community and Junior Colleges reaffirms the Costa Mesa campus's accreditation through 2026.
"This is great news for our students," interim OCC President Kevin Ballinger said in a statement. "The commission has reaffirmed that Orange Coast College continues to be in compliance with accreditation eligibility requirements, which guarantees our students will continue to receive the excellent education that Coast provides."
OCC also received performance commendations in three areas: "commitment to a comprehensive professional development program for all employee groups," "fostering an environment where innovation is encouraged and establishing a culture of collaborative leadership throughout the entire ranks of the college," and "the close collaboration of faculty, administrators and classified staff" that "has resulted in exemplary planning processes, published data and training that support college constituents in meeting the goals and mission of the college," according to a letter from the Accrediting Commission.
---