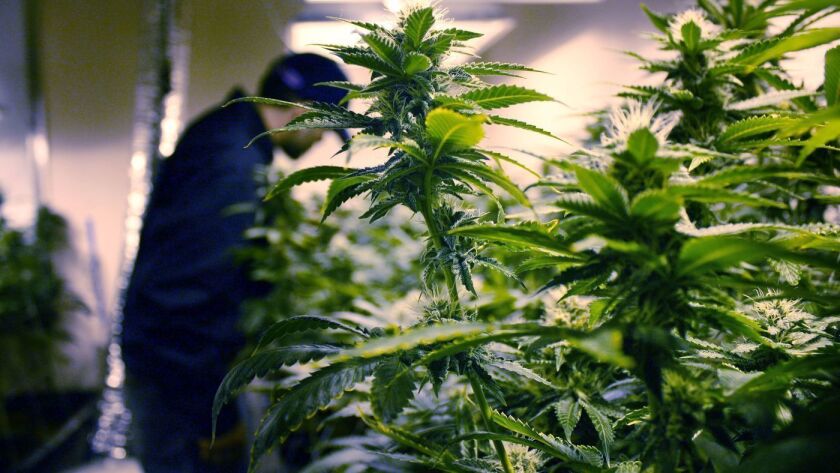 Costa Mesa's review process for marijuana-related businesses will enter uncharted territory Tuesday when the City Council takes a second look at an earlier decision to award a required permit.
So far, what's separated this particular application by Pivot Naturals LLC from the dozen other marijuana manufacturing and distribution facilities that previously sailed through City Hall isn't so much the question of whether the business should be allowed to open, but when.
City planning commissioners decided last month to grant the business a conditional use permit to operate within a 5,283-square-foot industrial space in Suite 101 at 3595 Cadillac Ave. However, they added a new wrinkle by restricting hours to 7 a.m. to 7 p.m. daily.
The commission has previously granted other marijuana-related facilities in the area the ability to operate up to 24 hours a day if demand warrants. However, in this case, a majority said they felt it was prudent to exercise caution.
"We should have been a little bit more conservative in the operating hours because of the unique nature of land use in this particular part of the city," Commissioner Carla Navarro Woods said at the time.
Under Costa Mesa's voter-approved Measure X, businesses that research, test, process and manufacture some marijuana products are allowed to open in a specified area north of South Coast Drive and west of Harbor Boulevard. As proposed, Pivot Naturals intends to process cannabis oils into a powder for use in a variety of products, including tablets, food and beverages.
The decision divided the commission, however, with Chairman Stephan Andranian and Vice Chairman Byron de Arakal saying they didn't see a reason to treat this particular application differently and questioning whether a narrower operating window could put Pivot Naturals at a competitive disadvantage with other businesses.
City Councilman John Stephens requested that the council review the application, citing both the operating hours and another requirement that the site's parking area be resurfaced and re-striped prior to the business opening.
Residential incentive overlay
Once again, council members are scheduled to determine whether to scrap the city's "residential incentive overlay," which allows development of up to 40 housing units per acre at specific nodes along Harbor and Newport boulevards.
That item was on the council's Oct. 2 agenda, but was delayed as the meeting approached midnight.
Although it's never been used, the overlay has been divisive since it was created as part of the 2016 update to the city's general plan — with opponents saying it would permit overly dense and slipshod building and supporters saying it could spur redevelopment of blighted or undesirable properties, such as some local motels.
Tuesday's City Council meeting starts at 6 p.m. in City Hall, 77 Fair Drive.
Twitter @LukeMMoney
---