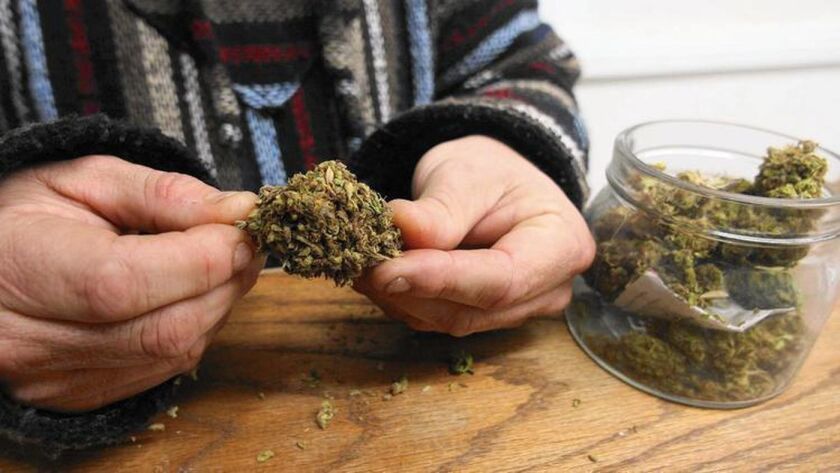 A 13th marijuana manufacturing and distribution facility took a step closer to opening in Costa Mesa after the city Planning Commission decided Monday to grant it a required permit.
The 3-2 vote, with Chairman Stephan Andranian and Vice Chairman Byron de Arakal opposed, awards a conditional use permit to Pivot Naturals LLC to operate in an existing 5,283-square-foot industrial space in Suite 101 at 3595 Cadillac Ave.
Pivot Naturals intends to process cannabis oils into a powder for use in a variety of products, including tablets, food and beverages.
Under Costa Mesa's voter-approved Measure X, businesses that research, test, process and manufacture some marijuana products can open in a specified area of the city north of South Coast Drive and west of Harbor Boulevard.
Earlier permit hearings for such businesses have been largely uncontroversial, but Monday's was marked by debate over what Pivot Naturals' hours should be.
Other marijuana-related facilities in the area have received the commission's OK to operate up to 24 hours a day if demand warrants. This time, however, a majority of the panel opted to set Pivot's business hours at 7 a.m. to 7 p.m. daily.
Commissioner Jeffrey Harlan — who has previously expressed discomfort regarding operating hours for cannabis companies — said he would prefer to "take a slower, more methodical, measured approach and get some understanding of what these businesses look like."
"We're at the infancy of this, so I'd prefer to crawl, or walk at least, before we start running," he said.
Commissioner Carla Navarro Woods agreed, saying, "We should have been a little bit more conservative in the operating hours because of the unique nature of land use in this particular part of the city."
Andranian, however, said he didn't see any justification for treating this application differently than previous ones or why cannabis-related operations shouldn't have the latitude granted to other manufacturers in the city.
"I haven't heard any substantive reason for why we would say that this industry cannot operate 24 hours a day but another industry can," he said.
De Arakal said he felt restricting the operating hours would put Pivot Naturals at a competitive disadvantage with other businesses.
"I think it's fundamentally unfair," he said. "I think we're changing the rules and we're picking winners and losers."
The conditional use permit is just one step in the process before Pivot Naturals can open. It will still need final city fire prevention, finance and building safety approvals, as well as a local marijuana business permit and business license. State approval also is required.
New butcher shop approved
Plans for a new butcher shop in Costa Mesa are moving ahead after the Planning Commission unanimously approved a permit for it.
Sections Fine Meats is looking to open in a 2,542-square-foot space in Suite 22 at 333 E. 17th St. It will be an "organic, health-oriented butcher shop that offers California-sourced free-range beef, poultry, pork, lamb and turkey," according to a city staff report.
The shop also will offer charcuterie (prepared meats such as ham and sausage), specialty cheeses and a small selection of wine and beer for offsite consumption.
The commission's permit decisions for Sections Fine Meats and Pivot Naturals are final unless appealed to the City Council within seven days.
Twitter @LukeMMoney
---