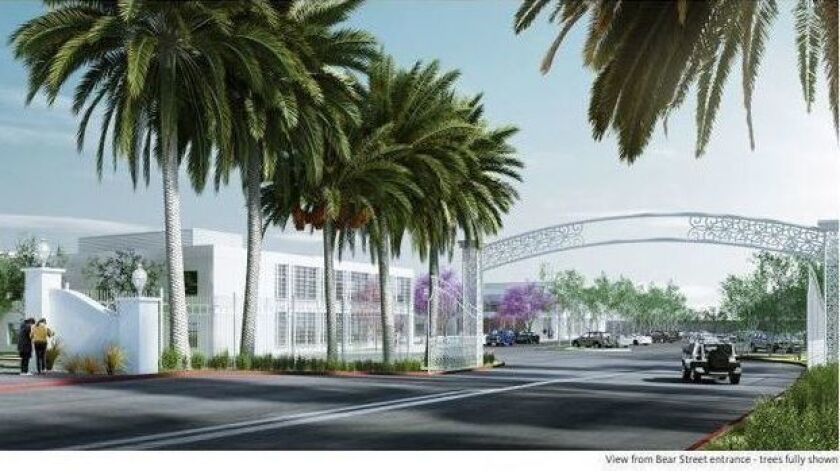 The Costa Mesa City Council voted unanimously this week to retain an environmental consultant for a proposal to develop an English-language campus for international students on the former site of the Trinity Broadcasting Network headquarters.
Under the agreement approved Tuesday, Environmental Science Associates will prepare documentation for the project related to the California Environmental Quality Act. The pact is for up to $97,537, with the cost covered by the applicant, EF Education First.
The company is looking to convert the 6.125-acre property at 3150 Bear St. into an EF International Language Campus that would offer immersive English-language instruction to as many as 1,500 students, including up to 800 living onsite.
EF Education First is proposing to renovate the existing three-story, 68,000-square-foot building on the site for faculty and staff offices, a cafeteria, a student services area and about 50 classrooms, as well as construct three new student residential buildings.
Tuesday's vote is a relatively routine step on the overall road toward possible approval. The company eventually will have to obtain a conditional use permit for the project, which would require a public hearing and the endorsement of the Costa Mesa Planning Commission.
For more information, contact EF Education First at EFCostaMesa@ef.com or (949) 873-6811.
Contract awarded for Adams Avenue project
The council also unanimously approved an agreement worth up to $320,000 with KOA Corp. to provide design and engineering services for a proposed project on Adams Avenue between Harbor Boulevard and the Santa Ana River.
The project's scope of work includes "designing landscaped buffers between vehicular traffic and active transportation users, median islands, street rehabilitation and new striping and legends," according to a city staff report, as well as "community outreach to key stakeholders, including residents and businesses," and eventually presentations to the city Bikeway and Walkability Committee and the City Council.
---