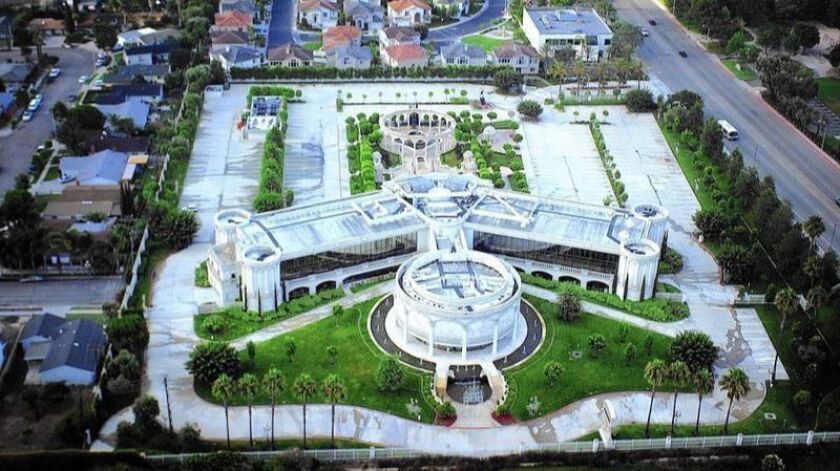 An international education company is looking to develop a new campus on the site of the former Trinity Broadcasting Network headquarters in Costa Mesa.
The proposal from EF Education First would transform the 6.125-acre property at 3150 Bear St. into an immersive, English-language learning center with up to 800 students living on-site.
"That's really what our students are working toward. They're coming here to learn English, immerse themselves in American culture, and we have students from all over the world at any given time," company Vice President Shawna Marino said in an interview Friday. "When you walk onto our campuses, you feel like you're walking into a mini-United Nations. It's a very energetic, diverse and exciting experience."
To develop the envisioned EF International Language Campus, the company would renovate the existing three-story, 68,000-square-foot building for faculty and staff offices, a cafeteria, student services area and roughly 50 classrooms. Also proposed are three new student residential buildings — one four stories, the others two — with the tallest backing up against the 405 Freeway.
Marino said the plan is "to never have more than 1,500 students total enrolled." Those not living on-site would stay with nearby host families.
Trinity Broadcasting Network — which bills itself as the world's largest Christian broadcaster — originally acquired the Bear Street property in 1996. Over the years, the site became well known for its distinctive facade and dazzling Christmas light displays.
"The Trinity Broadcasting Network building and site … is quite iconic and, when we first learned about it, we were pretty intrigued because we're not afraid to take on challenging renovations," Marino said. "We find the challenge exciting and we really love to use existing space in a creative way for our needs."
TBN sold the site in 2017 to Greenlaw Partners, an Irvine-based commercial real estate firm. EF Education First is in escrow to buy the site, though Marino declined to disclose the sale price.
EF Education First was founded in Lund, Sweden, in 1965. The privately held company now has 52,000 employees and more than 600 schools and offices around the globe — a network that includes campuses in Santa Barbara, San Francisco and San Diego.
Marino said the TBN property is "truly a remarkable location" in large part because it's so close to the coast and shopping, retail and entertainment destinations such as South Coast Plaza, Metro Pointe, the Lab and the Camp.
That proximity is vital, she said, "because our students don't own vehicles or drive."
"We want them to be in a place where they can walk, bike and take public transit, so this site is fantastic," she said.
EF students are usually young adults — typically between the ages of 18 and 26 — and instruction can last anywhere from a few weeks to six months at a time.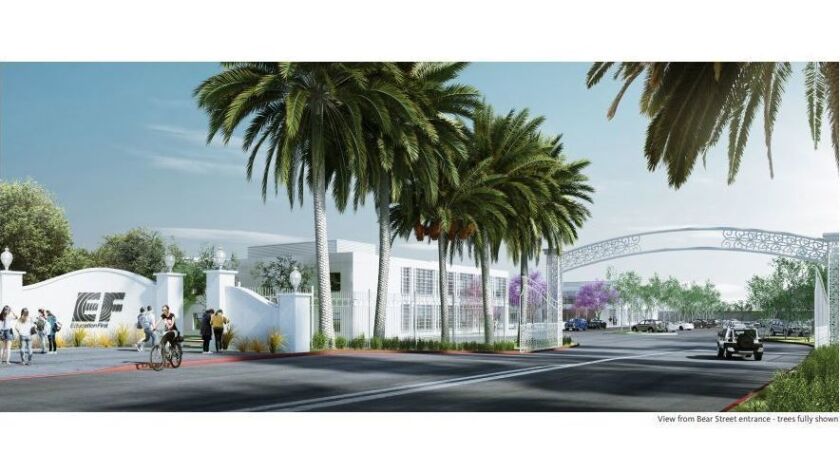 In recent months, company representatives have held several community meetings to discuss and further refine the project, as well as spoken and met individually with nearby residents on numerous occasions, according to Marino.
"I think we are in a great place in terms of understanding each other's needs and what will work best for ourselves and the neighborhood," she said.
EF will eventually need to obtain a conditional use permit to move forward with the project, which requires a public hearing and the blessing of the Costa Mesa Planning Commission.
The City Council will decide Tuesday whether to retain a consultant to prepare documentation for the project related to the California Environmental Quality Act, or CEQA.
The proposed agreement with Environmental Science Associates would be for up to $97,537 — with EF covering that cost.
Marino said the goal is to open the campus in 2020.
Residents interested in learning more about the project or in sharing their thoughts can contact EF Education First at EFCostaMesa@ef.com or (949) 873-6811.
Tuesday's City Council meeting starts at 6 p.m. in the Costa Mesa Senior Center, 695 W. 19th St.
---