Fountain Valley is O.C.'s latest city to consider taking a stand against 'sanctuary' laws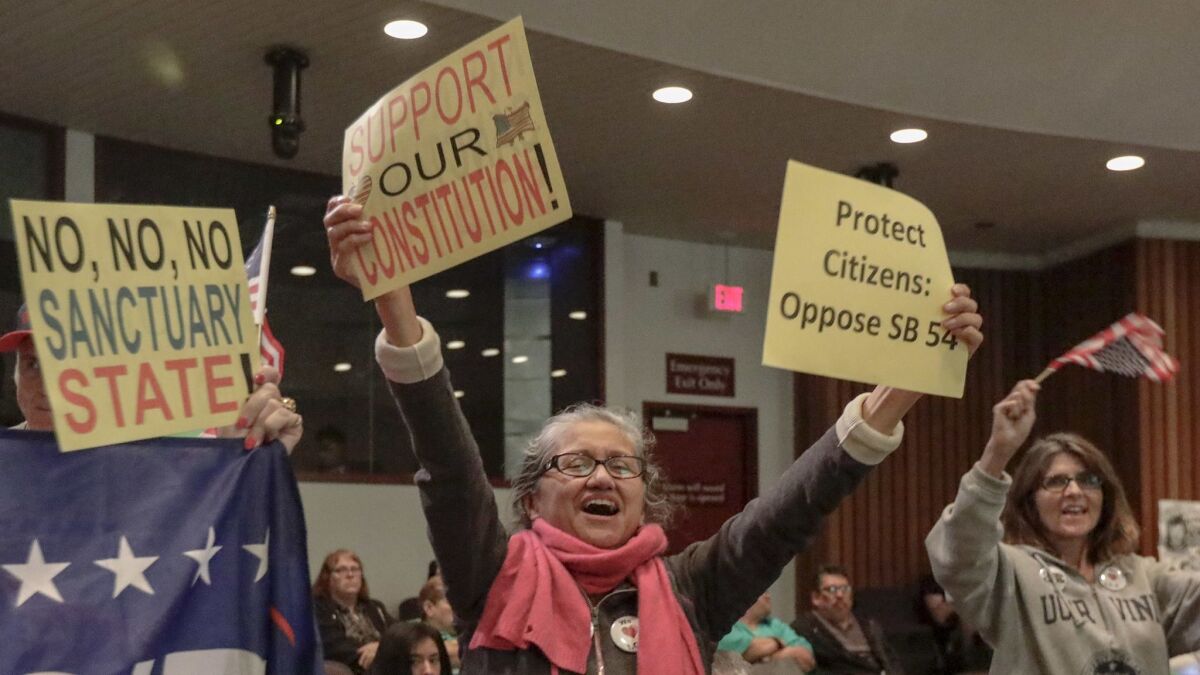 Fountain Valley is next in line to discuss taking a stand on California's "sanctuary state" immigration laws.
The City Council, at the suggestion of Councilman Larry Crandall, will take up the issue at its meeting Tuesday.
The Los Alamitos City Council kicked off a trend of resistance in Orange County when it approved an ordinance March 19 exempting the small north county city from the sanctuary laws, which aim to shield immigrants here illegally from deportation.
Since then, the Orange County Board of Supervisors passed a resolution against the laws and voted to join a federal lawsuit against California.
Several other Orange County cities have taken stances opposing the sanctuary laws or are considering taking action.
On Monday, the Huntington Beach City Council will discuss how to "seek relief" from the laws. And last week, Newport Beach Councilman Kevin Muldoon asked to have the sanctuary issue placed on a future agenda.
Mayoral selection
Also on Tuesday, the Fountain Valley council will consider changing the way its mayor and mayor pro tem are appointed. Both posts are for one year and are largely ceremonial.
The council was set to consider a new ordinance at its March 20 meeting, but Colin Burns, the city's attorney, said he wanted to reschedule the matter so he could tighten up the proposed language.
The council has four ordinances to look at to potentially replace the current one, in which council members choose the mayor and mayor pro tem from among themselves based on seniority on the council. The mayor pro tem typically is next in line for the top spot.
The proposed options differ in the amount of discretion afforded the council. Currently, council members have ultimate discretion, and they invoked it the past two years when they skipped then-Councilman Mark McCurdy when he came up in the rotation.
The action drew objections from McCurdy and some residents, and McCurdy resigned from the council in January, saying he needed to find work outside the area.
Tuesday's meeting starts at 4:30 p.m. with a study session, followed by the regular meeting at 6 p.m. at City Hall, 10200 Slater Ave.
Twitter: @Daily_PilotHD
---
All the latest on Orange County from Orange County.
Get our free TimesOC newsletter.
You may occasionally receive promotional content from the Daily Pilot.