Orange County supervisors vote to fight California 'sanctuary' laws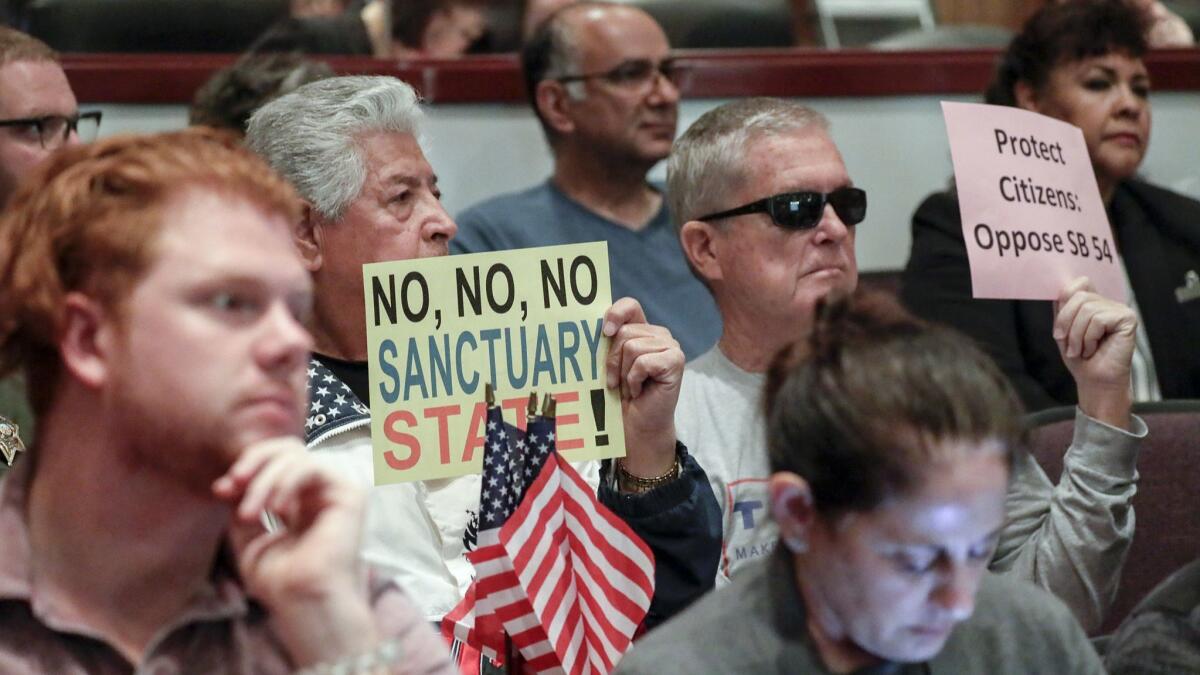 The Orange County Board of Supervisors on Tuesday voted to move against the state's "sanctuary" laws, adding a powerful voice to a growing backlash in some conservative parts of California to the state's pro-immigrant policies.
The board voted 4 to 0 to join a federal lawsuit against California's sanctuary laws.
Senate Bill 54, which Gov. Jerry Brown signed after the Legislature passed it last year, prohibits state and local police agencies from notifying federal officials in many cases when immigrants in their custody who may potentially be subject to deportation are about to be released.
The Trump administration went to federal court to invalidate the state laws, contending that they blatantly obstruct federal immigration law and thus violate the Constitution's supremacy clause, which gives federal law precedence over state measures. That case is pending.
Other cities in the county, including Yorba Linda, Buena Park, Huntington Beach and Mission Viejo, are also starting to take action against the state's sanctuary laws.
State Senate leader Kevin de León (D-Los Angeles), who wrote SB 54, warned cities going against the state's sanctuary laws.
"Pushing a racist and anti-immigrant agenda devoid of facts or supporting legal analysis is a pretty sad use of taxpayer resources, especially when it could result in crippling legal costs for cities that rush to join this dead-end effort," he said in a written statement.
Foes of illegal immigration hailed the board's vote.
"It's about time we had more bodies like this one standing up to lawlessness of the California state Legislature," said Arthur Christopher Schaper of Torrance, an outspoken conservative activist. "Steps like this will ensure that American lives will matter once again."
Raul Rodriguez Jr., an anti-illegal immigration activist from Apple Valley, praised the supervisors.
"The sanctuary state of California is unconstitutional," he said during public comments. "We need to get rid of the politicians in Sacramento who are not following the Constitution of the United States."
But others criticized the move.
"There is a fear of this progressive wave suddenly taking over Orange County," Roberto Herrera, a community engagement coordinator for Resilience O.C., a Santa Ana-based community group that advocates for immigrant rights. "The political conservative elite are scapegoating and creating false archetypes of undocumented immigrant in Orange County. They are using this fear to push their own campaigns forward."
Orange County gave birth to Proposition 187, a ballot initiative approved by voters that sought to deny public services such as public schooling and healthcare to people in the country illegally; the measure was eventually struck down in the courts. And Costa Mesa passed anti-day laborer ordinances and became the epicenter of the anti-illegal immigration movement during the mid-2000s.
Since then, however, much of the county's anti-illegal immigration fervor has eased after many of its cities experienced an influx of Latino and Asian immigrants.
But the anti-sanctuary momentum gaining ground in Orange County shows that it remains a place with a very conservative core.
On Monday, Texas and more than a dozen other states led by Republican governors got behind the Trump administration and filed an amicus brief in support of a lawsuit against California's sanctuary laws.
---
UPDATES:
8:45 p.m.: This article was updated with the final vote.
2:30 p.m.: This article was updated with reactions to the vote.
This article was originally published at 2 p.m.
Sign up for Essential California for news, features and recommendations from the L.A. Times and beyond in your inbox six days a week.
You may occasionally receive promotional content from the Los Angeles Times.