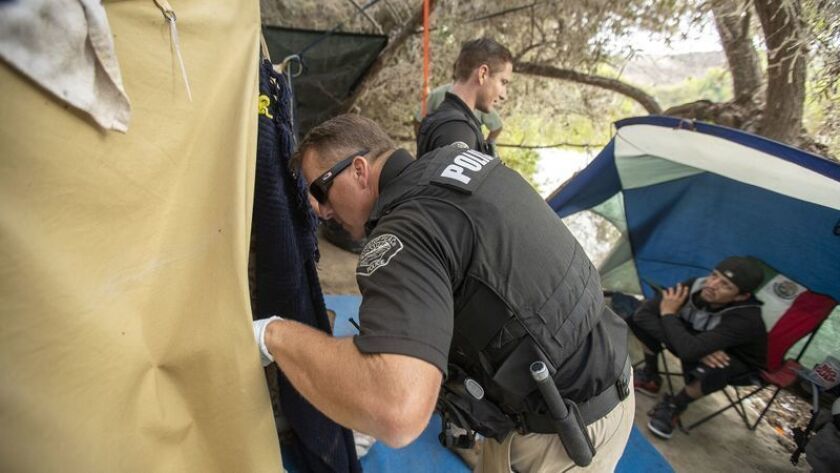 Huntington Beach city staff got the green light from the City Council on Monday to submit a plan detailing how it intends to distribute federal funding to city public service programs.
Following the 6-1 vote, staff will submit its plan next month to the U.S. Department of Housing and Urban Development. The city projects it will receive about $1.15 million from HUD's Community Development Block Grant program.
Mayor Erik Peterson cast the dissenting vote. He — like Mayor Pro Tem Lyn Semeta — took issue in March with a city board's recommendation to reduce funding for the Police Department's homeless outreach program.
Per the Citizens Participation Advisory Board, the homeless program — which includes an outreach coordinator, two full-time liaison officers and five case managers — will receive $73,355 for the fiscal year beginning July 1. The Police Department had requested $92,000. The program received $78,355 in fiscal 2018-19.
During a March study session, board member Shelly Grace-Bowers told the council that the panel wanted to "give everything to them, but we couldn't do that."
Semeta had said she wanted to keep the funding on par with the previous year.
Deputy Director of Business Development Kellee Fritzal said the city found about $250,000 in federal funding through other block grants to make sure the program is supported.
Semeta then decided to vote yes on the board's recommended $73,355 in HUD block grant funding.
Fritzal also said the city could use some CDBG funds to hire an operator for its proposed homeless shelter at 15311 Pipeline Lane.
If the city buys the property, Fritzal said, CDBG funds could be used for its acquisition. The city could pull an additional $250,000 allotted for a Public Works Department project intended to make ramps compliant with the Americans with Disabilities Act, she said.
City staff also anticipates receiving $606,864 from HUD to help fund affordable housing and housing rehabilitation programs.
The exact amount of the block grants depends on final federal approval.
---