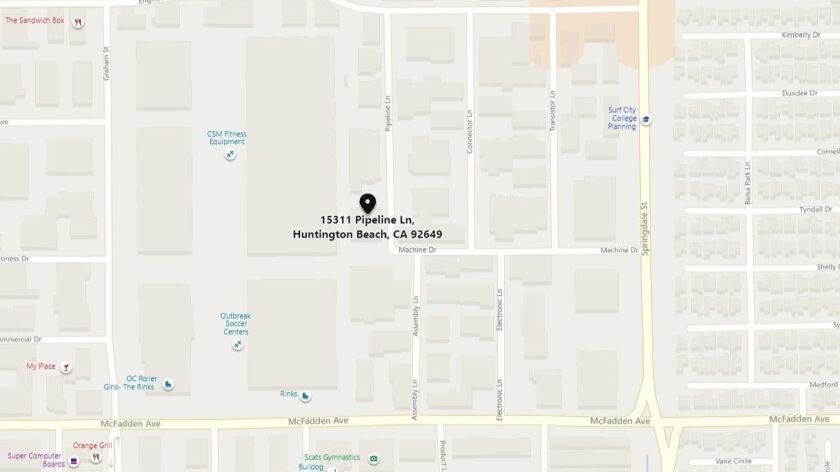 The city of Huntington Beach may buy a warehouse building near Springdale Street and McFadden Avenue and turn it into a homeless shelter.
The City Council plans to vote April 15 on whether to purchase the 11,200-square-foot structure at 15311 Pipeline Lane, a light industrial area about two blocks from Marina High School.
The low-rise property, which previously housed small businesses, is listed at $2.6 million. A single remaining business is expected to leave before the shelter would open — with council approval — later this year, a city official said.
The shelter would serve pre-screened men, women and couples for up to 90 days, though stays could be extended if tenants are awaiting approval for more-permanent housing. Registered sex offenders and those with outstanding felony warrants for their arrest would be prohibited.
Shelter residents would be driven to and from the fenced-off site to reduce loitering and limited entry and exit times would be proscribed, according to a city staff report. Around-the-clock security is planned. Clients would also receive healthcare, counseling and job training.
City administrators plan to look for an independent shelter operator to run the facility and finalize operating costs and funding.
This is Huntington's second attempt at finding a suitable location to create a shelter after facing backlash from Marina High parents and school officials who didn't want the city to lease a nearby half-acre property at 5770 Research Drive.
H.B. pulls plan for 50-bed homeless shelter amid pushback over location; new site sought »
City staff members vetted another 30 locations before settling on the Pipeline Lane building, which is more than 1,000 feet from the nearest residence, school or park, according to city officials.
Huntington Beach is under pressure to produce a shelter site from U.S. District Judge David Carter, who is presiding over a lawsuit filed in January 2018 against Costa Mesa, Anaheim, Orange County and the city of Orange by homeless advocates who sought to halt the removal of the Santa Ana River trail encampment. Huntington Beach was not sued in the action.
Carter tasked cities with identifying potential shelter sites after a county proposal for temporary ones in Huntington Beach, Irvine and Laguna Niguel was scrapped amid protests from residents and city leaders.
Letters to the Editor: Huntington Beach should follow Costa Mesa's example of sheltering the homeless »
One incentive for cities like Huntington Beach is they can't legally enforce anti-camping ordinances until shelter is provided, according to a 2017 ruling by the U.S. 9th Circuit Court of Appeals. Costa Mesa, for example, recently agreed to open homeless shelters and then tweaked its anti-camping laws.
Two community meetings are planned for the proposed Huntington Beach site. The first is for those who own or work in businesses near the proposed site at 15311 Pipeline Lane from 4 p.m. to 6 p.m. Tuesday. The second is for the general public from 10 a.m. — noon April 13 at the Huntington Beach Central Library, 7111 Talbert Ave.
---