Authorities have opened an arson investigation after at least five vehicles were burned or vandalized early Monday in downtown Huntington Beach.
Police received reports of vehicles on fire in three downtown locations within an hour, said Huntington Beach police Lt. David Dereszynski.
The first was at about 2:20 a.m. in the 400 block of 16th Street, with others reported at about 3 a.m. in the 500 block of 19th Street and 3:20 a.m. in the 300 block of 14th Street, police said.
Residents of 16th Street said they woke to the sounds of exploding tires and bursting glass as a Ford Escape was engulfed by flames at the corner of 16th and Orange Avenue.
Linda Jochem said she heard a "popping, popping, popping" noise that she initially thought was gunfire.
Travis Warren, a neighbor in the same apartment complex, said he called 911 at 2:23 a.m. after he was awakened by the noise. From the window of his second-floor apartment he saw the burning Escape, which was parked near his pickup.
On 19th Street, a Toyota Camry burned while parked outside a home in the 500 block.
The car's owner, Randy Coe, said he was asleep when he heard noises and a small explosion outside. He raced to his front yard and saw the sedan in flames.
"I was sick to my stomach, especially when I found out it was our car," he said.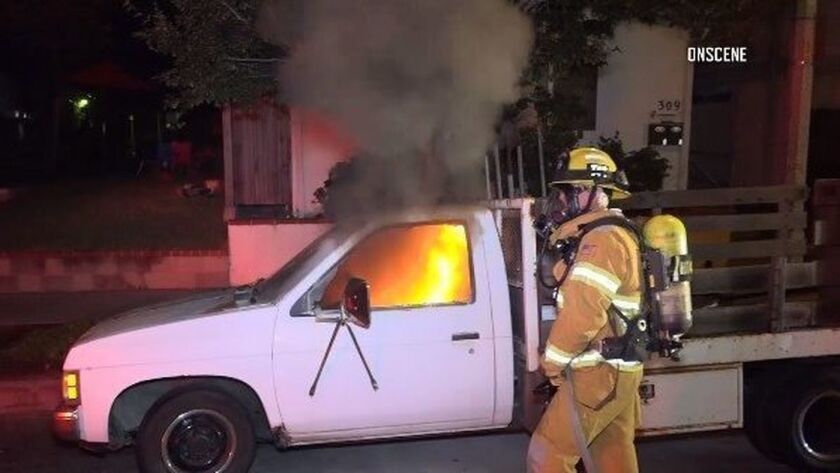 Video taken in the 300 block of 14th Street showed the cab of a small stake bed truck ablaze as firefighters responded.
Neighbors said the truck belonged to a landscaper who lives on 14th Street.
A nearby Nissan Pathfinder appeared to have been broken into, and nail polish was splattered around the interior. Wavy lines of white paint streaked the passenger window, and a message written on the inside of the windshield read, "Hi mom I'm bad!"
Angela Clark, a resident of Olive Street, said that when she headed out to go to work later Monday morning, she found that someone had torched the passenger seat of her Subaru Impreza and ransacked the glove box.
She said she could see the car, which was parked across from her apartment, from her window but hadn't noticed anything unusual as she was getting ready for work around 7 a.m.
But she went to get in the car to leave, the fire was smoldering, she said.
"We were four months away from paying it off," Clark said.
She also could see city workers washing away white firefighting foam where the landscaping truck had been parked on nearby 14th Street.
All the vehicles apparently were unoccupied at the time the incidents occurred, authorities said.
The investigation is continuing, and no one has been arrested, police said.
Los Angeles Times staff writer Hannah Fry contributed to this report.
---
UPDATES:
2:25 p.m.: This article was updated with additional details and comments.
This article was originally published at 8:25 a.m.
---