Republic Services may no longer be Huntington Beach's trash collector — in 2037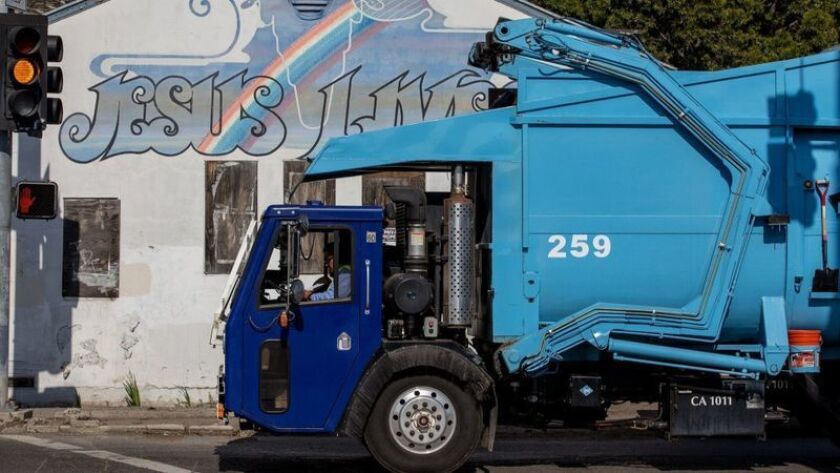 After decades of serving Huntington Beach, Republic Services might no longer serve as the city's trash hauler come 2037.
On a unanimous vote Monday night, the City Council directed the city manager to send a letter notifying Republic of the city's intent to leave its "evergreen" contract with the company, which includes automatic annual extensions.
Huntington Beach's current 15-year contract with Republic began in 2006. The letter only would begin a three-year process to terminate the annual extensions of the 15-year term. After the three-year notice, Huntington Beach would finish the remaining 15 years.
City officials have said the move could lead to a competitive bidding process that benefits ratepayers. However, Republic could be involved in the bidding and officials acknowledged that Republic might be their go-to business in the end after looking at other trash haulers.
"No one's questioned your service in this community or anything like that," Mayor Erik Peterson told Republic General Manager Chris Kentoff. "But … having a contract that never ends … no competition ever, is just not something I would have supported — never have supported. I believe the healthy competition does get some of the rates down."
In March, Peterson and Mayor Pro Tem Lyn Semeta proposed terminating the evergreen clause but received pushback from other council members who wanted to first hear a report from city staff and from Republic, explaining what's changed in the industry.
Republic, based in Arizona, acquired Huntington Beach-based Rainbow Environmental Services in 2014.
Kentoff asked the council to reconsider its decision Monday night after describing a "worldwide recycling crisis" that trash companies are facing. He said Republic would need some investment from the community to help it move forward.
Kentoff said Republic has to pay other providers to get rid of glass. The value of mixed paper and cardboard has dropped significantly, contributing to a "substantial hit" to the industry, he added.
While landfill rates have increased, trash collection rates for Huntington Beach have gone up less than 0.81% each year, Kentoff said.
"We've done everything we possibly can to consolidate operations to make sure we're responsible and we're the most cost-effective provider out there," he said. Comparing other trash haulers' rates would be comparing "apples to oranges," he added.
Of the 34 cities in Orange County, nine have evergreen contracts with other trash haulers, according to Travis Hopkins, Huntington Beach director of public works.
"How is it others invest and not have to advertise it with evergreen contracts? What's the difference with that?" Councilman Mike Posey asked Kentoff.
"I suspect rates," Kentoff told Posey. "Do they have the same service?"
Kentoff told him that Republic and the city have tried negotiating on the contract, but "it's very complex." He said Republic is willing to continue negotiations.
However, Councilwoman Barbara Delgleize said she agreed with Peterson that it's time for "residents to have another point of view from other companies."
Sidewalk vending program
Street vendors will soon be able to legally sell goods in Huntington Beach through the city's new sidewalk vending program.
The program will begin in 30 days after the council had its second reading of the ordinance Monday night.
Under the new ordinance, street vendors must apply annually for a $268 permit and a separate business license that has a base cost of $126.70. Permits must be displayed at all times and will be nontransferable.
Vendors' hours of operation must be between 8 a.m. and 7 p.m., and they will be prohibited from doing business in residential zones, at the beach and in areas such as Pier Plaza, downtown, parks, City Hall and along Pacific Coast Highway inside city limits. It's unclear where vendors would be able to do business in compliance with the restrictions.
Support our coverage by becoming a digital subscriber.
---
UPDATES:
This article was originally published at 2 p.m. and was later updated with additional information.
---
All the latest on Orange County from Orange County.
Get our free TimesOC newsletter.
You may occasionally receive promotional content from the Daily Pilot.