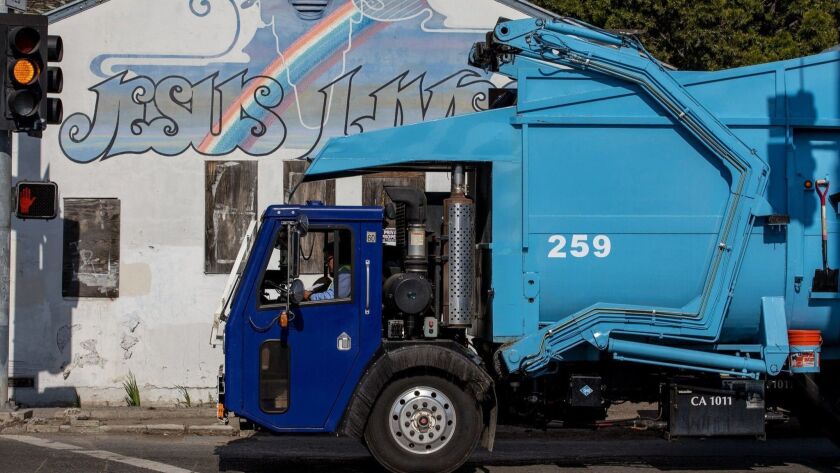 The Huntington Beach City Council took steps Monday night toward ending its "evergreen" contract with the city's trash collector, Republic Services.
The council unanimously directed the city manager to draft a letter that would notify Republic of the city's intent.
The proposal by Mayor Erik Peterson and Mayor Pro Tem Lyn Semeta received criticism from council members Mike Posey, Barbara Delgleize and Patrick Brenden. Therefore, the council also asked city staff to give a presentation in May on the pros and cons of ending the contract. The council will then vote on whether to send the letter to Republic.
The current 15-year pact began in 2006. The letter only would begin the three-year process to terminate the contract's annual automatic one-year extensions.
Semeta said she didn't want to end the relationship with Republic but does want the evergreen clause to change.
"They're very good partners and do a lot of great work for our nonprofits and so forth," she said. "I'm hoping we can work with Rainbow and Republic on these terms, but thus far with the meetings taken place, we haven't been able to come to terms."
Republic, based in Arizona, acquired Huntington Beach-based Rainbow Environmental Services in 2014.
During the public comment period at Monday's meeting, Republic General Manager Chris Kentoff asked the council to reconsider Peterson and Semeta's proposal and let contract negotiations continue.
Kentoff listed the company's accolades and gave examples of when Republic worked with other parties to resolve disputes. He said Republic prides itself on maintaining strong relationships with its customers and benefiting the community.
However, Rainbow had a rocky relationship with the city and many residents. It came under fire in 2013 when the Ocean View School District took legal action alleging that dust and odors from the waste transfer station at 17121 Nichols Lane near Oak View Elementary School were making schoolchildren and others sick. A settlement was reached three years later.
Gina Clayton-Tarvin, vice president of the Ocean View school board, urged the council to terminate its contract with Republic Services, like the school district did.
"We vowed not to give them one more taxpayer dollar until they did the right thing and mitigated the unbearable conditions at the dumpsite," she said. "At OVSD, we don't just talk the talk, we walk the walk and do what's right."
Historical preservation advocates say they have hit a roadblock in their efforts to maintain Huntington Beach's Historic Wintersburg property, which is owned by the trash company. Mary Urashima, chairwoman of the Historic Wintersburg Preservation Task Force, said she emailed a letter to Republic in February offering to have a contractor restore and maintain the site but Republic hasn't accepted. Republic expressed concern about liability if another party did the work.
In 2017, the City Council formed a committee to review the city's waste management agreement in hopes of amending its contract rather than relying on a competitive bidding process. According to a staff report, an agreement hasn't been reached despite multiple attempts.
Later that year, Huntington Beach learned Republic charged local residents higher recycling fees than customers in other cities for about four years. The company, which admitted violating its contract with Huntington Beach, awarded the city a $300,000 credit.
Delgleize, who was mayor during that time, said she never heard a final report from the committee and said the council should do that before voting on Peterson and Semeta's proposal.
Brenden said he didn't disagree with criticism of the evergreen clause but wanted to know why the city agreed to it in the first place.
"What was different then?" he asked. "Why would we entertain that back then, and what's different today in the world of reuse and hauling and recycling?"
Delgleize said Rainbow proposed an evergreen contract to protect itself at a time when recycling was starting to take off and the company wanted to invest in refurbishing its equipment.
Peterson said the council accepted the evergreen contract in 2006 over advice from the city Finance Commission. He added that the evergreen clause should have been voided when Republic acquired Rainbow.
The contract says Rainbow could not sell, assign or transfer its agreement without the city's consent. In an unauthorized transfer, the city would have the option to terminate the agreement by adopting an ordinance.
Councilwoman Jill Hardy said the city couldn't anticipate Rainbow becoming Republic. An agreement with a local operator is very different than one with a national operator, she added.
Peterson said giving notice is the most "prudent thing to do" in a binding contract in which the city doesn't have leverage.
No matter how the council votes next month, Hardy said, a future set of council members will ultimately decide whether to contract with another trash hauler.
"At least there will be a choice at that point," she said.
New interim city manager
In other business Monday, the council appointed Assistant City Manager Lori Ann Ferrell-Harrison to step in when City Manager Fred Wilson leaves May 10 to take a job in the private sector.
Ferrell-Harrison will receive $122.68 an hour while the city conducts a nationwide search for Wilson's permanent replacement.
Ferrell-Harrison has 28 years' experience in the public and private sectors. She was chief financial officer and controller for the city of Long Beach and board president for the Port of Long Beach before coming to Huntington Beach in 2010.
Amendment to taxi ordinance
The council also formalized an amended ordinance to comply with the Orange County Transportation Authority's new rules for taxis.
Instead of relying on revenue from permit and license fees from taxi operators and drivers, OCTA will rely on cities to contribute amounts based on their populations.
Under the revised terms, Huntington Beach will contribute about $6,000 in fiscal 2018-19 and $14,000 in 2019-20.
---