'She's given her life to these schools': Newport-Mesa trustee Judy Franco prepares to step aside after nearly 4 decades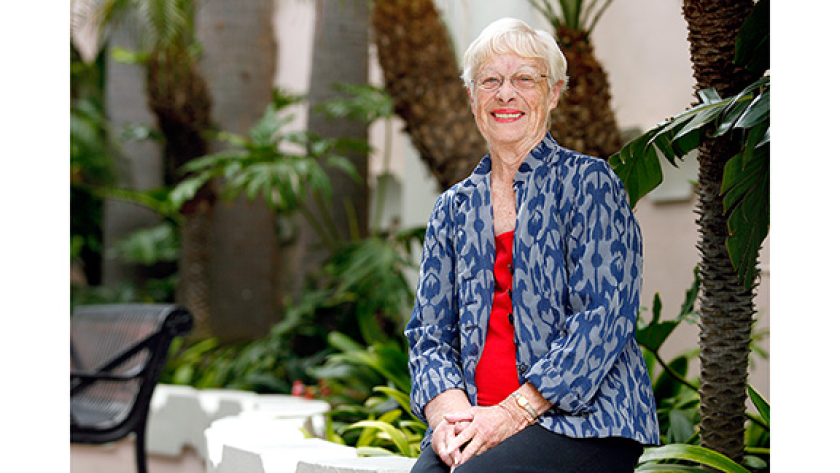 When Judy Franco was appointed to the Newport-Mesa Unified School District board in 1980, she didn't imagine that 37 years later she would still be representing Area 5.
She said she had dropped hints about stepping down at the end of her current term, but when she announced Tuesday that she wouldn't run in the 2018 election, some observers nevertheless were surprised.
Franco, 80, said she needed to clear up rumors about why the school board may have preferred one map over another in adjusting trustee zone boundaries in time for next year's election.
In one proposal, labeled Map B, Franco and board President Karen Yelsey's current addresses would be in the same zone, Area 5, resulting in the possibility of them running against each other in a future election.
Some critics of the other proposal, Map G, speculated it was created to help them avoid a possible faceoff. Yelsey and Franco denied that.
"I didn't want to make the announcement, but I was sick and tired of hearing innuendo of reasons why we chose Map G," Franco said Friday. "It made me very angry, and the blame was somehow not put on me but on Yelsey by many people, and it's totally untrue. It irritated the devil out of me."
Criticism aside, Franco said she had previously promised her husband that she wouldn't run for another term so they wouldn't have to schedule trips around school board meetings.
Franco will complete her time on the school board in December 2018.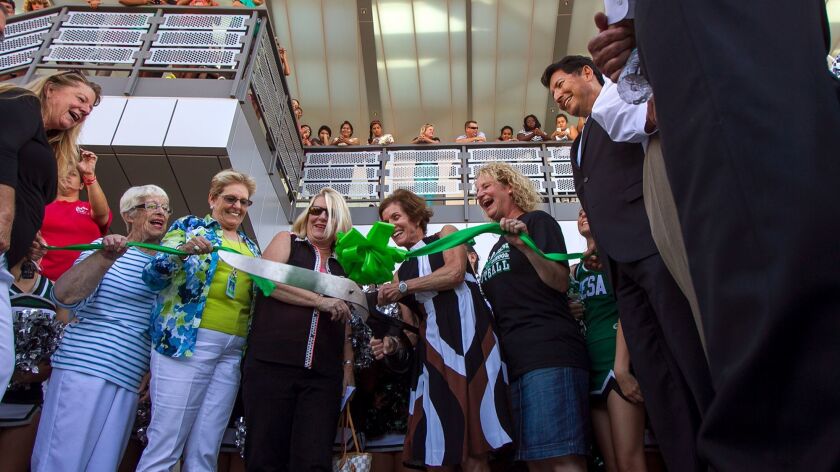 During her tenure, Franco has seen the district close multiple elementary schools, embrace a growing number of Latino families from Costa Mesa's Westside, and deal with controversy surrounding a Mariners Elementary School Gold Ribbon Award and the transition from the controversial Swun Math to new math materials.
Recently the district settled a lawsuit alleging that its election system, in which the seven trustees are chosen by voters throughout the district, violates the California Voting Rights Act. The lawsuit led to the district decided to change the system so trustees will be elected by voters in each zone.
Franco said her career development was an organic process, beginning as a teacher, transitioning into a PTA president at Newport Elementary School and later being appointed to a seat on the school board, though she didn't expect to stay long. But she was elected to the seat the following year and has been there since.
"It wasn't a dream of mine, it just sort of happened," she said. "Every time the election was coming up, I'd get phone calls from people and so I continued to run."
During her first year as a trustee, she went into "learning and listening mode" until she found her voice, she said.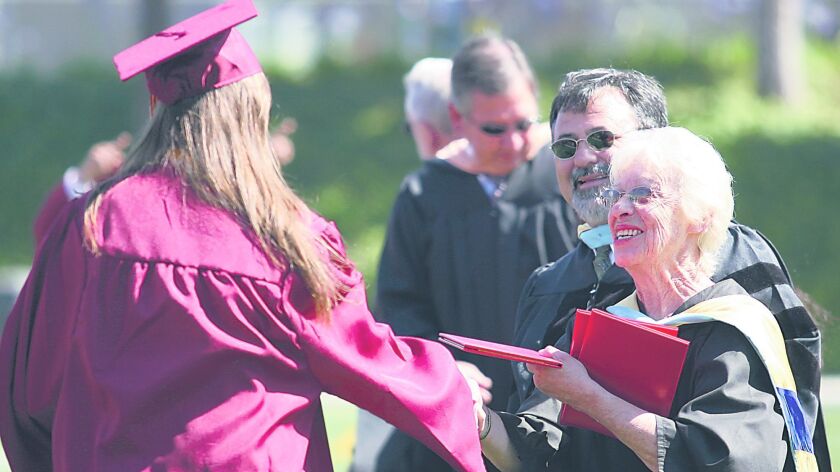 In an interview Friday, state Sen. John Moorlach (R-Costa Mesa) called Franco "a real trouper" for the school district and the Republican Party. He said he recalled bumping into her during a conference in San Diego where he could tell she "took her job seriously and loved it."
Two of her passions have been establishing sailing as an official sport and program in Newport-Mesa and taking on a leadership role for Youth and Government, an independent study program.
Sean Boulton, who started working in the district in 1999 and is now principal of Newport Harbor High School, credited Franco with helping establish sailing as an official sport.
"It's a unique feature in Newport-Mesa because of her," he said. "It takes hoops and steps to establish a sport like that, and she gave us the clarity to make it official.
"She's given her life to these schools."
In 2001, Franco was diagnosed with breast cancer but remained active in the district. She said she has missed about 12 meetings throughout her time on the board.
Trustee Martha Fluor, a board member since 1991, described her colleague as a mentor and a "true dedicated warrior" with an "immense amount of knowledge."
"One of her strongest assets is that she's truly [a] committed board member," Fluor said. "There were times she was going through cancer treatments early on when she'd come to board meetings even in the midst of chemo and radiation."
During her tenure, Franco said, she learned to resist criticism as long as she remained dedicated to her philosophy of making sure that programs, resolutions and motions were for the good of students.
When she finishes her final term next year, the board will be in good hands, Franco said.
"It's a good balance with a breadth of knowledge," she said.
Twitter: @vegapriscella
---
All the latest on Orange County from Orange County.
Get our free TimesOC newsletter.
You may occasionally receive promotional content from the Daily Pilot.