Newport celebrates departing City Manager Dave Kiff as he ushers in his version '2.0'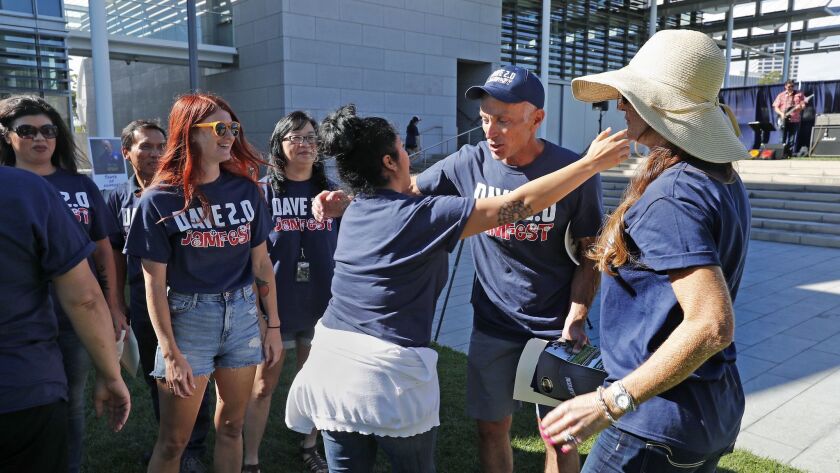 Dave Kiff will pass down his Newport Beach city manager title but continue into the "Dave 2.0" phase of his life with all the interests that make him what his chief deputy calls a Renaissance man.
"He loves and is good at almost everything he does," said Assistant City Manager Carol Jacobs. Things like endurance hiking and budgeting.
At Kiff's going-away party Thursday on the green outside City Hall, Jacobs credited him for his leadership in building the Civic Center and Marina Park, launching the animal shelter and Harbor Department and securing annexations, steering improved water quality, John Wayne Airport relations and pension debt paydown, and trusting and encouraging his staff.
"You are the best Ironman, yoga-practicing, Pageant of the Masters model, Harry Potter-reading, Ivy League-educated, Sonoma County-farming city manager we could ever ask for," Jacobs said.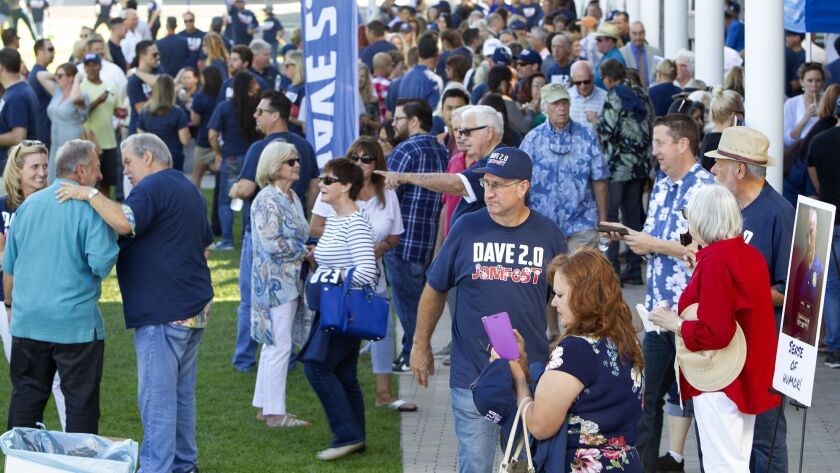 The fête, sponsored by the Newport Beach Chamber of Commerce, was a backyard party, with a cake walk, ice pops, beanbag toss and lawn volleyball. The tourism marketing authority printed dozens of blue T-shirts that read "Dave 2.0 Jamfest" and some matching caps. Former mayor Don Webb perched one of the caps atop the tall crown of his trademark straw hat.
Kiff's colleagues called him up to a lawn chair on a stage for the gentlest of roasts. They walked balloon animals in reference to his six rescue dogs and did push-ups wearing a vest of exaggerated foam muscles to mimic his lean physique.
Current City Council members went in on a $1,000 gift in his name to the Friends of the Newport Beach Animal Shelter. He literally passed a relay runner's baton to his successor, Grace Leung, who starts Tuesday.
Former mayor Steve Rosansky, now the chamber's president and chief executive, read a proclamation that recognized the financial health and building projects the city accomplished during Kiff's tenure, along with his wit and fitness.
"Dave has personally shunned the spotlight and has managed to make it shine on everyone and everything around him," Rosansky said.
Kiff started working for late state Sen. Marian Bergeson in her Newport office in 1989. He was 24 and renting a room at Narcissus and Third in Corona del Mar. That made him eligible to serve on the water quality committee on the appointment of then-Councilwoman Jean Watt.
He started working for the city in 1998 when he joined the city manager's office. He took over the top appointed spot in 2009.
"This place taught me to be a better listener, to approach problems from multiple sides until they're solved, to know that the long road and the short road both can be successful, to take a chance on people as long as they have heart," he told the couple of hundred people in the crowd, who grew quiet as he reflected. "To apologize, to step back and reset sometimes. To have fun. To breathe before I respond. That almost every issue is not black and white but some shade of gray. To remember that in the end, we're all neighbors.
"Please remember that. In the end, we're all neighbors."
Twitter: @Daily_PilotHD
---
All the latest on Orange County from Orange County.
Get our free TimesOC newsletter.
You may occasionally receive promotional content from the Daily Pilot.