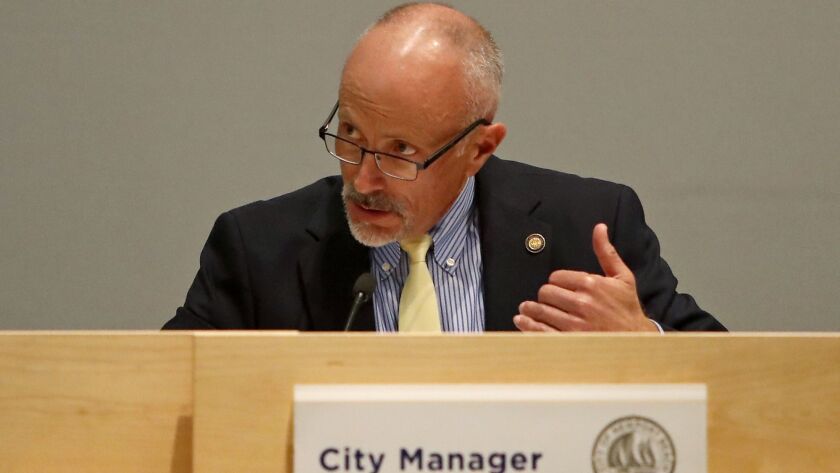 The Newport Beach City Council accepted an amended contract Tuesday night allowing for City Manager Dave Kiff's early departure as Councilwoman Diane Dixon ripped two colleagues who she said worked behind the scenes to force Kiff out.
Dixon, who along with council members Jeff Herdman and Brad Avery said they were in the dark about Kiff's accelerated exit, claimed an "ambush" against Kiff by Mayor Marshall "Duffy" Duffield and Mayor Pro Tem Will O'Neill.
"They wanted to fire him. They decided to fire him. They fired him. But they didn't tell anyone," Dixon said. "On what basis did a minority cabal of two council members decide they had the authority to force out Dave Kiff?"
Dixon said Duffield and O'Neill dictated and negotiated the terms of Kiff's exit contract starting in February and that the full council never saw a draft, although there would have been ample time to discuss it in closed session.
"They are not chief executives, the king or dictators," she said.
Kiff recused himself from the discussion Tuesday. He has said he wants a smooth transition and will work with city leaders on key issues before he departs Aug. 31. The previous version of his contract expired in April 2019.
Dixon listed several statements attributed to Duffield in 2015 and '16 about wanting Kiff fired. Then in February, after a regular conference among the mayor, mayor pro tem, city manager and city attorney, Duffield and O'Neill wanted to talk about speeding up Kiff's departure, Dixon said. She said O'Neill pressed for the change to happen over the summer.
Under the contract amendment approved Tuesday, the city will pay more than $100,000 upon Kiff's resignation. That includes $84,000, which is what Kiff would have earned in salary in September through December, a one-time deferred compensation contribution of $20,000, and up to $5,000 toward attorney fees Kiff incurred while having a lawyer help prepare the agreement. The amendment also says Kiff would be entitled to any unused administrative leave pay for the year, which tops out at 80 hours.
The council will use an executive search firm to look for Kiff's replacement.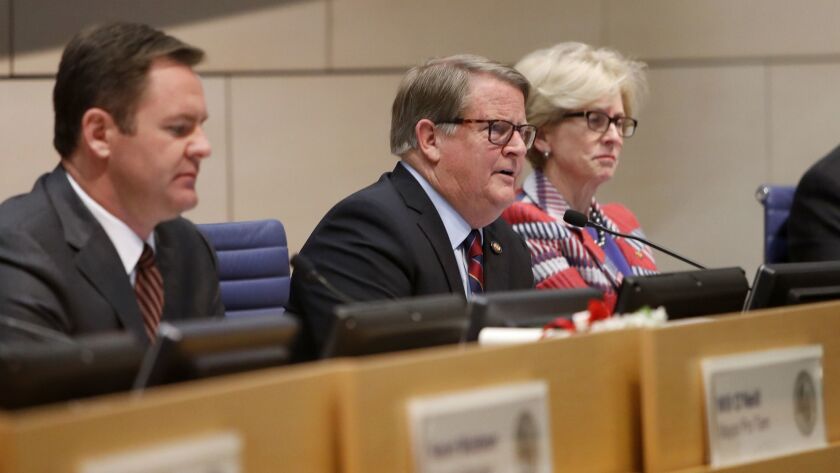 Duffield said Kiff — who has been city manager since 2009 and a city employee since 1998 — told the council more than a year ago about his plans to eventually leave Newport Beach and move to Northern California to be closer to family.
Duffield characterized the February discussion as a chat about the transition. He said he expected it would land on a council meeting agenda. But in March, Kiff announced his plan to leave early after "unfounded rumors circulated about four council members demanding Dave's resignation or be fired," Duffield said.
At the April 10 council meeting, several community members accused Duffield, O'Neill and Councilmen Scott Peotter and Kevin Muldoon of conspiring to oust Kiff. The four have denied it and did so again Tuesday.
But former mayor Nancy Gardner, a Kiff supporter, said denials are cheap.
She suggested a subpoena-driven investigation of the matter similar to one the council authorized this year to look into possible irregularities on petitions aiming to recall Peotter.
"Ask all the questions there could possibly be and have it under oath so it's not just a simple lie, it's perjury" if people are untruthful, Gardner said.
Seymour Beek, a lifelong Newport Beach resident, said the council is being level-headed as it looks for its next city manager.
Beek said he has seen many popular and capable city managers leave.
"However, I have never quite witnessed a firestorm of irrationality and anger resulting from a retirement of a city manager as I've witnessed this time," he said.
Resident Peter Van Voorhis said replacing an employee, even an important one like the city manager — the city's top administrative official — is basic government work, not "politicized work."
"I hope you remember that the loudest groups are rarely the ones that are right. Because if you're right, you don't need to scream about it," Van Voorhis said.
But Herdman, like Dixon, was firm in saying the city's charter and policies were violated by not having the entire council involved in discussions about Kiff's earlier exit.
Herdman said he doesn't know why Kiff is leaving but insisted he was pressured.
"He should be allowed to work out his present contract with dignity and the respect he deserves and exercise his right and privilege to retire at his own choosing," Herdman said. "A city manager of Mr. Kiff's caliber should not be forced to speed up his retirement."
Kiff said in an email Wednesday that he has used the term "transition" to describe his departure because "I don't think I'll ever retire from doing things. Maybe I'll do something totally different, maybe something part time. I'm not sure."
O'Neill disputed Dixon's remarks, though he said he erred in not bringing the matter to the council immediately. He said he was concerned that if it appeared on a closed-session agenda, it would look like the council was firing Kiff.
"I wish I had rethought that. I look back on that and wish I had," O'Neill said.
Duffield acknowledged that before he was elected to the council in 2014, it was widely known that he and Kiff didn't see eye to eye on harbor issues. But his feelings evolved, Duffield said, and years-old comments no longer apply.
Muldoon said he and Kiff also used to butt heads but have built up respect.
"I think this whole process has been very unfortunate and a little bit heartbreaking," Muldoon said.
Twitter: @Daily_PilotHD
---