Oak View Elementary School celebrates new 10,975-square-foot gym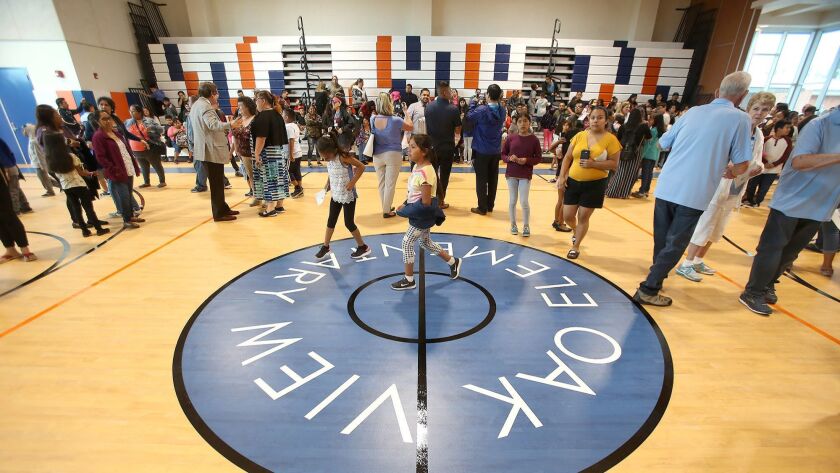 Parents, teachers and students gathered Monday evening for the unveiling of Oak View Elementary School's new gymnasium and courtyard.
"We're really excited. It's been an amazing journey this school year," said Jenna Landero, principal of the school at 17241 Oak Lane in Huntington Beach. "When I came here in August, the green fences were up and they were still laying the foundation."
"The kids have watched when the beams have been put in with the big cranes," Landero added. "It's really kind of surreal to be able to see this opportunity of being able to give the kids a safe space for them to play indoors when it's raining outside. … It's just exciting."
The 10,975-square-foot multipurpose room and gym will be used for assemblies and athletics. It includes a set of bleachers, a basketball court and a stage with lighting. There also are two rooms that students can use for dressing or work. Adjacent to the building is a large shade structure and courtyard where students can spend break periods.
Oak View students Daniel Soriano and Yuliana Ponce, both 10, said they were excited to play basketball in the gym. Yuliana also said she's looking forward to playing dodgeball there next school year.
"We could do P.E. in there and have fun with the principal," Yuliana said.
The facility is the only one of its kind in the Ocean View School District.
"It's unique in … that it's on an elementary campus," district Supt. Carol Hansen said. "Usually, gyms and multipurpose rooms of this scope are made for a middle school. So we're fortunate to have this on an elementary campus to be able to offer after-school activities. But not only that, offer activities within the school day that enable students to participate in the gym."
Construction began in July with contractors Ledesma & Meyer Construction Co. Inc. and WLC Architects Inc., both of Rancho Cucamonga.
The project came on the heels of a settlement of a 2013 lawsuit against Rainbow Environmental Services, a disposal company with a waste transfer facility near Oak View Elementary. The Ocean View district alleged that dust and odors from the facility were making students sick.
The suit was settled in November 2016, with Rainbow — now Republic Services — pledging to pay $4 million for the gymnasium and trees to create a barrier between the school and the waste facility on Nichols Lane. The company agreed to spend an additional $18 million on enclosing the trash facility and installing a ventilation and filtration system to mitigate noise and odors.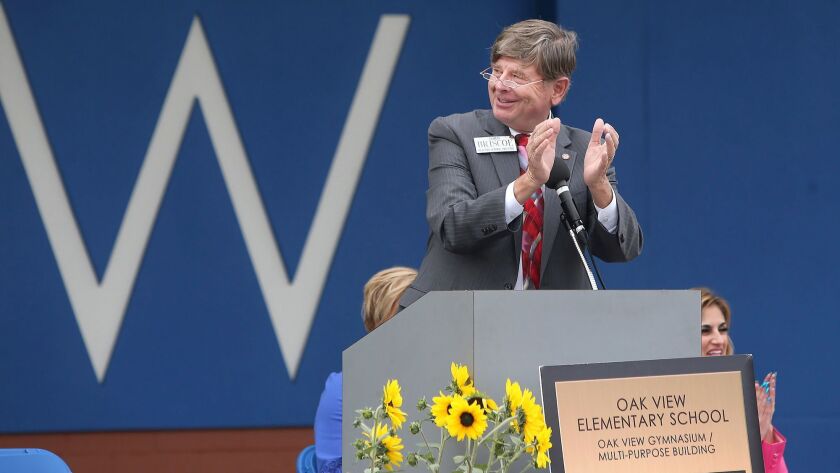 "We are very proud of our Oak View school," district board President John Briscoe said Monday. "Our schoolchildren … and all these employees deserve to have a beautiful, modern facility that provides a central core — a hub, if you will — of the community. Our schools have served in this role for many years. I'm happy to see that this new gymnasium can enhance this central gathering place."
---
All the latest on Orange County from Orange County.
Get our free TimesOC newsletter.
You may occasionally receive promotional content from the Daily Pilot.