Orange County Fair Board members have decided to put off voting on rental contracts for three gun shows planned for the fairgrounds later this year, citing questions that emerged in recent media reports regarding the events' operating company.
Most board members said at their meeting Thursday that it would be best to hold off on authorizing the Crossroads of the West Gun Show to take place at the OC Fair & Event Center in August, October and November until any potential issues are resolved.
"We need to take a look and make sure that everything's proper," said board member Stan Tkaczyk.
The board's 5-2 decision doesn't affect the Crossroads of the West show set for June 2-3 at the Costa Mesa fairgrounds.
Board Chairwoman Barbara Bagneris and member Sandra Cervantes cast the dissenting votes without comment. Vice Chairman Robert Ruiz and member Newton Pham were absent.
A crowd of gun show supporters let out a smattering of boos when board members cast their votes to postpone a decision on the contracts, which have a combined value of about $278,000.
Earlier in the week, Del Mar Fairgrounds Chief Executive Tim Fennell sent a letter to the state Department of Justice asking for an investigation of whether the gun show should have been granted the "certificate of eligibility" license required to operate, according to the San Diego Union-Tribune.
The letter followed allegations that Crossroads of the West founder Bob Templeton and his son, Jeff, "have felony convictions for federal firearms violations that could prevent them from organizing gun shows in California," the newspaper reported.
Bob Templeton told the Orange County Fair Board on Thursday that his daughter, Tracy Olcott, "is the general manager of our operation" and that she "holds the certificate of eligibility required by the state … to manage gun shows."
The Union-Tribune also reported that Jeff Templeton "has not been involved with the family's gun shows since about 2004 because of his criminal convictions," according to his family.
However, Fair Board members said it would still be wise to wait before approving the three additional shows.
"I think what we need to do is to be prudent and to be cautious and to be sensitive … and wait until we get some law enforcement guidance about licensure and those other issues that were brought up," said board member Nick Berardino.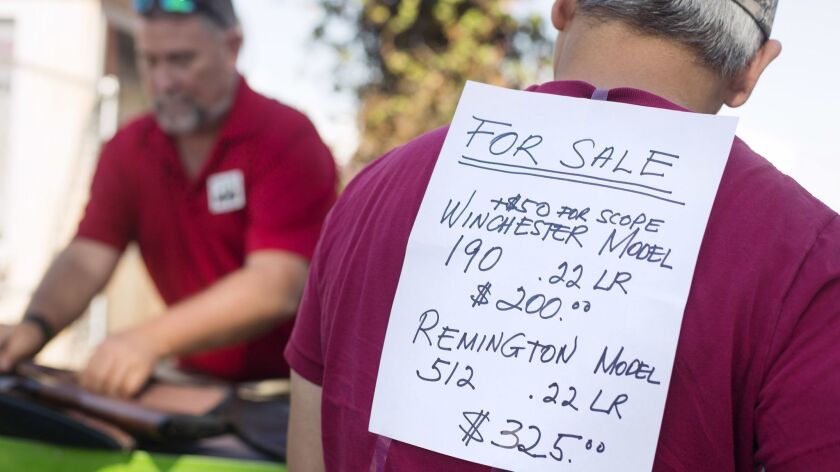 Crossroads of the West has long been a fixture at the OC Fair & Event Center and operates gun shows elsewhere in California, as well as in Arizona, Nevada and Utah.
Over the past few months, Fair Board members have broached the idea of discussing their broader policy regarding gun shows. However, that conversation has not taken place.
Aside from the contracts, Thursday's agenda included an item about board members potentially touring the gun show next weekend.
Gun show supporters urged the board not to take any action that would cancel future shows. Visiting a show in person, they added, should help dispel any concerns about the events.
Twitter @LukeMMoney
---