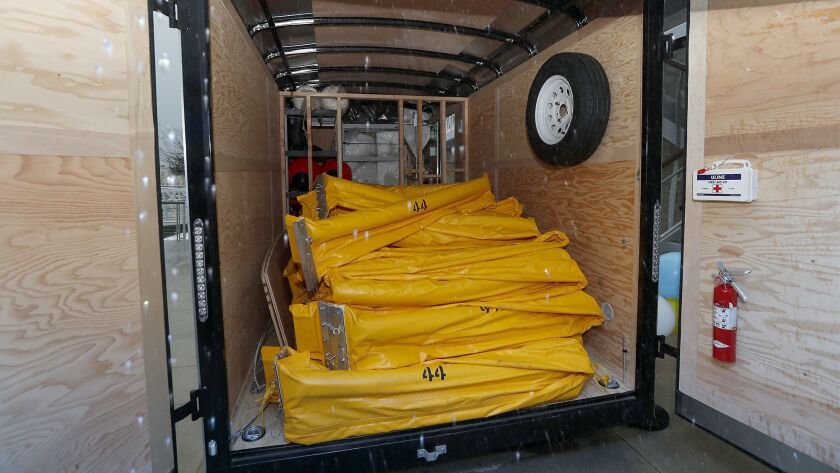 Newport Beach can now make a rapid response to oil spills in its harbor, thanks to a state grant.
The California Department of Fish and Wildlife's Office of Spill Prevention and Response recently provided a trailer packed with equipment to surround and absorb spills that could sully Newport's crown marine jewel. The gear includes 1,000 feet of cylindrical boom material that can be used to frame a spill and keep it from spreading, along with similarly sausage-shaped mesh booms packed with an absorbent fill that soak up fuel, motor oil or any other hydrocarbon fluids while repelling water.
From the trailer's base at the Harbor Department's Marina Park headquarters, a small work boat can tow the boom to a spill site.
The trailer, equipment and related training for the city's Harbor Department staff and lifeguards are valued at $30,000.
Eric Laughlin from the Office of Spill Prevention and Response said it can take time to respond to an oil spill. With mobile equipment onsite and local workers trained to use it, spills can be contained much faster.
"We feel it's a great way to conserve our resources by getting boom on the water right away," he said while showing off the trailer and its contents Thursday.
The equipment can have other uses too. In Eureka, a boom hemmed in floating debris from a fire at a waterfront restaurant, Laughlin said.
The equipment grant is one of more than 50 that the Fish and Wildlife office has provided to local governments around the state in the past 12 years. Terminals and refineries charge owners of crude oil and petroleum products a per-barrel fee to fund the office and its programs.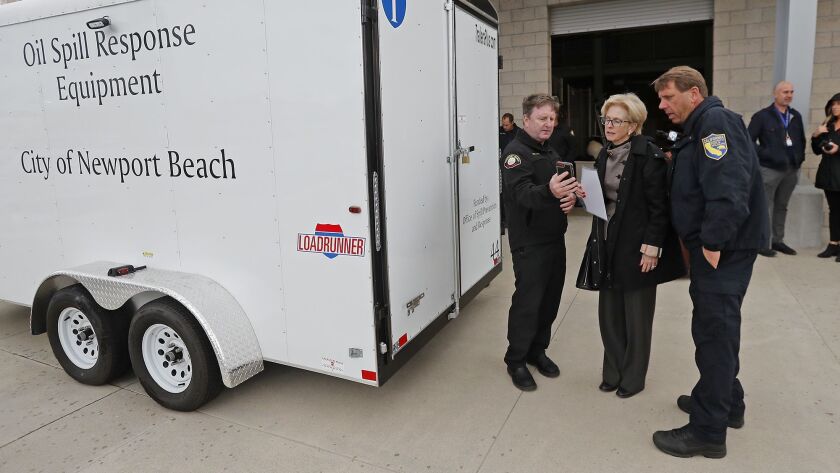 Newport Harbor, with about 1,200 moorings, has a lot to protect. That also means there are a lot of opportunities for leaks from vessels' inner workings.
A punctured fuel tank or a spill at a fuel dock also could bring out the cleanup equipment, said city Harbor Commission Chairman David Girling.
Girling said the equipment could have provided a quicker pollution mitigation response in a 2015 fire that destroyed the iconic William B tugboat in its mooring.
---