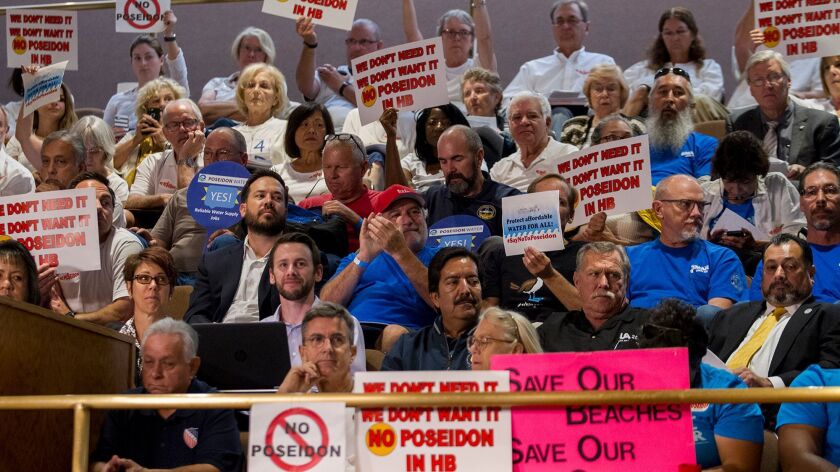 A coalition of environmental groups has filed a lawsuit in Sacramento County Superior Court challenging a state panel's approval of the proposed Poseidon ocean desalination plant in Huntington Beach.
The groups, including Costa Mesa-based Orange County Coastkeeper and the California Coastal Protection Network, allege the State Lands Commission violated state law when it gave approval Oct. 19 to amendments to a 2010 environmental impact report on Poseidon Water's $1-billion project, planned for Pacific Coast Highway and Newland Street. They argue it should have conducted a more thorough environmental analysis.
The three-member commission approved some additions to the plant that its developer and commission staff believe will make it compliant with the California Ocean Plan, passed in 2015.
"The community has spoken loudly and clearly that they don't want this project, and it's been demonstrated that they don't need the water," Sean Bothwell, policy director for the California Coastkeeper Alliance, said in a news release Friday. "The State Lands Commission approval of this project without reviewing whether it was needed and without considering how the water would be distributed is a clear violation of the law, and — absent intervention — could doom this community to pay for high-priced water for decades."
Several Orange County politicians and water agencies have commended the project, saying it would create a much-needed local water supply.
Poseidon's plant, which is designed to provide 50 million gallons of drinkable water a day, still awaits consideration by the Santa Ana Regional Water Quality Control Board and the California Coastal Commission before it can be built.
Twitter: @BradleyZint
---