Rep. Rohrabacher proposes amendments to FAA's annual bill intended to ease airplane noise in O.C.
Rep. Dana Rohrabacher proposed amendments Monday to the Federal Aviation Administration's annual reauthorization bill that he said would have a "dramatic impact" in alleviating jet noise that many of his constituents in Orange County say is harming their quality of life.
During a news conference outside his Costa Mesa home, Rohrabacher — a Republican whose 48th Congressional District includes Huntington Beach and parts of Fountain Valley, Costa Mesa, Newport Beach and Laguna Beach — detailed how his four proposed amendments would help mitigate the noise that "plagues" Orange County residents. He also proposed a fifth amendment calling on airlines to maintain a high level of cleanliness on their planes.
The four noise amendments would require that airplanes fly at the highest safe altitude possible within 20 minutes of approaching an airport and fly farther out over the ocean after takeoff before turning inland. He also called on the FAA to prioritize community concerns when implementing flight path alterations.
Rohrabacher questioned why some planes fly into Long Beach Airport at 1,600 feet, increasing noise levels for residents beneath them, when he knows they could fly at 3,500 feet.
The noise, Rohrabacher contended, has gone up in recent years and his legislation could help minimize that. Throughout his speech, several planes could be heard leaving nearby John Wayne Airport, drowning out his words.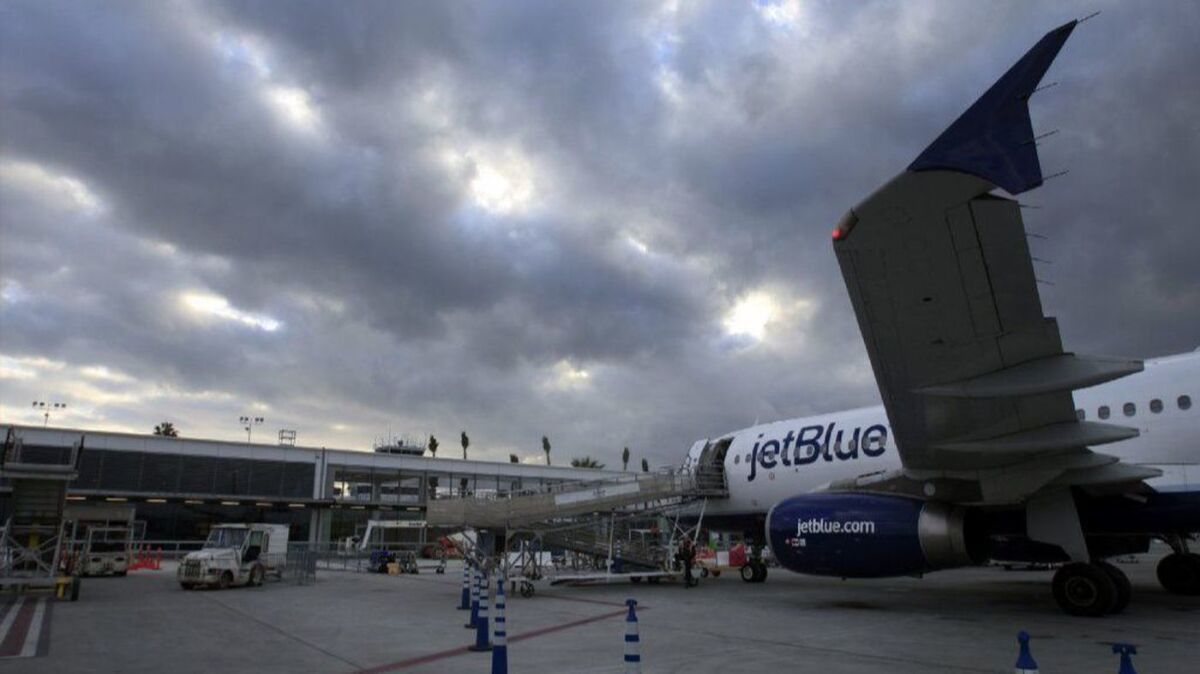 Rohrabacher also discussed his April 10 letter to JetBlue President and Chief Executive Robin Hayes asking the company to retrofit the engines on its Airbus A320 planes with vortex generators, known as air deflectors, which he said would cut noise levels substantially.
He also urged JetBlue to fly as high as possible over Huntington Beach when approaching Long Beach Airport.
JetBlue spokesman Philip Stewart said last week that the airline was reviewing the letter. He could not immediately be reached for comment Monday.
Huntington Beach residents have increasingly complained about airline noise in the past year, since the FAA implemented new flight patterns in its Southern California Metroplex project covering the region's airports, including Long Beach and John Wayne. The agency said the changes would shore up inefficiencies, save fuel and reduce carbon emissions and flight delays.
But Rohrabacher said Monday that there is "no reason we have to have an airline make more noise just to save a few gallons of fuel."
FAA spokesman Ian Gregor said Monday that the agency would not comment on proposed or pending legislation.
Earlier this year, the Huntington Beach City Council approved a task force called the Air Traffic Noise Working Group to tackle the issue.
The group, which includes council members Patrick Brenden and Barbara Delgleize, was created to discuss potential solutions to air traffic noise, establish a working relationship with federal aviation and local airport officials, assess opportunities for lawsuits and host community meetings.
A town hall is planned for the near future where residents can learn more about the group's efforts, officials said.
Mayor Mike Posey this month asked county and federal representatives to address aviation noise related to the FAA's regional air traffic system.
An April 2 letter from Posey to Rohrabacher, U.S. Sen. Dianne Feinstein (D-Calif.), Orange County Supervisor Michelle Steel and FAA Regional Administrator Dennis Roberts described Huntington Beach as an "epicenter" for "heavily concentrated new landing and flyover patterns."
Residents in other cities also are unhappy with the new flight patterns. Newport Beach and Laguna Beach sued the FAA over the system in 2016, saying the project's environmental review, which determined there would be no significant effects, was inadequate.
Gregor said in September that more than two dozen air routes have historically passed over Huntington Beach. He said the environmental findings "will not be revisited."
Twitter: @vegapriscella
All the latest on Orange County from Orange County.
Get our free TimesOC newsletter.
You may occasionally receive promotional content from the Daily Pilot.