Art gains 'Momentum' at Laguna Beach High School with new mural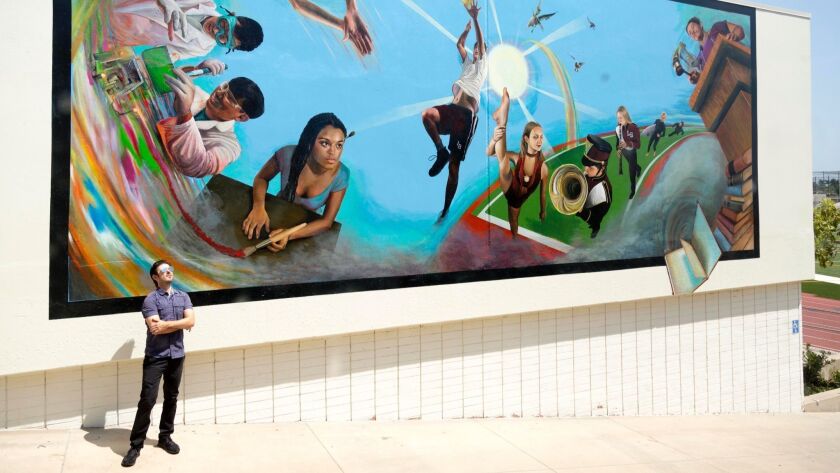 Laguna Beach High School has a new landmark in the form of a 60-by-30-foot mural, thanks to the efforts of local artist and Laguna College of Art + Design faculty member Timothy Robert Smith.
The mural, titled "Momentum," was one of two unveiled in the past week by Smith and a team of students recruited from his spring semester mural course.
The other mural is titled "Glimpse" and can be found on the studio building at the art college's main campus on Laguna Canyon Road.
"Momentum" depicts several high school students in different electives, sports and core subjects. One young woman gazes upward with a dripping paintbrush in her hand, while other parts of the mural show a marching band, surfers, a gymnast and more.
Smith said he decided to name the mural "Momentum" because the word reflects the activity in the piece.
"There's so much happening, a lot of students doing different things at the same time, and it feels like momentum is happening. I felt like it was a cool one-word title," Smith said. "It was abstract, you can put your own meaning on it. To me, it's just about a bunch of things happening at once — a bunch of activities, all these kids are playing and creating their own momentum."
"Momentum" is meant to illustrate the degrees of diversity embraced at Laguna Beach High School, said Advanced Placement art teacher Bridget Beaudry-Porter.
"The mural will be a visual reminder of the collaboration with LCAD and an artwork that recognizes students in a variety of achievements," Beaudry-Porter said. "The mural reflects the diversity of skill sets that are available for students to learn in a positive environment."
Beaudry-Porter was one of two Laguna Beach High faculty members who approached Smith with the idea of collaborating on a mural this year. Before solidifying the design, Smith sat down with Beaudry-Porter's AP art class to hear what the students felt should be in it.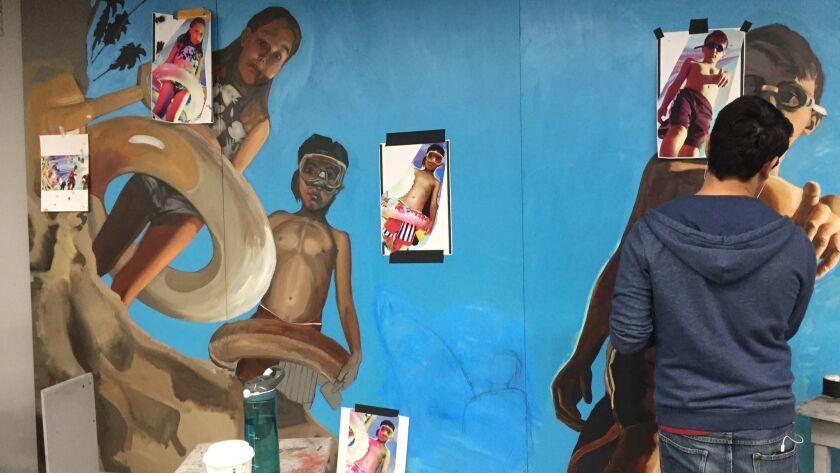 The class was divided into small groups before being given a piece of paper to illustrate their mural concepts. Smith drew inspiration from the students' work and collaborated with Beaudry-Porter and English teacher Dawn Hunnicutt until the design was final.
Painting the mural took 12 days for Smith and LCAD students he recruited.
"It ended up being really fun. I liked getting out of my own head and incorporating other ideas," Smith said. "I met two teachers that really wanted it to happen, and they were so passionate about this project. I like working with people that are passionate about something."
Twitter: @newsmirand
---
All the latest on Orange County from Orange County.
Get our free TimesOC newsletter.
You may occasionally receive promotional content from the Daily Pilot.