Newport Beach man charged in stabbing death of Blaze Bernstein described as quiet, serious and 'violent'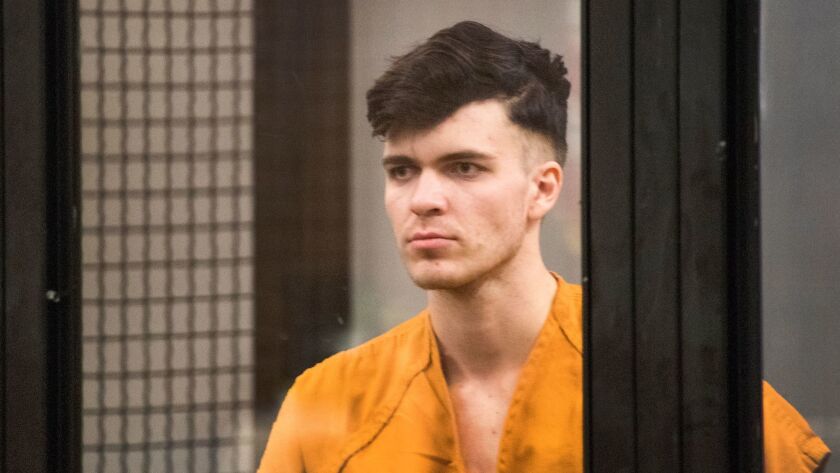 A 20-year-old Newport Beach man facing a murder charge in the fatal stabbing of former high school classmate Blaze Bernstein spoke openly on social media about his Catholic faith and conservative political views.
Samuel Lincoln Woodward wrote more than a year ago on his ASKfm page that if he were stranded on a tropical island, he'd want a Bible and a Colt .45 with him.
"Anything is possible through the Lord who strengthens me," he wrote.
He also expressed disdain for then-President Obama, calling him an "arrogant, hypocritical, spineless socialist," and for the song "Same Love," singer Macklemore's anthem in support of gay marriage.
Someone on the ASKfm page asked Woodward, "What is something you have lost that you wish you could get back?"
Woodward responded, "Hope for humanity."
Another person wrote: "You are violent. And it scares me."
"I wouldn't fight anybody unless they attacked me," he responded.
Prosecutors allege that Woodward stabbed Bernstein, 19, early this month and buried him in a shallow grave at Borrego Park in Foothill Ranch. Bernstein's body was found Jan. 9 with more than 20 stab wounds.
Authorities have not identified a possible motive in the killing, but according to a 16-page affidavit obtained by the Orange County Register, Woodward told investigators that Bernstein kissed him on the lips while they were sitting in a parked car Jan. 2.
According to the affidavit, Woodward told authorities that the kiss was unwanted and that he pushed Bernstein away, adding that he wanted to call him a "faggot."
Orange County District Attorney Tony Rackauckas said Wednesday that the case is still being investigated and that his office hasn't ruled out the possibility that the killing was a hate crime.
In addition to the murder charge, Woodward is facing a possible sentencing enhancement on allegations of personal use of a knife in Bernstein's slaying, according to Orange County Superior Court records. If convicted, he could face a maximum sentence of 26 years to life in state prison.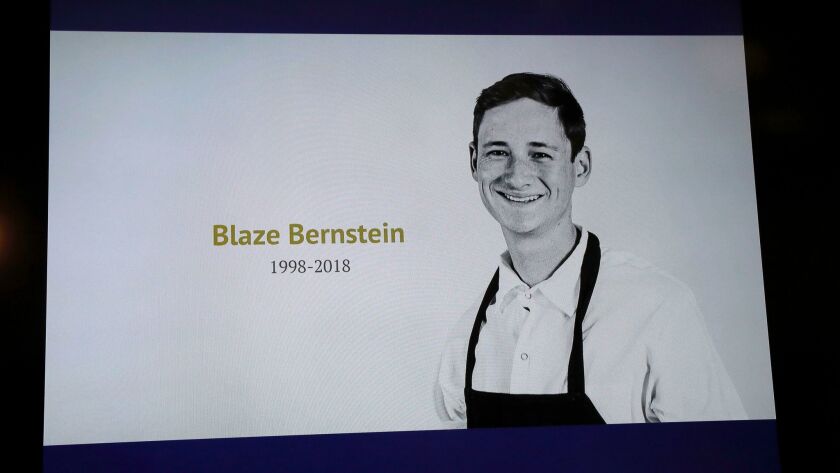 Woodward and Bernstein met at the Orange County School of the Arts in Santa Ana, though it is unclear whether they were friends there.
Philip Schwadron, who taught Woodward in an acting class for a semester at the School of the Arts when Woodward was in 10th grade, said he remembers him as a quiet, serious teenager who didn't crack a smile in his class.
"It's an arts school, so there were a lot of large personalities around him," Schwadron said. "He was not one of the ones who got loose. You could see him watch the others be more free with their personalities, but he was not like that."
Schwadron said he was shocked to see Woodward's mug shot in connection with a homicide case.
"He was not the kind of person who got in anyone's face or was a bully," he said. "He was just an angsty 15-year-old kid."
Woodward performed a monologue by Brad Pitt's character, Lt. Aldo Raine, from Quentin Tarantino's 2009 film "Inglourious Basterds" as an assignment during the class. He had told Schwadron that he wanted to play a general or someone else in the military, so the teacher selected the scene for him to perform.
"He really liked it," Schwadron said. "He ate it up."
On his ASKfm page, Woodward expressed a desire to join the Marine Corps.
He also indicated that he enjoyed drawing.
Woodward attended the Orange County School of the Arts from seventh grade in 2010 through 10th grade in 2014, according to school officials.
He studied in the integrated arts conservatory, which allows students at the prestigious school to dabble in a variety of disciplines, according to Schwadron.
Woodward transferred to Corona del Mar High School, where he completed his junior and senior years. He graduated in 2016, according to Newport-Mesa Unified School District officials, who said they had no further information about his time there.
Woodward's attorney, Edward Munoz, said Woodward was once enrolled in college in Ventura County but left to work. His occupation is listed in jail records as "nerf games."
Bernstein's parents reported him missing Jan. 3 after he missed a dental appointment and they found his wallet and eyeglasses in his room. He had been visiting his parents in Lake Forest on winter break from the University of Pennsylvania.
After an extensive search, Bernstein's body was discovered at Borrego Park. A recent rainstorm had washed away some of the dirt covering the remains.
Authorities allege that Woodward picked up Bernstein from his parents' house around 11 p.m. Jan. 2 after an interaction on Snapchat and drove him to the parking lot of a shopping center on Portola Parkway in Foothill Ranch. Later that night, Woodward drove Bernstein to Borrego Park, authorities say.
The exact time and location of Bernstein's death are not clear, authorities have said.
Detectives linked Woodward to the slaying through DNA evidence at Borrego Park and inside his car, authorities said.
Woodward was stoic as he appeared in Superior Court in Santa Ana on Wednesday dressed in an orange jail jumpsuit. His natural blond hair has been dyed black.
Woodward's parents, Blake — who is first vice president of commercial real estate group CBRE, according to its website — and Michele, a licensed marriage and family therapist, held hands as they sat in the second row of the courtroom. The couple shared a prayer with Wilbur Davis, a retired priest whom they have known for 10 years through Our Lady Queen of Angels Catholic Church in Newport Beach.
Davis described the family as "devout" Catholics. Woodward's parents attend Mass nearly every day, Davis said.
Woodward was named after the prophet Samuel, a leader of ancient Israel whose story is highlighted in the Old Testament, Davis said.
"We are all in shock," Davis said. "Both sides are in pain. Both sides are victims," he added, alluding to the Woodward and Bernstein families.
On Thursday morning, the Woodwards' modest single-story home in the Port Streets neighborhood of Newport Beach was quiet. A basketball hoop stood on the sidewalk outside.
A white paper sign on the front door read "Please respect our privacy."
The family has not spoken publicly about the murder case, aside from a statement Michele Woodward made outside her home Tuesday.
"I would like it very much if everyone would respect our privacy and the privacy of the Bernstein family," she told KNBC-TV/4. "This is a time of great suffering, and we would ask that you would respect that suffering. Thank you very much."
Samuel Woodward is expected to be arraigned Feb. 2.
Twitter: @HannahFryTCN
---
All the latest on Orange County from Orange County.
Get our free TimesOC newsletter.
You may occasionally receive promotional content from the Daily Pilot.