Orange County authorities continue search for missing college student
Orange County sheriff's investigators struggled Saturday to unravel the mystery surrounding the abrupt disappearance four days ago of a 19-year-old college student who was home on winter break, authorities said.
Blaze Bernstein, a pre-med student at the University of Pennsylvania, failed to return to his parents' home in Foothill Ranch late Tuesday night after going to nearby Borrego Park with a friend, said Carrie Braun, a spokeswoman for the Sheriff's Department.
The friend told investigators that he went to a restroom at the park and when he came out, Bernstein had walked off, Braun said. "We do not believe foul play was involved at this point, and the friend is only a witness, not a suspect or person of concern."
On Saturday, sheriff's search-and-rescue teams and canine units fanned out across the park and adjacent rugged canyon lands searching for clues, including Bernstein's cellphone. The search was expected to continue until nightfall.
Bernstein's cellphone, which had been lent to him by a relative a week earlier, was not receiving calls, according to investigators and friends of the family.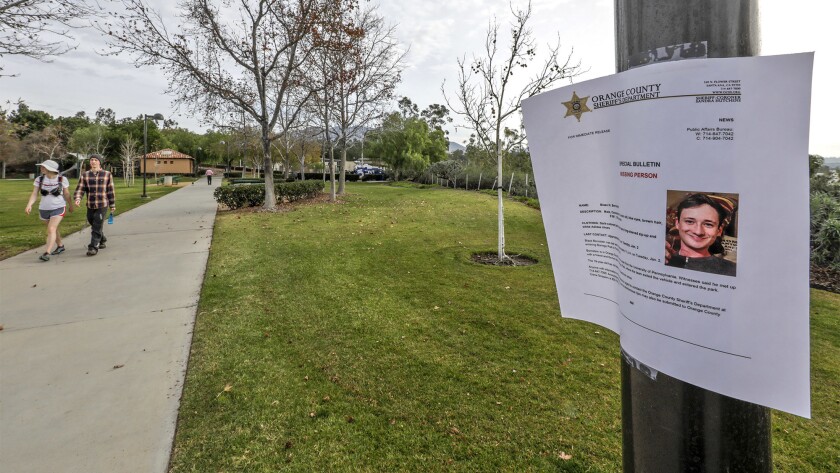 "We're doing everything we can to find Blaze and bring him home," Lt. Brad Valentine said during the search Saturday in the vicinity of Bernstein's last known whereabouts. "We're hoping he's, perhaps, incapacitated and in need of medical attention."
"It's going to be a slow, tedious search," he added, "as we get out there and beat the bushes for any sign of him."
Bernstein left personal belongings, including his keys, wallet, credit cards and eyeglasses, behind when he left his parents' home to see his friend "without saying goodbye — we didn't even hear him leave," his father, Gideon Bernstein, said in an interview with The Times on Saturday.
"Blaze left the house around 10:30 p.m. or so, but exactly why he left is a big mystery," he said, adding that "we didn't know the person he met up with.
"We're hoping he comes back, or we find him," he added.
Searchers scouring Borrego Park and the trails of nearby Whiting Ranch Wilderness Park for signs of Bernstein, who is scheduled to fly back to Pennsylvania on Sunday, included Katherine and John Coster, who are friends of the Bernstein family.
"We run in the canyon quite often, so we know it well," Katherine Coster said in an interview. "We're still hopeful, all of us."
Before leaving home, Bernstein had been in lengthy communication with his friend using social media apps that do not leave a permanent record, authorities said. He was last seen in the park about 11:30 p.m. Tuesday.
He is described as white, 5 feet 8, 130 pounds, with brown hair and blue eyes. Bernstein was wearing a dark-colored jacket, a dark-gray long-sleeved top and white Adidas sneakers at the time of his disappearance, authorities said.
"There are so many unknowns to deal with," Annee Della Donna, a friend of the family, said. "We're talking about a brilliant kid who goes to a small park five minutes from home, then disappears."
Sheriff's investigators are urging anyone with information about Bernstein's whereabouts to call (714) 647-7000.
---
UPDATES:
4:20 p.m.: This article was updated with new information from sheriff's officials.
2:40 p.m.: This article was updated with new information from sheriff's officials.
1:35 p.m.: This article was updated with new information from authorities and friends of the Bernstein family.
This article was originally published at 11:45 a.m.
---
The stories shaping California
Get up to speed with our Essential California newsletter, sent six days a week.
You may occasionally receive promotional content from the Los Angeles Times.