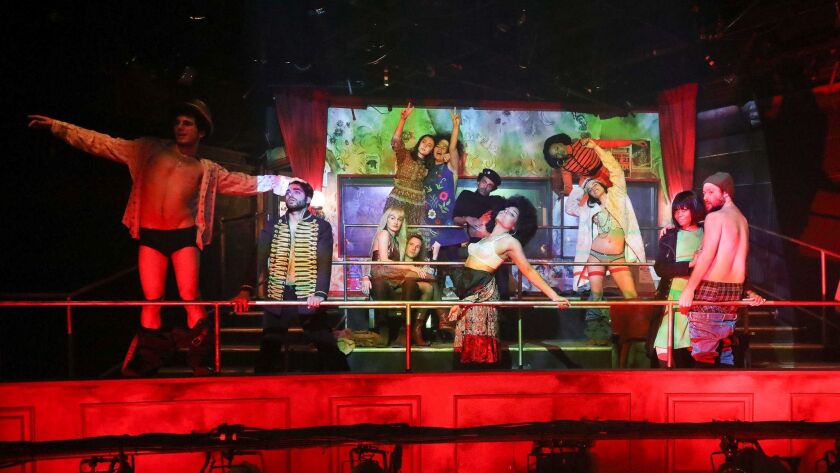 A variety of unconventional art performances will be showcased at the Segerstrom Center for the Arts as part of the weeks-long seventh annual Off Center Festival.
The program will begin Jan. 19 with a show by Martha Graham Cracker, a drag artist who performs Aretha Franklin, Prince, Black Sabbath, Nina Simone and others.
The Philadelphia native has been running the show for more than 12 years. Having recently performed in New York, Philadelphia and Las Vegas, this is Cracker's West Coast debut.
Also slated for the festival is Shasta Geaux Pop, an irreverent hip-hop character created and performed by Ayesha Jordan, a New York City-based entertainer. The character, which intermingles 1980s and 1990s hip-hop with humor, is described as "a clash of old school '80s hip-hop meets southern crunk, favela funk, mixed with a taste of soul" on the artist's online profile page.
Festival attendees will also get a chance to step back in time to the 1960s with "The Hendrix Project," a play that retells a Jimi Hendrix concert at the Fillmore Theater in New York City in 1969 amid spiraling turbulence in the country kindled by the Vietnam War.
The reimagined moment, considered to be iconic in rock 'n' roll history, features actors playing concertgoers of the time watching Hendrix's final New Year's Eve performance.
The program's creator, Roger Guenveur Smith, is an actor, director and writer whose screen credits include "Do the Right Thing," "Eve's Bayou," "Hamlet," "Deep Cover," "The Birth of a Nation," "Marshall," "Dope" and "American Gangster." He also starred in HBO shows "Oz" and "K Street."
Fan favorite The Car Plays will be returning to the festival. The performance features a series of mini-plays enacted in various cars.
The performance entails an audience of two being ushered into a parked car where two performers act out a 10-minute play. Attendees are then brought to a new car, where another story commences.
Segerstrom Center President Terry Dwyer said the Off Center Festival was created years ago with the intent of showcasing contemporary performances that are unique and defy traditional classification.
"We want to do the most adventurous contemporary performances," Dwyer said. "These performances are more provocative. They are not mass-marketed kinds of experiences. We want people to expect the unexpected."
This year's festival will also be the first since the Julianne and George Argyros Plaza opened in late October.
Most of the performances will be held inside the theater, though The Car Plays will be on the plaza along with the Off Center Lounge, where audiences can mingle with the artists after performances.
Off Center performances are intended for mature audiences.
Tickets are $25.
For purchases, visit the box office at 600 Town Center Drive, Costa Mesa or scfta.org.
Off Center Festival schedule
Martha Graham Cracker Cabaret: 8:30 p.m. Jan. 19 and 20
The Car Plays: 5, 7:30 and 9 p.m. Jan. 26 and 3:30, 5:30, 7:30 and 9 p.m. Jan. 27 and 28
Shasta Geaux Pop: 8 p.m. Jan. 26 and 27
The Hendrix Project: 8 p.m. Feb. 1, 2 and 3
Twitter:@benbrazilpilot
---