Commentary: Much more than a ceremony for Newport-Mesa class of 2020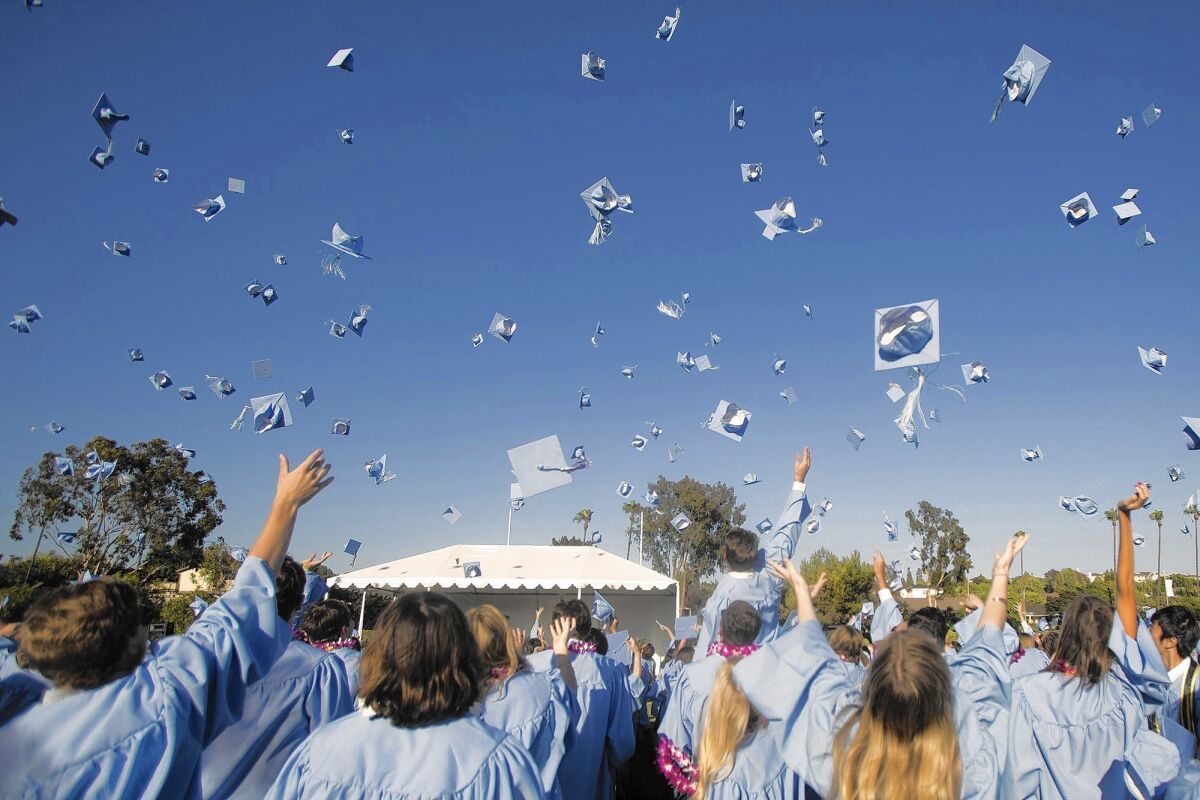 Graduation is an important and memorable accomplishment, and we are extremely proud of our Newport-Mesa Unified School District seniors, our schools, parents and teachers for the collective resilience as we finish the school year strong during this most difficult time. We share in the disappointment that our seniors are not able to participate in the in-person traditions associated with the culmination of high school.
School districts across the country have had to make difficult choices about what graduation looks like at a time when government and health care experts are doing all they can to keep COVID-19 at bay. This virus has devastated many families in our communities and continues to be a threat.
As Orange County reopens businesses, the sobering reality is that the Orange County Health Care Agency recorded the highest number of COVID-19 cases in a day last week, and as of May 25, Costa Mesa and Newport Beach are two of the top five cities with reported cases of COVID-19 in the county.
So, while an in-person high school graduation is indeed one of life's major milestones, our district, along with high school principals, came to the recommendation that this year's commencement would be broadcast online, so that all students and their families can participate in this momentous occasion in a safe manner.
Students from Corona del Mar, Newport Harbor, Costa Mesa and Estancia held a protest Tuesday in front of the Newport-Mesa Unified School District offices.
We understand that this is a disappointment for graduating seniors, their families, and us at the district who look forward each year to seeing our students receive their diplomas and participating in the joy with our school community.
Instead of letting our graduations in 2020 be defined by what we couldn't do, let's celebrate and recognize that this graduating class not only did what was needed to earn their diploma, but they did it in a way to protect their families, their teachers and their classmates from contracting COVID-19.
Our graduation broadcasts will be produced by Van Wagner Sports and Entertainment, a leading entertainment company that works with the biggest sports organizations and brands in the world including the NFL, NBA, NHL and NCAA. It recently broadcasted the NFL Draft and USC's 2020 commencement ceremony — both as a result of COVID-19 impacts.
Anna Ellis, a Newport Harbor High School senior, writes that she's in support of the Newport-Mesa Unified School District board's decision to hold a virtual graduation.
The ceremony broadcast will allow us to experience a ceremony together with the graduate and a live broadcast of the master of ceremonies, guest speakers, a personalized photo and video montage of the graduating class, and a presentation of diplomas. Students also will get a digital copy of the ceremony as a keepsake.
In addition to our graduation broadcasts, all of our high schools plan to celebrate seniors with an informal, in-person event later this summer, with the hopes that state orders and social distancing requirements allow it.
As we look ahead, the class of 2020 will not be defined by this, but instead on how each graduate will define their lives from this day forward and enrich our society through career, educational, civic and personal achievements.
The writer is the superintendent of the Newport-Mesa Unified School District.
---
All the latest on Orange County from Orange County.
Get our free TimesOC newsletter.
You may occasionally receive promotional content from the Daily Pilot.