Mailbag: Letter, actions in Congress speak to Rouda's responsibility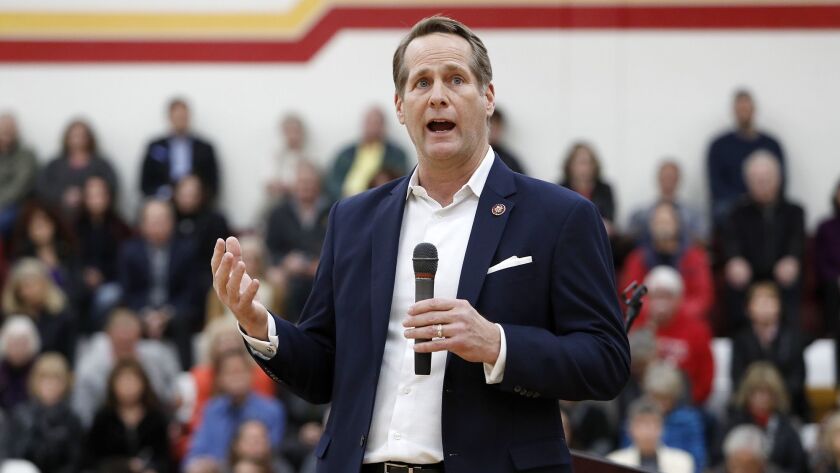 The opinion of Russ Neal expressed in a recent Daily Pilot Mailbag shows only partisan politics. Rep. Harley Rouda has tried to support nonpartisan approaches to his time in Congress.
One great example is his support for the Energy Innovation and Carbon Dividend Act of 2019, H. R. 763. This bill will solve climate change in a way that both parties should support.
There is no question that the pandemic has had a significant effect on the work of firefighters, police and other first responders. So has the climate crisis. I am not sure what Mr. Neal could expect Rouda to do for firefighters, police and other first responders in Orange County, but his stand on H.R. 763 will certainly help if others will join to pass it.
What has O.C. Supervisor Michelle Steel done "in the trenches" that helps firefighters, police and other first responders?
Jim Martin
Huntington Beach
*
Russ Neal misrepresents the letter addressed to Gov. Newsom and Orange County supervisors from Congressional Reps. Rouda, Cisneros, Levin, Lowenthal and Correa.
Far from offering "no suggestions," Rouda and the others call for more testing, particularly to protect first responders, noting that they voted for the bipartisan CARES Act which allocated $554 million to Orange County, money the supervisors should be using for this purpose.
Rouda also points out that the Heroes Act, approved by the House in May and rejected by Senate Republicans, would have provided $1.8 billion to Orange County, safeguarding critical personnel like first responders.
The writer apparently favors Michelle Steel's approach, downplaying the virus, refusing a mask mandate, pretending, like Trump, that it will all go away like a miracle.
Orange County residents know how this failed leadership is working out: 50,000 infected; over 1,000 dead, still no end in sight. Vote for a responsible leader in November. Reelect Harley Rouda.
Bob Taylor
Newport Beach
*
Russ Neal criticized Rep. Harley Rouda because the congressman wrote to local authorities expressing his concern for the safety of COVID-19 first responders.
Mr. Neal felt that Rouda should, instead, "take responsibility for something," and "call for specific action." Harley did both.
He took responsibility for helping to pass the bipartisan CARES Act, which allocated $554 million to Orange County. He also arranged for the HEROES Act to allocate $1.8 billion additional dollars to Orange County. The Senate took no action on that.
Not having local authority to act himself, he then wrote to recommend that local authorities take specific action to remedy the lack of available COVID-19 testing and the significant delays in receiving results, in order to better safeguard first responders as well as the public.
It's worth noting that Rouda's letter also praised local Republican authorities for encouraging the use of masks.
Christopher Hilger
Fountain Valley
*
I am pretty sure that letter writer Russ Neal never bothered to look up any of Rep. Harley Rouda's accomplishments in his less than two years in office.
I am pretty sure he does not know or care about his three measures signed into law, his 31 measures passed in the House and his 60 measures introduced. He is probably unaware of the 577 measures co-sponsored (60% being bipartisan). His accomplishments dwarf the entire output of his Republican predecessor over his decades in office.
Rouda's GOP opponent, Supervisor Michelle Steel, may have been "in the trenches," but it was making disastrous decisions to open our local economy and schools early without adequate protection and planning for the coronavirus pandemic.
Rouda chairs one subcommittee in Congress (Oversight and Government Reform Committee), something Steel would never be able to do in a Democrat-controlled House of Representatives.
He has pull for a freshman congressman in serving his constituents in Orange County, something Steel could not match. Rouda is doing plenty and has exercised plenty of leadership. If this is "small ball," it is scoring plenty of runs.
Tim Geddes
Huntington Beach
*
Two letters appeared in the the Daily Pilot today, both of which were from Huntington Beach writers. Tim Geddes wants to see debates between candidates we will be voting for. It's a good idea; I agree with it.
The other, from Russ Neal, criticizes Rep. Harley Rouda. Mr. Neal feels that the congressman has done little to warrant reelection. Has he considered Rouda's activity on behalf of climate and the environment? I have.
I am close to the climate and environmental communities both local and national and have written and educated on these topics for decades. I have also heard the congressman in person speak about these issues. Few issues — coronavirus included — are as critical as the worldwide global warming emergency.
Rouda signed on to climate bill HR763 in Congress as soon as it was introduced. I thank him for his leadership.
Curt Abdouch
Costa Mesa
*
Two years ago, my dog and I were spending our free time knocking doors to help rid our district of the embarrassment of Dana Rohrabacher.
This year, the pandemic has put the kibosh on door-knocking, but I'm still every bit as passionate about helping ensure that the 48th District repeats the wise decision we made in 2018.
Rep. Harley Rouda has been an intelligent, empathetic, even-handed presence in Congress. He's prioritized issues like taxes, climate change, and healthcare, which affect all Orange County residents, and unlike his opponent, he's promoted a safe, sensible response to the coronavirus crisis.
Rouda and I don't agree on every issue; we don't need to. After far too many years of being alternately terrified and humiliated by my congressional representative, I'm thrilled to know that someone smart and honest is speaking for my district, and I'm not interested in going backward. I'm proud to vote for Harley Rouda once again.
Eliza Rubenstein
Costa Mesa
*
In a rambling letter to the Daily Pilot Russ Neal essentially accuses Rep. Harley Rouda of not doing anything.
I wonder if he would have written a similar letter to the Mailbag about former Rep. Dana Rohrbacher, who had no legislation enacted and accomplished virtually nothing during his legislative tenure.
Rouda has had several (many with bipartisan support) bills enacted. His office responds promptly with requests. A friend (Republican) recently had a problem with a lost U.S. passport and got rapid assistance from Rouda's staff.
When the Heroes Act was passed by Congress there was a provision that allowed taxpayers who had withdrawn Minimum Required Distribution funds from an IRA to redeposit the funds with consequent tax savings. The bill only allowed this for folks who had made withdrawals during a short 30-day window before the bills passage.
I e-mailed Rouda's office and they quickly contacted the IRS which issued an emergency ruling allowing anyone to return funds even if they had withdrawn funds before the originally allotted time.
Neal says "... I would like to see our congressman show a little more real leadership, call for specific action and take responsibility for something."
That's exactly what he should be writing to Donald Trump.
Lawrence Freedman
Newport Beach

New rule might be the final nail in the coffin
There appears to be an underlying current at Tuesday's Newport Beach City Council meeting, as there is an emergency ordinance being considered for restaurants and bars to mandate wearing masks and implement, a "one person, one seat" policy.
The restaurants and bars have been closed for months and are barely surviving serving people outside, as indoor dining is prohibited; yet, the City Council is now considering pounding yet another "nail in the coffin," further punishing our local restaurants and bars.
Offenders of this emergency ordinance, if adopted, will be fined $100 and the fine for the second violation will be $200 and a third violation within a six-month period, $500. Who is going to police this edict or should Newport Beach create another bureaucracy, perhaps, the "Bar and Bounty Stalkers"?
As of Aug. 31, San Diego County has implemented a "safe-reopening" plan that includes restaurants, places of worship, movie theaters, museums, gyms and fitness centers, zoos and aquariums, hair salons and barbershops, nail salons and tattoo parlors. In some cases the guidance includes maximum capacity and they can still continue their outdoor operations. It is time for Orange County to follow suit.
The government needs to stop regulating our freedoms by trusting and allowing the people to make their own best, informed educated decisions. By trying to command and control us will only continue to crush the economy and the human spirit.
Interestingly enough, this proposed ordinance is just for restaurants and bars and ironically, one of the candidates running for City Council owns a restaurant and bar in Newport Beach.
Ask yourself, if this is a true emergency or is it simply political power prevailing over common sense?
Peggy V. Palmer
Newport Beach
---
All the latest on Orange County from Orange County.
Get our free TimesOC newsletter.
You may occasionally receive promotional content from the Daily Pilot.