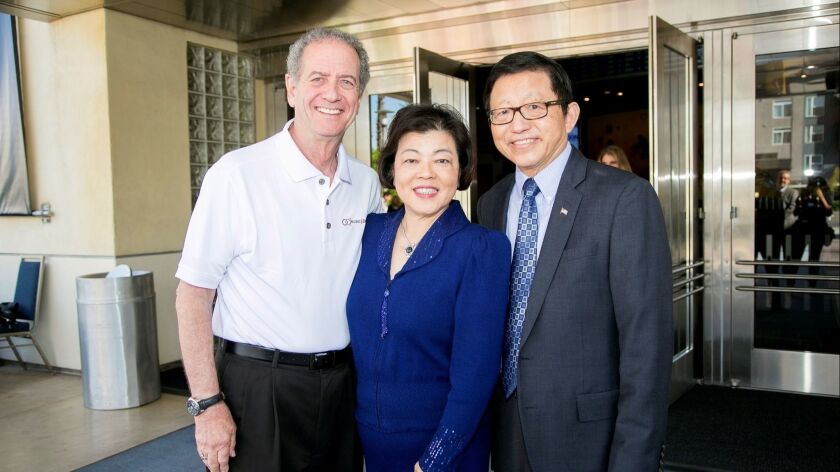 We begin the new year with notice paid to Orange County citizens who stepped up to the plate in 2018, making a difference in the lives of others. The 32nd annual National Philanthropy Day in Orange County brought together some 920 local "givers" honored for community service at a major gathering Nov. 16 at City National Grove of Anaheim.
The event is produced by the Orange County Chapter of the Assn. of Fundraising Professionals, which launched in the region in 1986. Since its inception, some 1,000 honorees have been recognized. The 2018 presentation was themed "Take Action! Create Change!" and was co-hosted by PBS SoCal's Maria Hall Brown and KTLA-5's Henry Di Carlo.
Joining the celebrity media emcees were devoted co-chairs Jane Hansen and Jeanne Flint; they made the luncheon ceremony a success. The 2017 Outstanding Philanthropists, James and Suzanne Mellor, were front and center and named honorary co-chairs paying tribute to the 2018 honorees chosen by a judging committee led by Janet Ray and John Christiansen.
The 2018 awards were granted to Ling and Charlie Zhang, who were named Outstanding Philanthropists of the year. The couple was joined by Michelle Wulfestieg, Outstanding Founder, Lauren Best, Outstanding Youth, and a respected roster of legacy award recipients.
In the crowd were Ginny and Peter Ueberroth with daughter Vicki Booth, as well as Joe Hanauer, Michael Baroni, Trudy Levindofske, Len Shulman, Ron Rodges, Jim Bastian, Leland Smith, Elissa Oransky and Allen Staff.
Adoption Guild to host fundraiser
The Adoption Guild of Southern California will welcome supporters to its 58th annual Patroness Event Feb. 1 at the Balboa Bay Resort. The "Celebrating Family" event will raise funds for Holiday Family Services Adoption and Foster Care. Guests will enjoy lunch, a silent auction, shopping boutique and a grand prize raffle for a $2,500 Fashion Island gift card.
The Patroness gathering will be all about fashion, with Palm Springs Life magazine Fashion Editor Susan Stein discussing spring trends. Fashion guru William Squire will deliver "Your Signature Style." Grayse of Fashion Island will present a spring fashion show.
For over 50 years, the Adoption Guild of Southern California has supported HFS Adoption and Foster Care. With the hope of giving every child an opportunity to have a loving family, dedicated volunteers work each year to raise funds. Since 1961, the Adoption Guild has generated over $4.4 million in funding, contributing to about 3,000 adoptions.
For more information on tickets, donations or underwriting, please visit bidpal.net/2019agpatronessevent or contact Christine Johnson at christinejohnson@me.com or (310) 600-1675.
For information on the Adoption Guild, visit adoptionguild.org.
B.W. COOK is editor of the Bay Window, the official publication of the Balboa Bay Club in Newport Beach.
---