Column: The Crowd: CASA fundraiser nets more than $1 million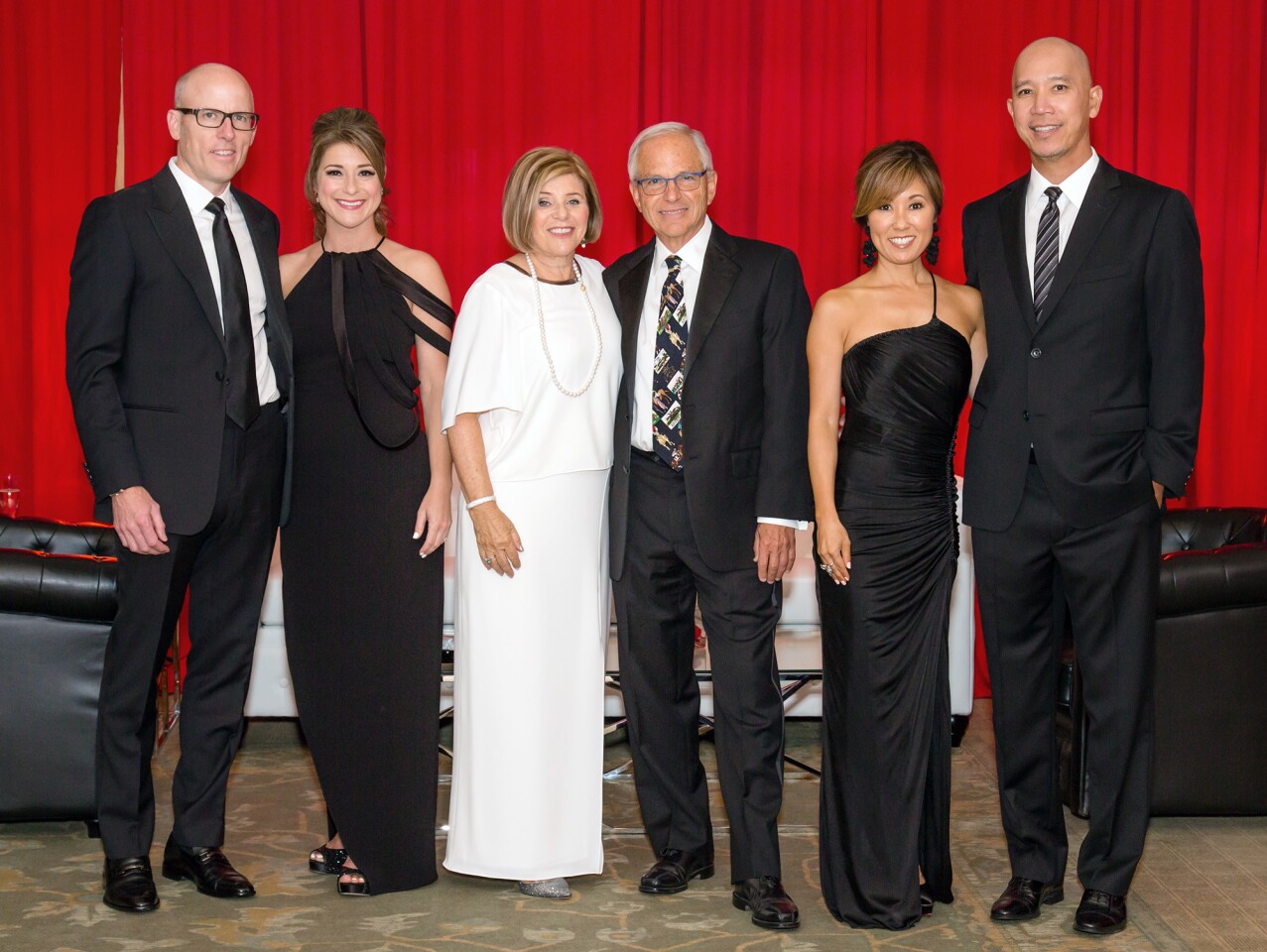 "A Celebration of Children: Black and White Ball" welcomed donors and chairs David Fisher, Michelle Fisher, Susan Leibel, Dennis Leibel and Dana Chou and Tom Chou to raise funds for Court Appointed Special Advocates (CASA) of Orange County.
(Courtesy of John Watkins Photography)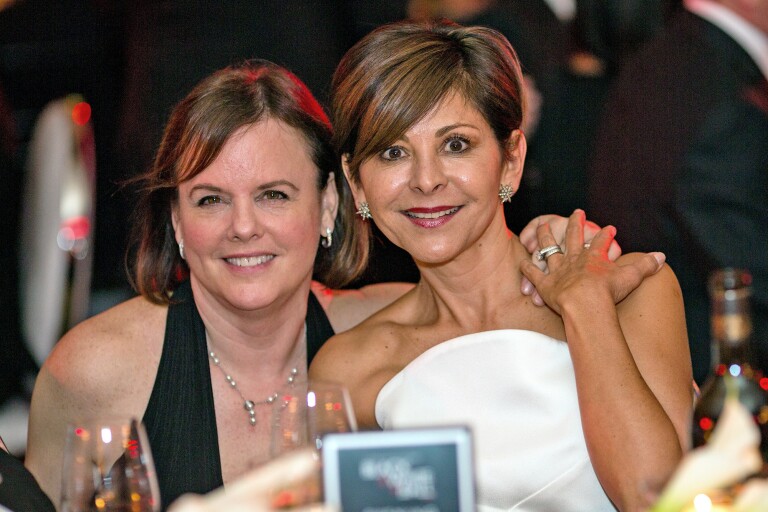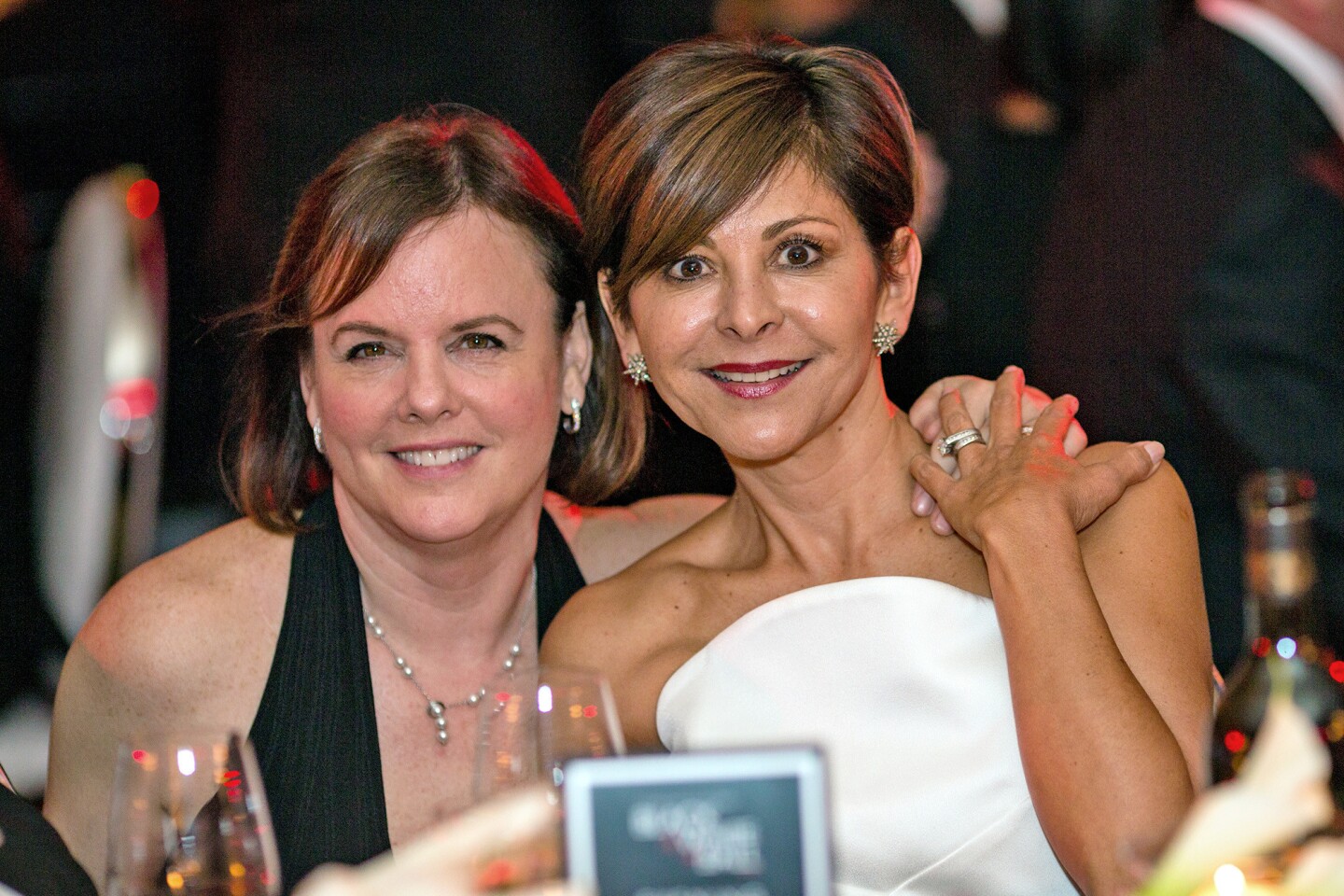 Guests Kathryn Cenci and Lourdes Nark helped raise funds for CASA.
(Courtesy of John Watkins Photography)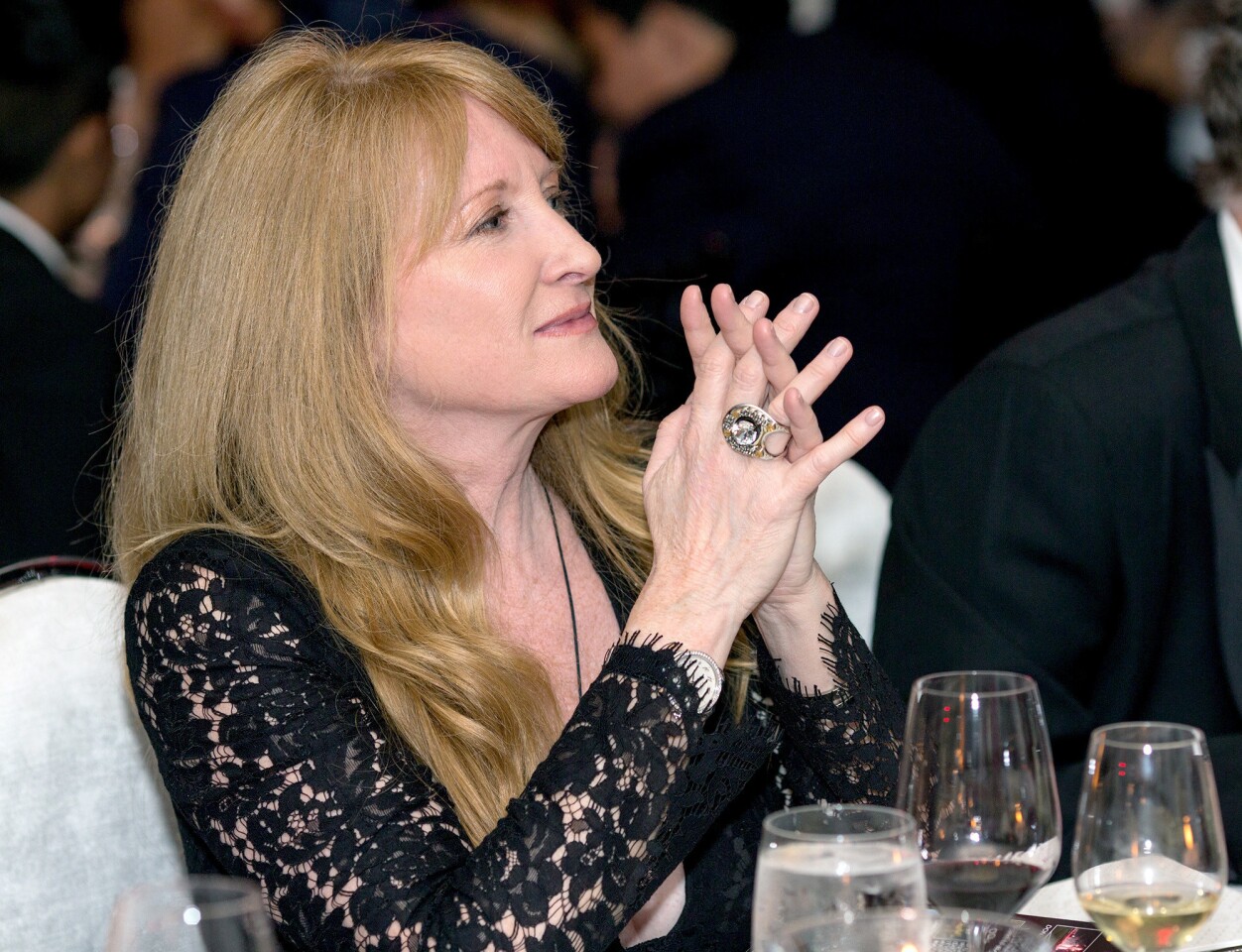 Guest Jennifer Segerstrom was one of the donors who helped raise $1 million for CASA.
(Courtesy of John Watkins Photography)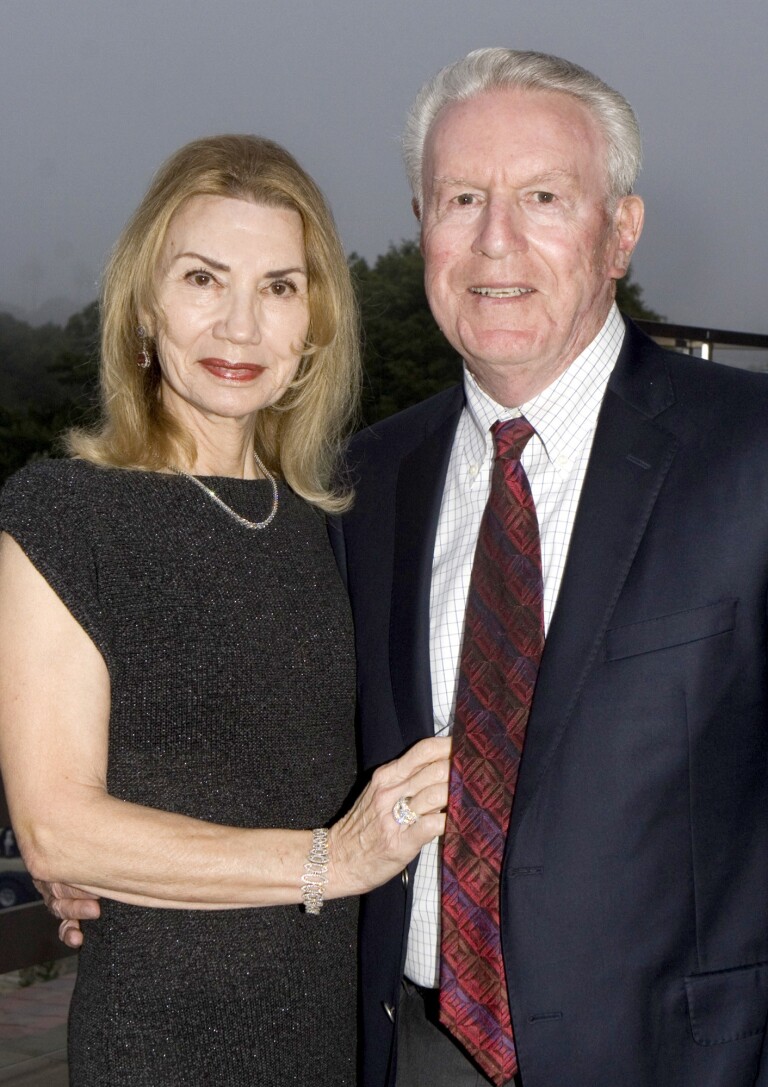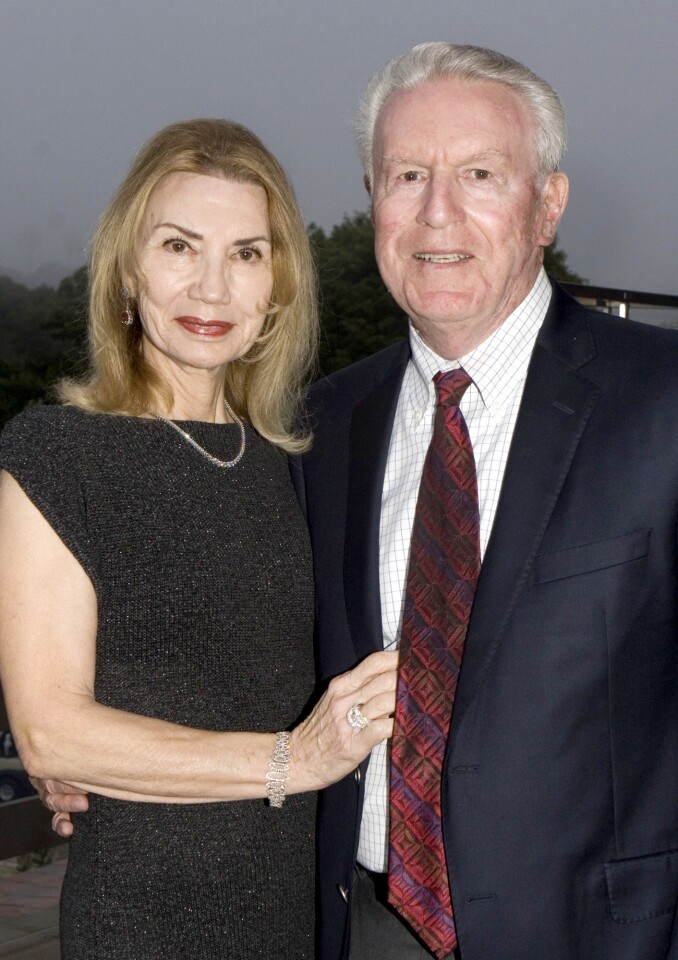 Guests Grace and Patrick Thelen joined 300 guests at Newport Beach Country Club on behalf of Olive Crest.
(Courtesy of Ann Chatillon)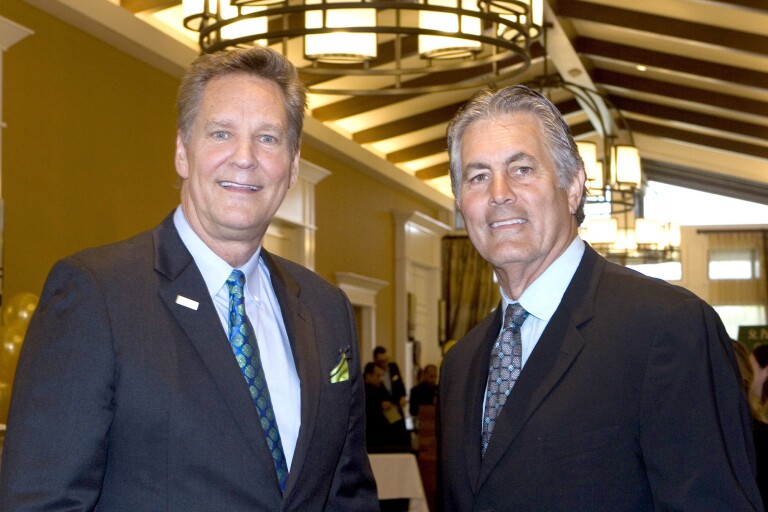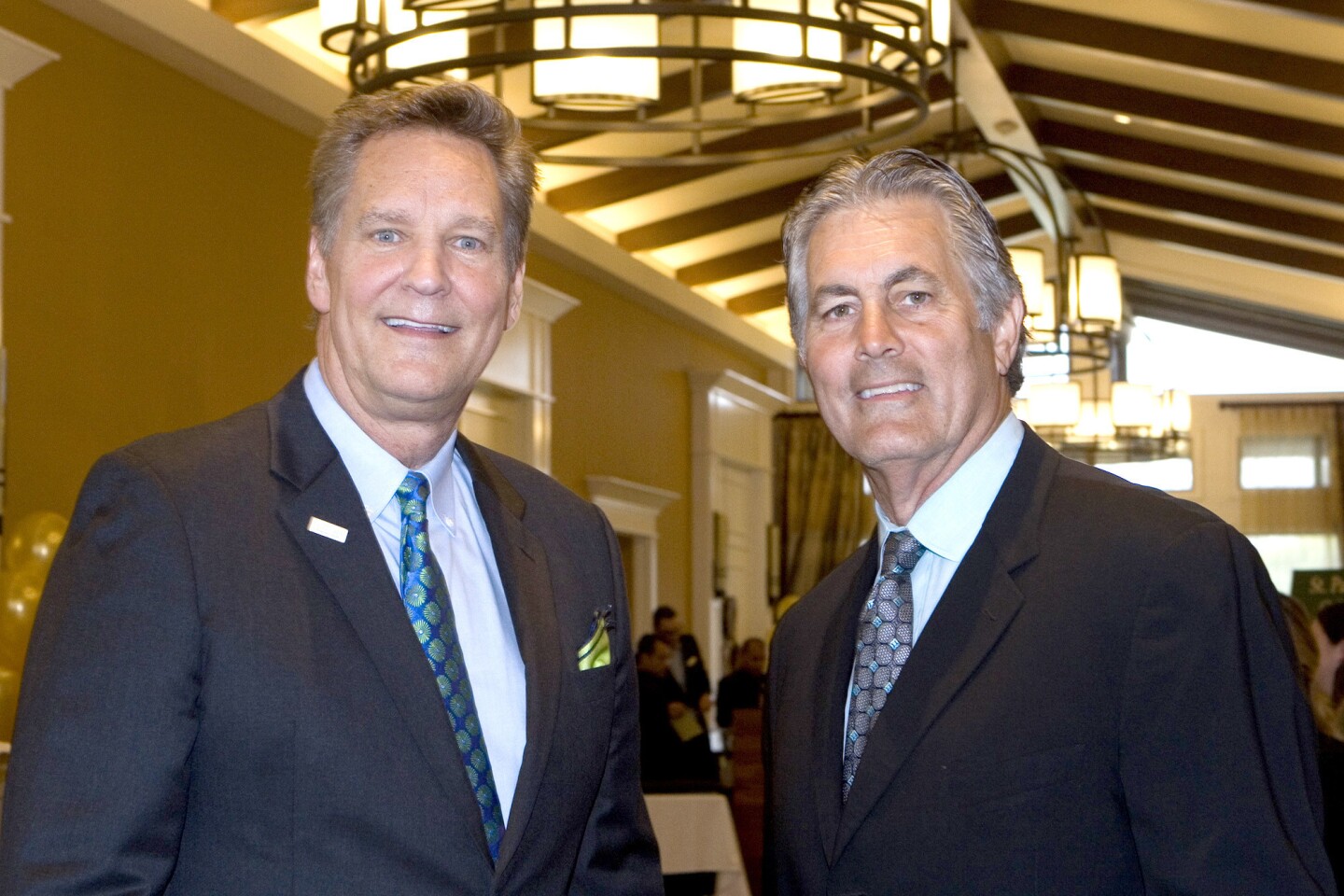 Olive Crest Director of Development Tim Bauer and Honorary Chair Vince Ferragamo help work on behalf of at-risk young adults in Orange County.
(Courtesy of Ann Chatillon)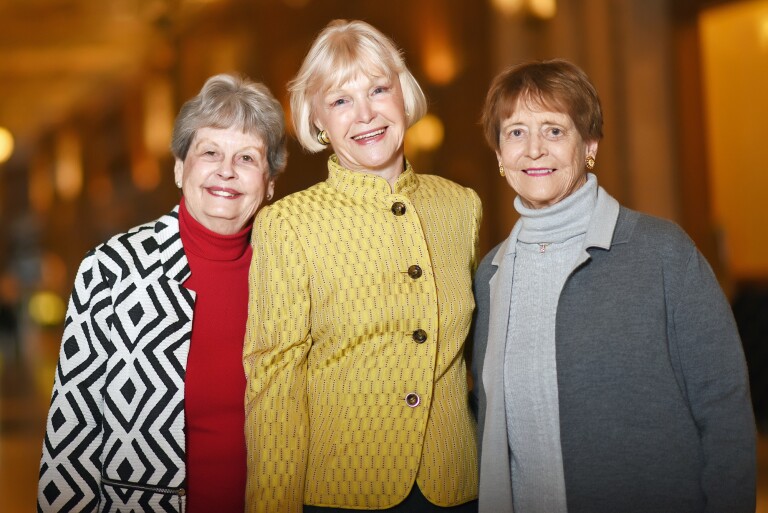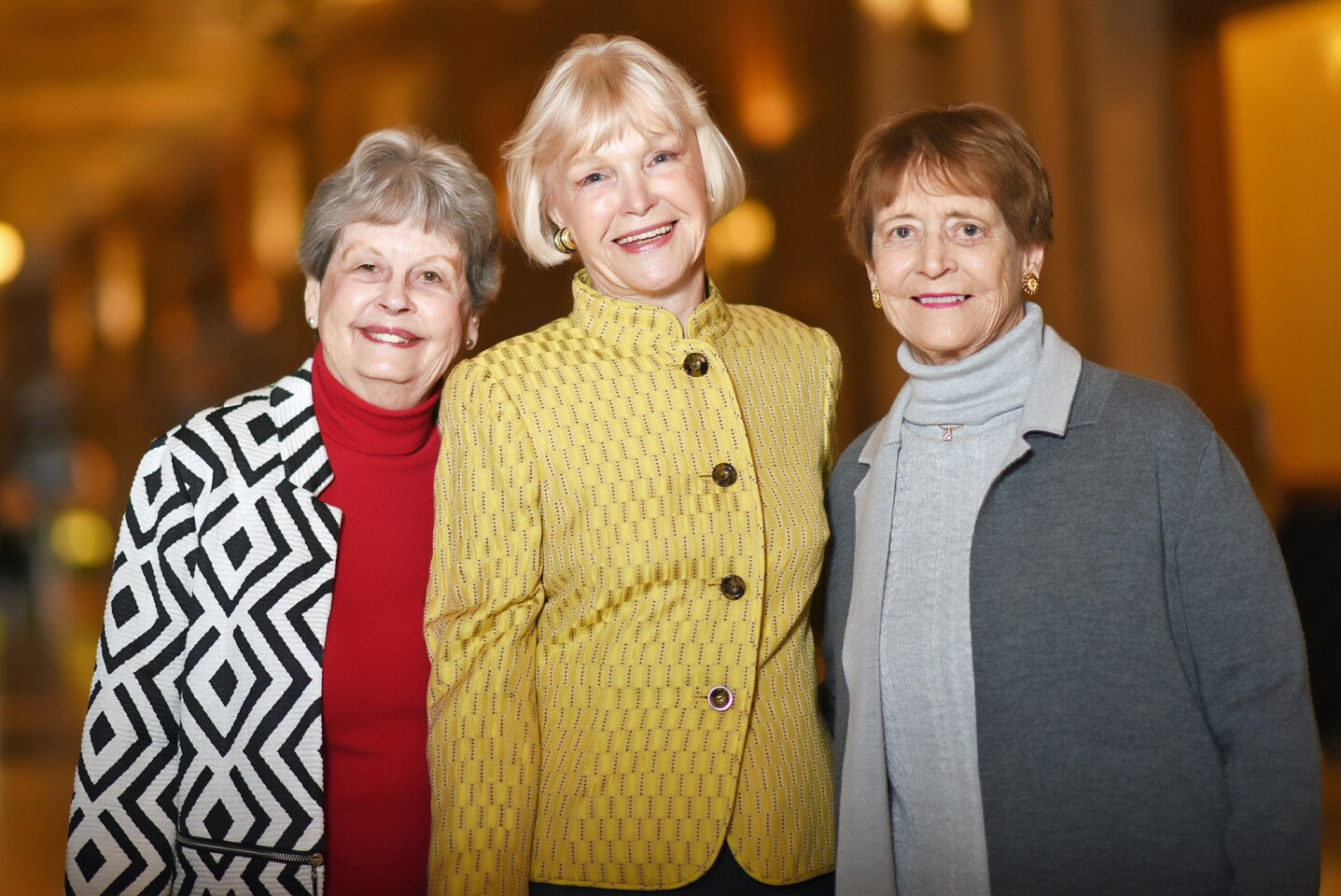 Balboa Island residents Liz Shonk, Barbara Nielsen and Susan Wofford helped raise $100,000 for Doheny Eye Institute.
(Courtesy of Mary Cooper)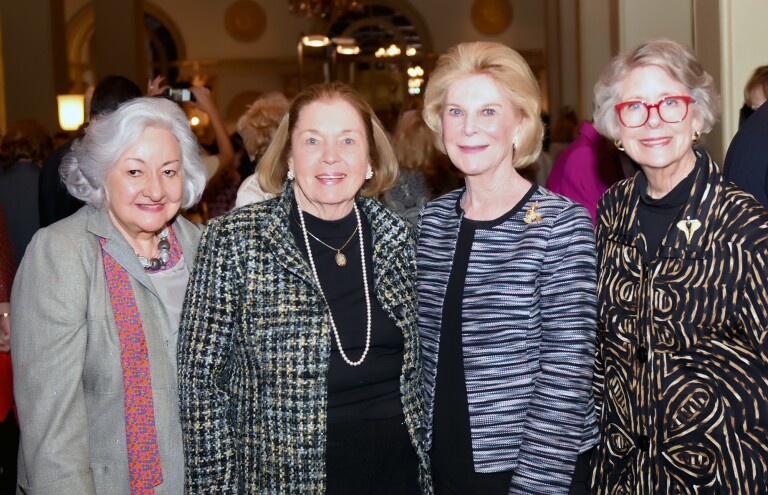 Longtime Doheny Eye Institute supporters Erika Riley, Janet Marangi, Char Acret and Winnie Reitnouer attended the annual spring luncheon.
(Courtesy of Mary Cooper)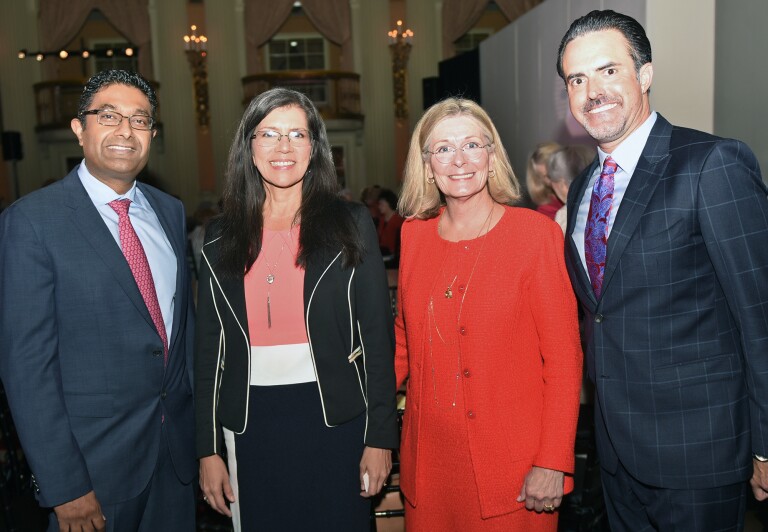 Dr. SriniVas Sadda, president and chief scientific officer at Doheny Eye Institute, joined Doheny Eye Institute CFO Marissa Goldberg, Luminaries president Judy Kloner and Christopher Conway at the Luminaries spring luncheon for Doheny Eye Institute.
(Courtesy of Mary Cooper)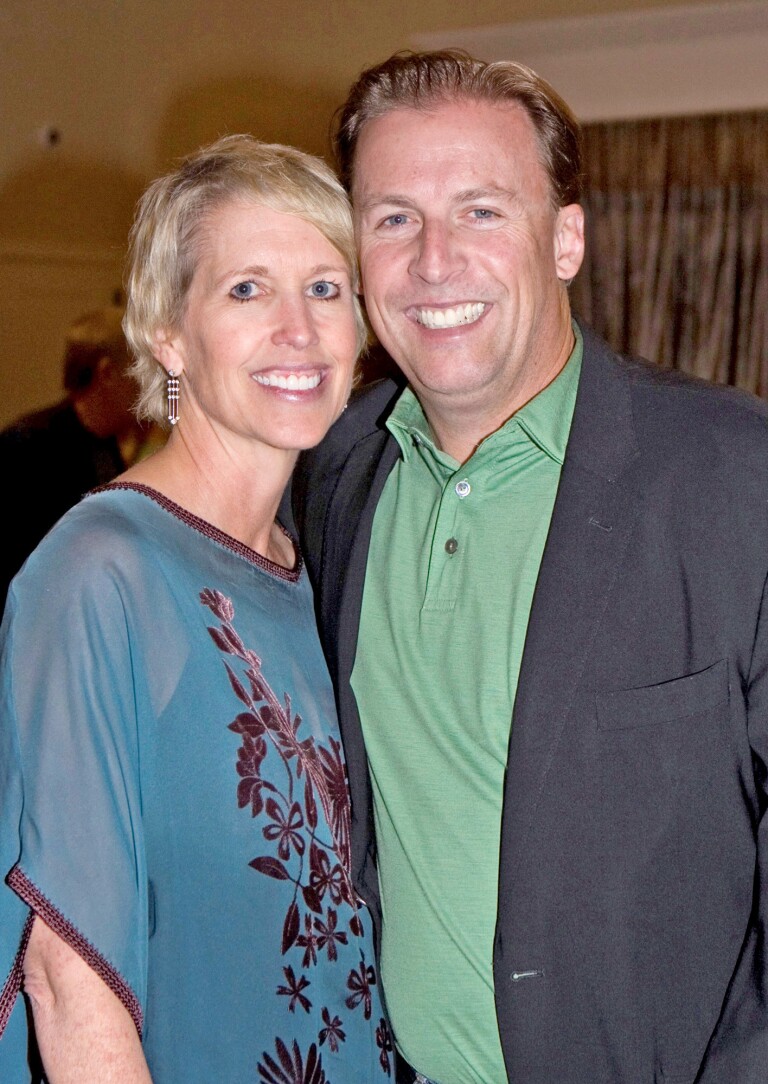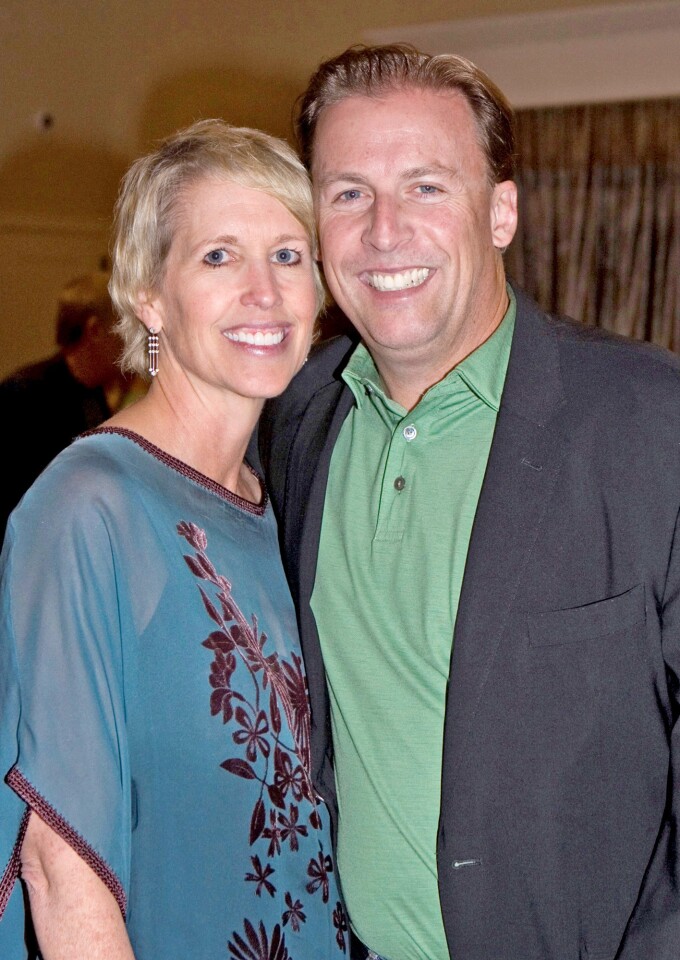 Guests Natalie and Todd Pickup helped support the Olive Crest event that raised funds for abused children in Orange County.
(Courtesy of Ann Chatillon)
For the third year in a row, Court Appointed Special Advocates (CASA) of Orange County netted more than $1 million at its annual fundraiser, billed as "A Celebration of Children: Black and White Ball."
Co-chaired by Dana and Tom Chou, Michelle and David Fisher, and Susan and Dennis Leibel, the April 22 party was created around a James Bond 007 theme and attracted more than 400 generous guests to the Island Hotel in Newport Beach.
A major part of the financial success came from an enormous silent auction with about 100 items helping to raise the financial bar.
Additional major support came from underwriter Lugano Diamonds in Newport Beach, which donated two opportunity drawing gift certificates valued at $5,000 and $10,000 each.
On hand to add style and energy to the affairs was master of ceremonies Henry DiCarlo from KTLA 5 Morning News.
Honors were bestowed upon CASA donors Lourdes and Ted Nark and Wendy and Larry Tenebaum receiving the Children's Champion awards for their dedication to CASA.
Others honored included Patty Juarez and Andrea Schoembs.
Judge Maria Hernandez delivered the keynote address detailing the horrific story of an 11-year old Orange County girl rescued from sex trafficking.
Spotted in the crowd were Kent and Karen Jordan, Tim and Sarah Middleton, Lauren Wong, Pam Harvey, Twila True, Katelyn Walsh, Urvashi and Tushar Patel, Anton and Jennifer Segerstrom, Tyler Mounce, and Shivani Tarsadia.
To learn more about the work of CASA visit casaoc.org.
Protecting the blessing of sight
We take for granted how important our vision is to our health and well-being. That is, until something happens and we are in danger of losing our sight.
Doheny Eye Institute is at the forefront of research and treatment in all aspects of vision research, medicine and care.
Founded in 1947 in Los Angeles by Estelle Doheny, the institute eventually became affiliated with the University of Southern California and was guided for years by the late Dr. Stephen Ryan.
Today Doheny Eye Institute also is affiliated with UCLA Jules Stein Eye Institute with outreach in both Los Angeles and Orange counties.
A long-time major funding support group known as the Luminaires held its 42nd annual spring benefit in the elegant Crystal Ballroom of the Millennium Biltmore Hotel Los Angeles.
The event attracted a diverse cross section of both L.A. and O.C. women who have come together year after year to raise important funds assisting Doheny in its mission to improve human eyesight through vision research and ophthalmic services.
A significant aspect of this year's successful event is credited to the work of Balboa Island residents Liz Shonk and Susan Wofford.
Joining the two ladies was another Balboa Island resident Barbara Nielsen, who coordinated the fashion show that again featured the clothing designs of Lourdes Chavez.
Pasadena-based florist Jacob Maarse worked with party designer Betsy Ulf creating the event atmosphere based on vibrant reds and pinks. Enjoying the exquisite display of red roses and pink tulips were Judy Kloner, Linda Moore, Colleen Murray, Dianne Thurman, Kandi Wopschall, Suzanne Sposato, Christy Bradley, Nancy Marino and Kim Covey.
Also front and center were Shirley Goldsmith, Winnie Reitnouer, Laura Wisner, Barbara Heublein, and the charming and dedicated Mary Cooper. The Orange County clinic of the Doheny Eye Center is located in the Orange Coast Memorial Patient Care Pavilion in Fountain Valley.
Strong families raise safe children
Newport Beach Country Club hosted a St. Patrick's Day celebration for Olive Crest, welcoming more than 300 guests for a lively evening saluted as "Wearin' Of The Green."
Irish band Cillian's Bridge welcomed the crowd for an event chaired by Carrie Brock and honorary chair Vince Ferragamo.
Brock enlisted the support of Olive Crest devotees Lorraine Bader, Lori Feeney, Steve Bernardy, Randy Rider, Lori LaPorte, Gabriella Ayerst, Kristin Breen, Kaydi Domin, and Andrew Krongold.
Special guests of the evening were Olive Crest founders Dr. Donald and Lois Verleur joining Donald, their son and CEO of Olive Crest, and executives Kerri Dunkelberger and Tim Bauer.
A major honor was bestowed upon Roshaunda Crain, who received Olive Crest's Shining Star award, which represents the work of Project Independence. The project restores the lives and builds futures for vulnerable young adults ages 14 to 24.
By the end of the evening, nearly $200,000 was raised for Project Independence.
Since 1973, the mission of Olive Crest has been to prevent child abuse and treatand educate at-risk children in Orange County.
Who is making a real difference in O.C.?
The 32nd annual National Philanthropy Day Awards will be presented in Orange County later this year.
The organization is calling for submissions recommending citizens who have made a discernible difference in the community for their philanthropic outreach.
Submissions are being accepted through May 31 by the Orange County Chapter of The Assn. of Fundraising Professionals.
Recent past honorees have including outstanding O.C. citizens Donald Bren, Marion Knott, Henry and Susan Samueli, Henry Segerstrom, General William and Willa Dean Lyon, and Marybelle and S. Paul Musco.
O.C. resident Doug Freedman created the Philanthropy Award in 1986. The 32nd anniversary event will be co-chaired by Julia Foster and Jane Hansen, supported by the 2016 honorees Elizabeth and Tom Tierney.
To submit a suggestion for the 2017 award please go to NPDOC.org.
Coming Up Next Week…
Los Angeles Angels of Anaheim presents "Readers In The Outfield," from 10 a.m. to 1 p.m. May 20 in the Music Garden at Angel Stadium.
Dennis Kuhl, chairman of the Angels, is joining forces with the Literacy Project to hosta special luncheon at Angel Stadium for the graduates of the Literacy Project Orange County.
Graduates will celebrate with legendary baseball players and community leaders. For more information email kim@literacyproj.org.
Chapman University's president Daniele Struppa will present Wylie Aitken an honorary doctorate degree May 19 from the Dale E. Fowler School of Law.
The presentation will take place on the Holly & David Wilson Field, followed by a celebration dinner in the George Bush Conference Center.
The degree is being bestowed upon Aitken for his wide-ranging humanitarian and philanthropic outreach in Orange County.
Aitken and his wife, Bette, have been called upon to assist nonprofits in sectors including the arts, sciences, education and community services.
B.W. COOK is editor of the Bay Window, the official publication of the Balboa Bay Club in Newport Beach.
---
All the latest on Orange County from Orange County.
Get our free TimesOC newsletter.
You may occasionally receive promotional content from the Daily Pilot.