Column: The Crowd: Oceana's annual Sea Change party raises funds for conservation
Actor Sam Waterston, co-chair Valarie Van Cleve and actor/emcee Ted Danson host Oceana's Sea Change Summer Party 2017 on July 15 in Laguna Beach.
(Photo by Ryan Miller / Capture Imaging)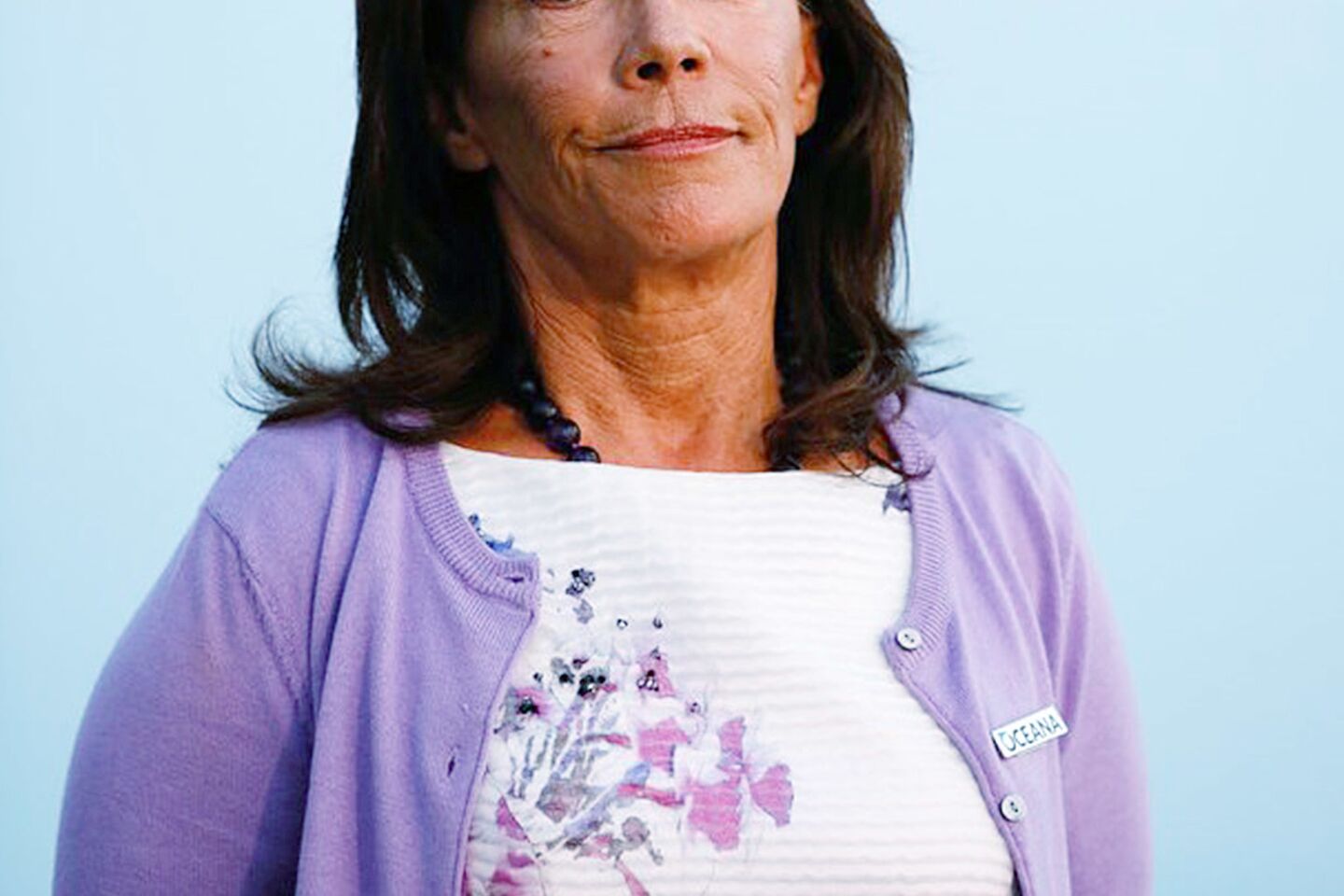 The SeaChange summer event welcomed honoree Anne Earhart. Oceana's Sea Change Summer Party 2017 was held on July 15 in Laguna Beach.
(Photo by Ryan Miller / Capture Imaging)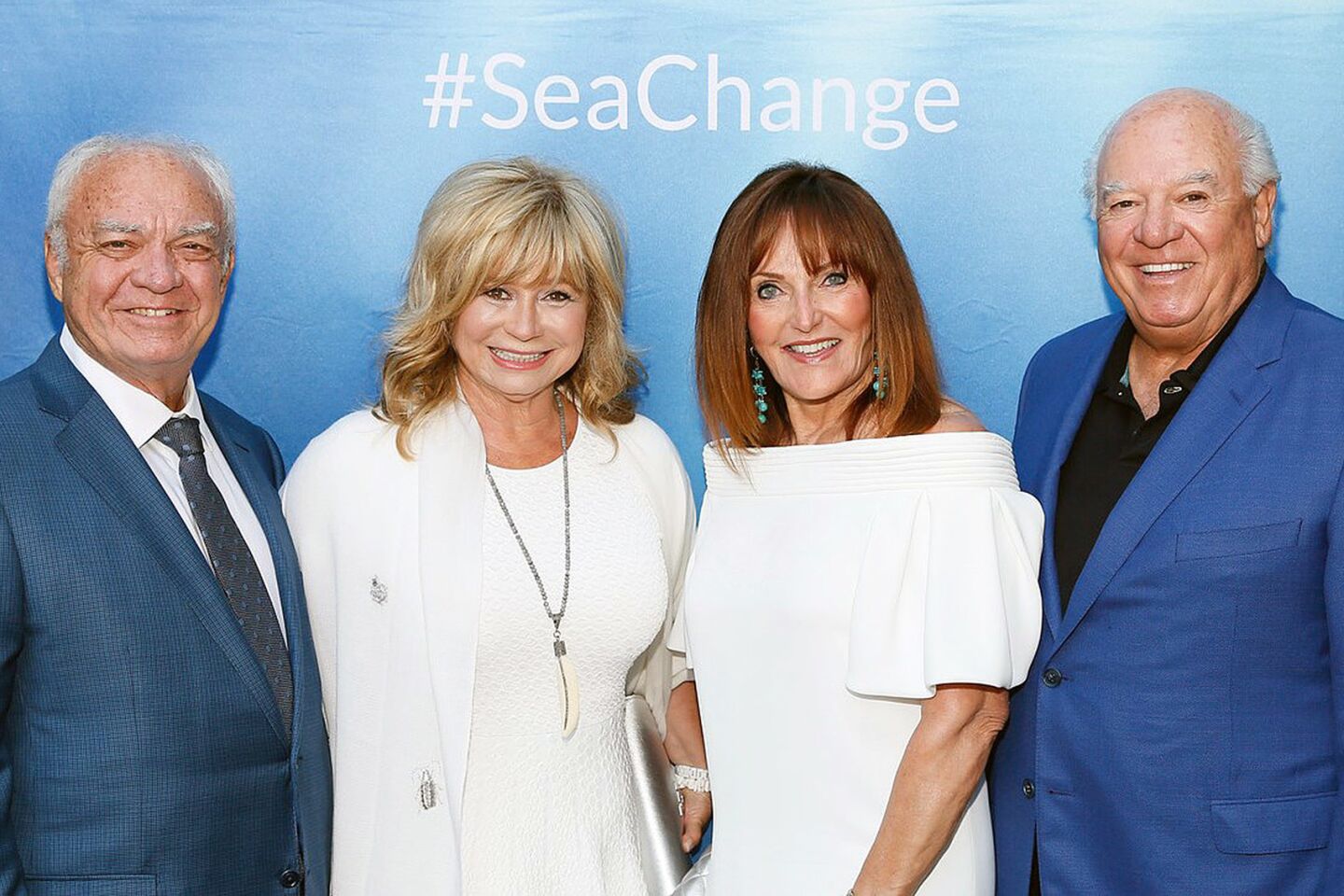 Mike and Eve Ruffatto and JoAnn and Tony Fanticola were at the Cahill estate in Laguna Beach for Oceana's Sea Change Summer Party 2017 held on Saturday, July 15.
(Photo by Ryan Miller / Capture Imaging)
The gala of the summer unfolded on the Orange Coast raising significant funds for ocean conservation.
The SeaChange Summer Party — sponsored by the international organization known as Oceana — celebrated its 10th anniversary and raised an impressive $1.2 million at a celebrity-studded event held at the Cahill estate in Laguna Beach.
Co-chaired by Oceana board vice-chair Valarie Van Cleve and Newport's super-stylish Elizabeth Wahler, the dinner under the stars welcomed Hollywood elite Ted Danson, Sam Waterston and Lily Tomlin among a confederation of Hollywood activists in support of ocean conservation.
Also spotted in the VIP crowd were Oscar Nunez, Stephanie Cayo, Briana Evigan, Angela Kinsey and Alison Pill.
As in past years, Danson, a longtime Oceana board member, served as the evening's master of ceremonies.
In his remarks to the crowd Danson said: "SeaChange has helped Oceana become a real force for good in California and around the globe by winning victories that make our oceans healthier, more biodiverse and abundant."
Honored guests of the evening introduced as "Ocean Champions" were Anne Earhart and Herbert Bedolfe III, both individuals representing the Marisla Foundation committed to ocean conversation.
The large handsome summer crowd was served specialty Nolet cocktails and hors d'oeuvres prior to a multi-course sit-down dinner al fresco.
Oceana CEO Andrew Sharpless greeted guests including Bob and Britt Meyer, Jean and Tim Weiss, Tricia and Michael Berns, Eve and Mike Ruffatto, Laura and Lou Rohl, James Sandler and Elizabeth Segerstrom.
Major sponsors of the annual gathering included BMW and the Southern California BMW Centers, Nolet Spirits and Ketel One, Bloomingdale's Fashion Island, BV Coastal Estate Wines and Signature Party Rentals.
Helping to bring in significant funds for the cause were generous donations from merchants providing auction items.
Among the donors were Mikimoto, Mark Pomerantz, Zenga, David August, David Yurman, Chanel, Armani, Gucci and Kate Spade to name a few.
To learn more about the work of Oceana, visit oceana.org.
The Vikings have landed
The Noble Viking Charities Summer Bash unfolded at the Island Hotel, Newport Beach raising upward of $70,000 to benefit the group's holiday food boxes which are distributed throughout Orange County at the end of the year.
Bret Hardin served as primary underwriter and chairman of the summer bash supported by fellow Vikings and Viking supporters Aleks and Stacy Renshaw, Teri Hausman and Mario Aroz.
Significant support also came from the Hausman and the Muth Family Foundations.
Kevin Trusell, vice chef of the Nobel Vikings, shared that funds raised will help to create nearly 2,000 food boxes that will be distributed to needy families during the holidays.
Making it all possible are generous donations from local restaurants and food purveyors including Fleming's Prime Steak House, Bluewater Grill, The Cannery Restaurant, The Bungalow Restaurant and The Winery Restaurant among others.
Spotted in the upbeat Island crowd were Chairman of the Angels, Dennis Kuhl, Michelle Hatch, Charlene Prager (widow of the late Hans Prager, founder of the Noble Viking Charities), Tom and Cathy Madigan, Shannon Green, Martin and Melissa Hannigan, Marc La Font, Jeff Burnett, John Postma, Kristilyn Goff, Gerry and Blanch Zelko, Linda Meehan and Mike Knapp.
To learn more about the Noble Vikings, visit noblevikings.org.
Broadway at the beach
The Orange County School of the Arts Foundation (OCSA) will open the school's 31st season in Orange County with an event they are labeling "A Season Premiere 2017-2018."
Unfolding Sept. 9, on the Bayfront lawn and beach of Balboa Bay Resort, Newport Beach, more than 300 guests are expected to converge for a Broadway show starring Krysta Rodriguez.
The former OCSA alumna has appeared in multiple Broadway productions including "A Chorus Line" and "Spring Awakening." She will be joined onstage by talented OCSA singers and jazz musicians.
The annual event is being underwritten by honorary show producer Carole Pickup and the Balboa Resort family. To learn more about OCSA visit OCSArts.net.
B.W. COOK is editor of the Bay Window, the official publication of the Balboa Bay Club in Newport Beach.
All the latest on Orange County from Orange County.
Get our free TimesOC newsletter.
You may occasionally receive promotional content from the Daily Pilot.