Column: The Crowd: South Coast Plaza's 50th anniversary celebration carries on with Frank Gehry's yacht
The invitation called for a four o'clock arrival on the waterfront terrace of the A&O Kitchen + Bar at Balboa Bay Resort.
The O.C.'s top design team from White Lilac had been tapped to transform the contemporary outdoor lounge into a more intimate setting for the crowd coming to celebrate yet another amazing reception in honor of South Coast Plaza's 50th anniversary year.
To achieve a little intimacy, White Lilac brought in enormous banks of faux manicured hedges, placing them around the terrace enclosing the party.
Fall blooms adorned the fire tables while Balboa Bay Resort staff, led by executive chef Rachel Haggstrom, created an over-the-top display of food and libations including signature A&O bar food delicacies such as enormous jumbo shrimp in spicy cocktail sauce, Kobe beef sliders with all the trimmings, rumaki and an outstanding chopped Italian salad to treat the guests.
The very special fall afternoon on the Newport Bayfront was planned by South Coast Plaza's co-managing partner Elizabeth Segerstrom with two rather unique goals.
First, the reception was created to be the initial presentation of a handsome pictorial coffee table art-book titled "South Coast Plaza" published by Assouline chronicling five decades of creative retail marketing and cultural outreach initiated by the late Henry Segerstrom.
Publisher Prosper Assouline and his wife, Martine, were front and center for the presentation of the book, given to all of the guests.
"South Coast Plaza has remained on the cutting edge of retail, design and the arts since its inception," Prosper Assouline said. "More than just a book about the most important luxury retail center in the U.S., this book is about the vision, imagination, and determination of the Segerstrom family."
It is a legacy that Henry Segerstrom's widow, Elizabeth, is passionate about preserving and continuing forward. She was joined by Segerstrom's son Anton and his lovely wife, Jennifer, in welcoming the crowd.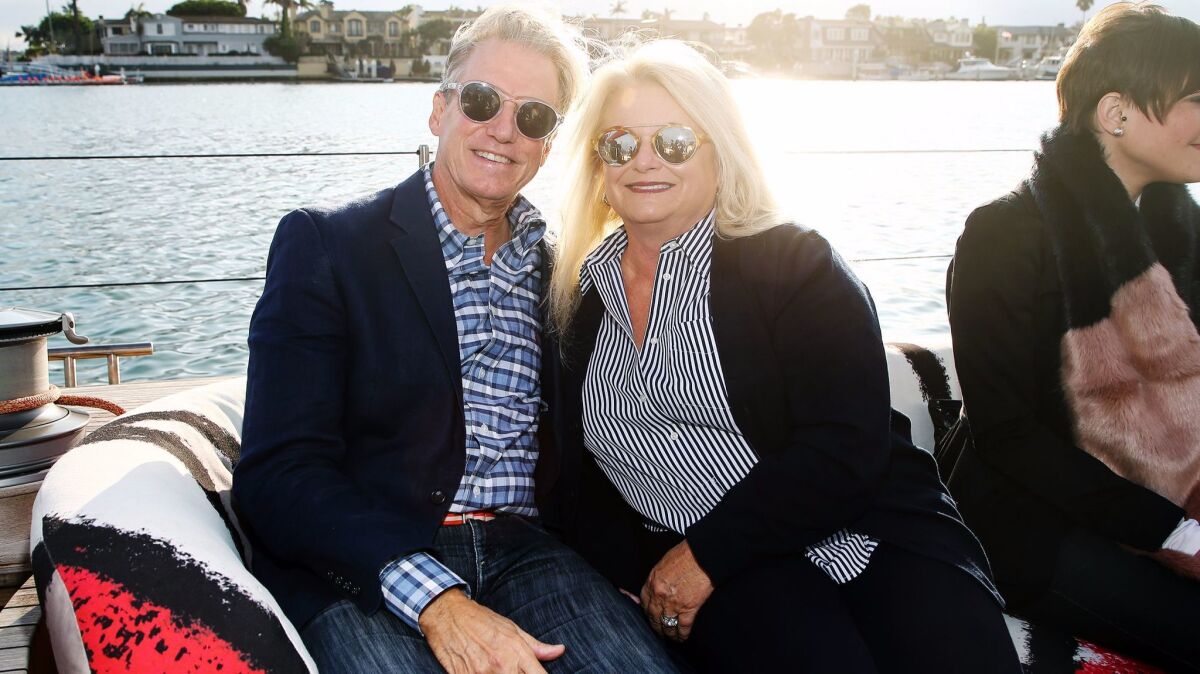 The second part of the afternoon gathering took on a very unique twist.
Elizabeth Segerstrom has become close pals with L.A.-based internationally renowned architect and designer Frank Gehry. They became friends a number of years prior through a nonprofit foundation called Turnaround Arts California, co-founded by Gehry.
The organization brings an art-based education to struggling elementary and intermediate schools serving low-income students with the goal of "narrowing the opportunity gap."
Gehry was offered sailing his vessel Foggy, a most unusual sailboat he designed, down from L.A. to Newport where he berthed the yacht at Balboa Bay Club Marina, adjacent to Balboa Bay Resort.
Guests at the reception were invited to join Gehry on a sail around Newport Harbor in between enjoying the hospitality at A&O Bar on land.
South Coast Plaza's executive director of marketing Debra Gunn Downing welcomed Newport's Kurt and Wendy Lyon, Anne and John Wortmann and Hollywood producer Wayne Baruch from Baruch/Gayton Entertainment.
Baruch had recently produced the production of the Mariinsky Theatre Orchestra at the Renee and Henry Segerstrom Concert Hall, also presented as part of SCP's 50th anniversary celebration.
Local celebs attending included Elizabeth An of AnQi, Britt Meyer, Bette and Wylie Aitken, John Forsyte from Pacific Symphony Orchestra, Kedric Francis, Tina Borgatta from Modern Luxury, and Terry Dwyer, president of SCFTA.
International dignitaries joining the celebration were fashion designer Mary McFadden, publisher Christopher Forbes, and British royal Princess Michael of Kent.
As the fall sun set early over the water, Foggy docked at the Balboa Bay Club Marina and guests were then shuttled by both water taxi and limousine over to Lido to the trendy Nobu for a lively mid-week dinner party hosted by Elizabeth Segerstrom and South Coast Plaza.
In a quite private moment amid the revelry, Segerstrom shared her appreciation for all of the community support for South Coast Plaza and the legacy of her late husband and his family.
She added a special thanks to her friend Frank Gehry.
"South Coast Plaza continues to believe in the importance and power of the arts to change lives and communities," she said. "We are proud to support the efforts of Frank Gehry's Turnaround Arts in schools in need, especially those in Orange County and Southern California. We are so grateful to Frank for sharing this special event as our 50th anniversary book debuts, bringing his splendid yacht to Newport and treating all of our guests."
Serving People In Need puts out a holiday appeal to help the homeless
In 2017, SPIN's goal was to house 480 homeless families — which it has already exceeded.
SPIN serves homeless families from its main office in Costa Mesa and also serves as the housing partner at the Melinda Hoag Smith Center for Healthy Living. Knowing that the need will be even greater in 2018 due to the rising costs of rent, Florence and Keith Smith have donated $25,000 as the initial pledge, in part of the challenge to help SPIN raise $100,000 for homeless families during this holiday season.
For more information, contact Kim Frazier at kimf@spinoc.org or call 714-751-1101, ext. 19.
B.W. COOK is editor of the Bay Window, the official publication of the Balboa Bay Club in Newport Beach.
---
All the latest on Orange County from Orange County.
Get our free TimesOC newsletter.
You may occasionally receive promotional content from the Daily Pilot.