Column: The Crowd: CdM senior involved in Big Sisters program wants to 'make a difference in a child's life'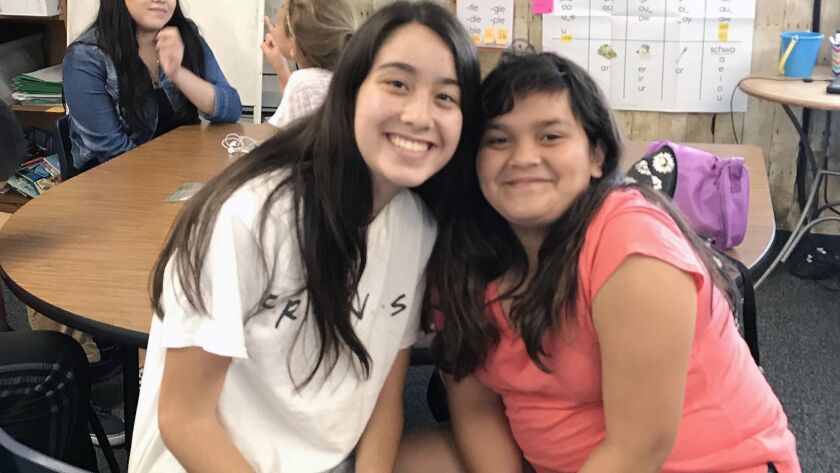 "I want to make a difference in a child's life," said Sara Neiger, a Corona del Mar High School senior.
A significant statement from a young woman, just barely out of her own childhood.
"I am building a relationship with a fourth-grader named Kalina, who attends Sonora Elementary School in Costa Mesa," she added.
Kalina is Sara's "little sister," and Sara is known as one of the High School Bigs, a mentoring program overseen by Big Brothers Big Sisters of Orange County and the Inland Empire.
"This is my last year of high school, and having the opportunity to make a one-on-one difference, potentially helping a child in this program, feels really good," Sara added, explaining that young Kalina lives with her grandmother.
When Sara met Kalina, she barely spoke to her. (Big Brothers Big Sisters does not release the last names of the children enrolled in the program.)
"Slowly, she found the confidence to talk," Sara, 17, said. "We read together and do homework. Her English is OK, not great, but improving. Reading aloud helps, and Kalina has become so much more comfortable."
Sara's commitment to the program is one hour, once a week, for a year. Her daily schedule includes plenty of her own homework, and she is preparing to start the college admission process. She plans to apply at multiple universities; Vanderbilt is her first choice.
"That could change," she said.
Many days include hours of practice for varsity soccer.
Still she makes room for Big Brothers Big Sisters. The High School Bigs program is relatively new at CdM. 2017 was the first year; Sara is part of the second class to participate.
"I had heard about the program and I applied," she said. "My family was very supportive of the idea."
Once accepted, Sara was immersed in an extensive orientation process, given instruction in "how to deal" with challenges.
"I learned a lot," she said of the program, which operates in 18 cities at 49 O.C. and I.E. schools.
The Bigs program is a serious project for a Big Brothers and Big Sisters support wing, Angelitos de Oro. The fund-raising efforts of this small-yet-powerful group of O.C. women is a mainstay of support for the nonprofit program. Presently, Angelitos — now in its 57th year — concentrates on funding the Bigs effort.
Here's how it works. The one-to-one peer mentoring program matches teens in grades 9-12 with elementary school students. The matches meet weekly at the elementary school during the academic year.
A Big Brothers Big Sisters program specialist facilitates each session and a curriculum designed to address academic achievement, bullying, self-esteem and relationship building blocks. During the one-hour sessions, the high school volunteers provide support with homework and engage their "littles" in STEM projects, seasonal activities and communication exercises.
A major element of the Angelitos annual financial goal is the success of South Coast Plaza's Card Week, Oct. 3 to 9. The concept is simple. Special cards (available now) are sold for $60, entitling the bearer to take advantage of 20% discounts at more than 120 participating stores and restaurants at the shopping center.
"Angelitos Card Week plays a key role in our ability to build meaningful mentoring relationships for underserved youth in our community," said Sloane Keane, chief development officer of Big Brothers Big Sisters of Orange County and the Inland Empire. "We deeply appreciate Angelitos de Oro's longtime commitment, and the impact the group has had in helping our youth and mentors reach milestones they never thought possible, such as high school graduation."
Advance purchase of a card by noon Sept. 29 also includes an invitation to the Preview Day Champagne Brunch at 11 a.m. Oct. 2 at South Coast Plaza's Garden Terrace. Attendees save 20% one day early at selected Preview Day boutiques, with 10% of the proceeds donated to Big Brothers Big Sisters.
To purchase an Angelitos Card, visit angelitosdeoro.org. Beginning the last week in September, the card will also be available for purchase at all four South Coast Plaza concierge locations and select participating retailers. A full list of participating stores can be found at southcoastplaza.com.
B.W. Cook is editor of the Bay Window, the official publication of the Balboa Bay Club in Newport Beach.
---
All the latest on Orange County from Orange County.
Get our free TimesOC newsletter.
You may occasionally receive promotional content from the Daily Pilot.