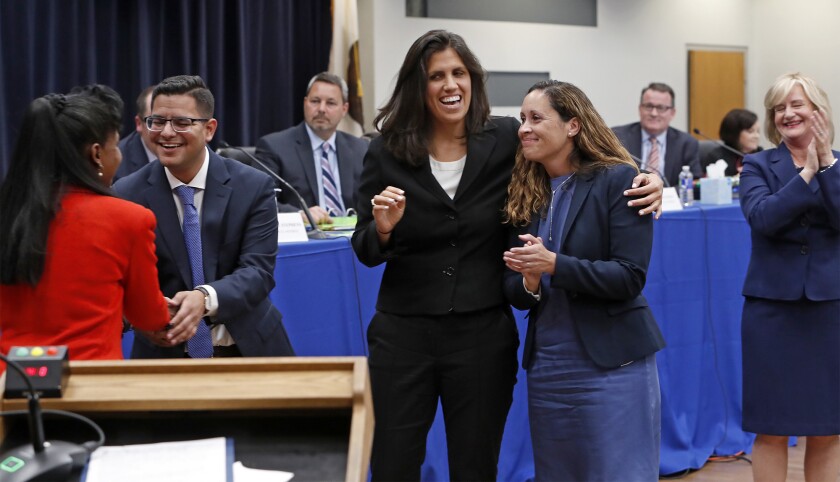 As 2019 approaches, I have my annual assessments of politicians who sizzled and fizzled in 2018 along with my predictions about what to expect from them in the coming year.
Several women topped my sizzle list in 2018. They rose to the challenge this election season.

2019 holds great promise for newly elected Costa Mesa council members Andrea Marr and Arlis Reynolds; both are bringing fresh ideas, as is a resurgent Mayor Katrina Foley.
Right out of the blocks, Foley made bold moves reorganizing city staff and engaging former Newport City Manager Dave Kiff, who'll be volunteering his expertise as the city searches for its next top administrator.
Though Kiff's job in Newport fizzled in 2018 when he was pressed by Team Newport council members to leave only months before his planned retirement, I believe he will vindicate himself in 2019.
Foley is working with Kiff to do what many in Newport felt he should've been allowed to do there — transition a new city manager.
Newport's loss here is Costa Mesa's gain.
And though many in Newport hoped to clean house this past election by ousting incumbent Team Newport council members Scott Peotter, Marshall "Duffy" Duffield, Kevin Muldoon and Diane Dixon, all but Peotter survived to see another term.
Peotter was defeated by Joy Brenner who has much to prove in 2019, including making good on campaign promises to bring consensus and transparency to the council.
With Jeff Herdman her only immediate council ally, I'd be surprised if she can garner enough support from Team Newport to move the needle and realize any real change.
I predict even more contention and polarization.
Though Peotter fizzled, I feel he's still a strong influence on his buddy Duffield. I bet we haven't seen or heard the last of Peotter and his radical ideas.
I'm taking odds that Duffield won't see the end of his term, predicting he'll quit midstream, making way for his voting bloc, Team Newport, to appoint his successor.
Could Peotter move to Duffield's district and be re-appointed to council?
Stranger things have happened.
Newport Mayor Pro Tem Will O'Neill is another one to watch in 2019. O'Neill fizzled, in my opinion, when he took the option of not going for mayor and instead sought — and secured — a second term as mayor pro tem. I wonder whether he will be able to secure the votes the next time around and step into the top job. That remains to be seen.
Many Brenner supporters were angered by his pointed comments on social media during the election. O'Neill has some work to do this year to turn that anger into votes.
Will he ever be mayor? Or will he end up like former Councilwoman Leslie Daigle, who was in line to hold the gavel but was never given the chance by her peers? If he's not made mayor it could hurt his 2020 bid (if he goes for a second term).
Speaking of 2020, the Orange County Republican Party has some work to do to recover from its 2018 losses. The GOP lost every House seat up for grabs countywide and took a beating in many of the local and state races too. It needs a makeover.
Will that reinvention include replacing Party Chairman Fred Whitaker?
If so, the bigger question is, who would take his place?
One person definitely not interested is Whitaker's predecessor, Scott Baugh, who told me recently that he's not counting out another run for the 48th Congressional seat in two years, when newly elected U.S. Rep. Harley Rouda (D-Laguna Beach) is up for re-election.
All eyes will be on Rouda, who sizzled this year, beating out incumbent Dana Rohrabacher, a Costa Mesa Republican, who now plans to move to Maine.
I predict that if Rouda maintains a moderate voice in Congress — as he promised during the campaign — and gets something done for the district, he'll be hard to beat.
But that won't stop Republicans from trying to take back the historically conservative seat.
2019 will show us who'll start fundraising and lobbying the party for support in preparation for that run.
Could we see Baugh, a former state assemblyman, face off against Orange County Supervisor Michelle Steel in two years, as some are predicting?
Adding to my list of folks to watch in 2019 are two relatively unknown young guys: Alex Crawford and Riley Hayes.
The creators of "Good Morning Newport," an online show, took a tongue-and-cheek look at the political scene in this city and quickly garnered an impressive audience.
So much so that they now tape in front of a live audience and their numbers keep growing on social media.
I predict they will continue to sizzle in 2019, engaging the next generation's interest in community service and politics.
Keep your eyes peeled on the Daily Pilot as the New Year unfolds and I begin my 12th year covering the local political scene and telling stories of interest and intrigue.
Barbara Venezia is an opinion columnist writing political and social commentary since 2007. She can be reached at bvontv1@gmail.com
---