Orange and Los Angeles County citizens came together April 4 at the California Club in downtown Los Angeles for the Spring Luncheon Benefit sponsored by the Luminaires, a group that supports the Doheny Eye Institute. Organizers chose "A beautiful summer day on the Amalfi Coast" as the theme of the "La Dolce Vita" event, attracting some 240 guests who shared in a luncheon, fashion show and boutique shopping. This all resulted in more than $100,000 in donations for the Doheny Eye Institute.
In Orange County, Los Angeles-based Doheny Eye operates a vision center in Fountain Valley. Its mission is to "restore, preserve and improve human eyesight through exceptional vision research and through a full range of ophthalmic services performed by internationally recognized experts."
Co-chaired by Suzanne Sposato and Judith Epley, the luncheon event welcomed distinguished guests from Doheny Eye, including Dr. SriniVas Sadda, president and chief scientific officer; Dr. Mamatha Sadda, honorary member of the Luminaires; Marissa Goldberg, executive director and CFO; Matthew Rabin; chief development officer; Dr. John Irvine, cornea and external diseases specialist; Andrea Latini, human resources director; Cecilia Zamudio, public affairs; and Kathleen Duncan, board member.
Members of The Luminaires auxiliary and their guests were greeted by President Liz Shonk, a resident of Balboa Island. She was joined by Barbara Nielsen, Peggy Schmid, Susan Wofford, who are also Balboa Island residents. Enjoying the luncheon presented by the California Club were Orange County residents Winnie Reitnouer, Ollie Rados Lynn, MaryLou Boone, Marily Demere, Carole Lincoln, Jill Boli, Angel Throop, Penelope Gunin, Tracy duPontand Kelly Parker.
A spring fashion show followed the luncheon presented by designer Lourdes Chavez. The designer has supported The Luminaires for many years by producing their annual spring fashion show presentation. For 2019 Chavez introduced her collection, which she calls "feminine and flirty."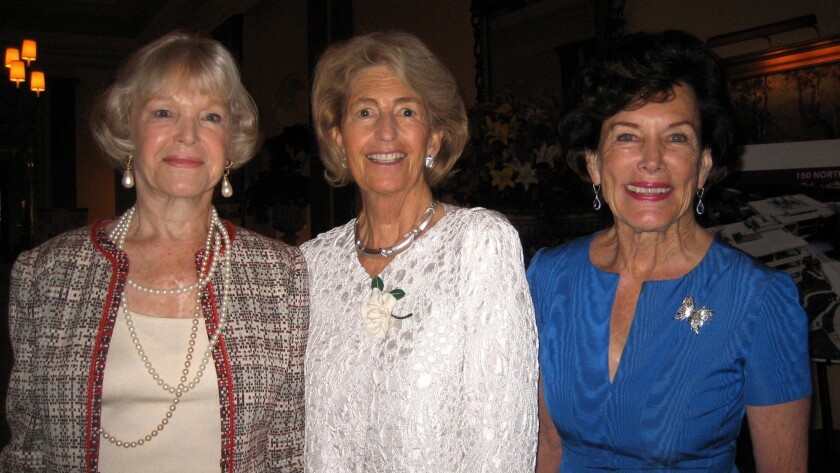 A little background on the work of The Luminaires. The support group came together in 1975 under the leadership of its first president, Mary Crary. They gathered for their very first event at the California Club, setting a tradition that has lasted for more than four decades.
Their purpose was to support the Doheny Eye Institute, which was founded in 1947 by Estelle Doheny, who had glaucoma. In that same year, the new institute affiliated with USC. In 2014 Doheny Eye joined forces with UCLA's Jules Stein Eye Institute.
To learn more about The Doheny Eye Institute please visit doheny.org.
B.W. COOK is editor of the Bay Window, the official publication of the Balboa Bay Club in Newport Beach.
---