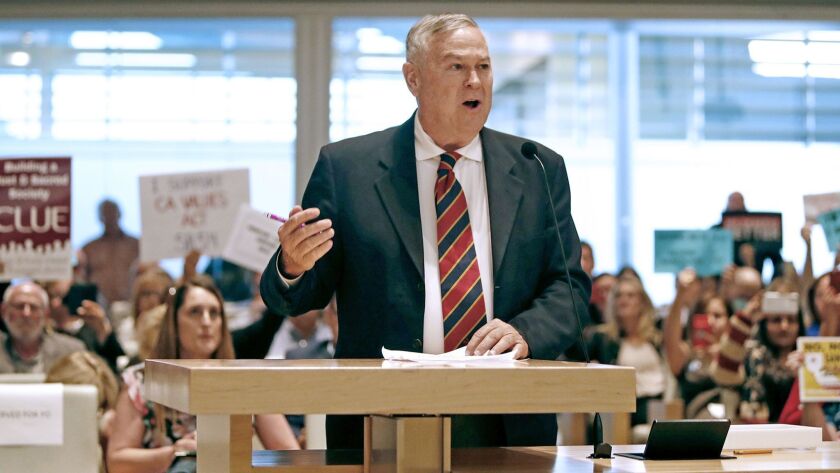 Residents of Newport Beach have a right to know how their elected representatives conduct official business. I attended Tuesday's Newport Beach City Council meeting, where Senate Bill 54 was on the agenda.
The council announced they had already voted in closed session to join President Trump's lawsuit against the state of California to invalidate SB 54, a "sanctuary state" law that doesn't require law enforcement to report arrestees of certain crimes to immigration authorities.
They did not provide a reason. We were told if we still wanted to speak, we could wait until the end of the meeting, but the decision had been made.
But first our local congressman, Dana Rohrabacher (R-Costa Mesa), had asked for a favor. He wanted to speak before the meeting.
The council allowed it. He ranted about how our country is being "inundated" with immigrants (actual fact: crossings at the southern border are the lowest in two decades, according to the Washington Post) and declared the safety of our neighborhoods "is going to hell." (He actually said that.) I was glad I had not brought my children.
Then, our elected representative raised his voice, proclaiming that the people who use the terms "legal" and "illegal" interchangeably when discussing immigrants are "the real racists here." (You cannot make this stuff up.) He spoke, uninterrupted, for more than four minutes. The remaining speakers were allotted exactly two minutes.
After more than two hours of city business, comments were invited. With no sense of irony whatsoever, after their pal Dana had just loudly called every supporter of SB54 a "real racist," a council member condescendingly lectured the crowd about "civility" and noted that "name-calling" would not be tolerated.
I spoke about the children I know who carry emergency contacts in their backpacks every day to school, in case their mother gets deported while they are there, so the school will know who to call to pick them up and care for them. I don't care if children are from Honduras, Canada or Mars, but these particular children happen to be American citizens.
If their parents — who have been here for more than a decade, working hard, paying taxes, and laying low — are deported, these kids will be orphaned in their own country, by their own government. I am one such emergency contact for two of these children. So this is personal to me.
None of us wants dangerous criminals on the street. Neither does the state of California. That's why SB 54 allows local police to call ICE in advance of the release of a felon or violent criminal. But it is not required, nor is it constitutional, for the federal government to require local officials to do the federal government's immigration work for it.
California passed SB 54 to resist scare tactics that will prevent undocumented residents from talking to the police. SB 54 makes it possible for an undocumented victim of domestic violence to report the crime. SB 54 makes it less likely that undocumented cleaning women will be raped at work. SB 54 makes it more likely that undocumented witnesses of violent crimes or burglaries will testify.
The evidence is well documented that bills such as SB54 make communities safer and lead to more-prosperous economies. The City Council was not interested in the evidence, rushing to a unanimous vote behind closed doors before any such concerns or points could be voiced. I believe residents want fiscal responsibility, transparency and compassion for residents from our city government.
Let's hope voters are paying attention.
Newport Beach resident GIALISA GAFFANEY is an editor, a professor of American politics and a founding member of Women for American Values and Ethics.
---