Commentary: Mark Twain's work as a steamboat pilot earned his pen name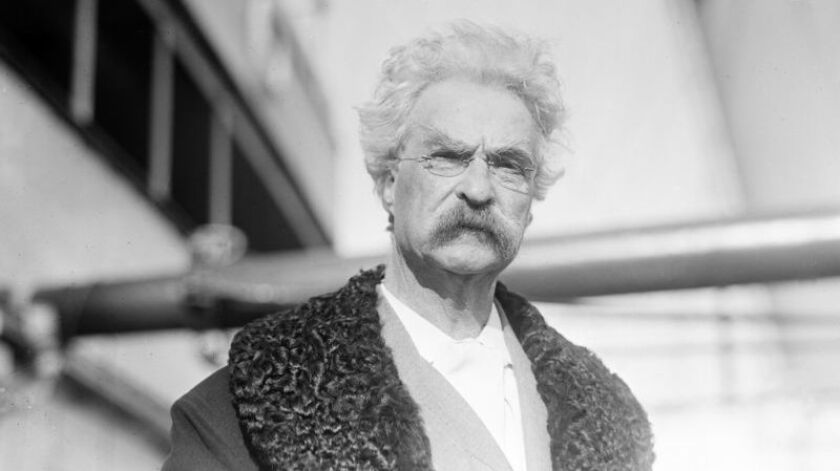 Samuel Langhorne Clemens, more famously known by his pen name, Mark Twain, is one of America's most popular writers.
Most Americans have read his work "The Adventures of Huckleberry Finn." The story is written from the viewpoint of a young boy from Missouri who describes his journey down the Mississippi River with a runaway slave.
There are all sorts of adventures and mishaps, which open the eyes of the boy and the reader to the human condition. The book is written in the colloquial language of the South and is full of humor that brings enlightenment to the various situations.
This famous writer only had a fifth-grade education. By the time he was 12, both of his parents had died, so Clemens left his home to become a printer's apprentice.
Eventually he started writing articles for the newspaper. When he was 18, he left Missouri to work as a printer in New York, then Philadelphia, St. Louis and Cincinnati. In the evenings he visited the library to read and study on his own.
Clemens had always wanted to become a steamboat man on the great Mississippi River, so he returned to the land of his youth to become a pilot, that is, one who steered the great paddle ships safely past the sandbars, rocks, floating trees, shifting currents and debris along the Mississippi.
This life provided him with his pen name (plume de nom), Mark Twain, meaning 2 fathoms in depth, which indicated it would be safe for a steamship to pass safely in dangerous areas of the Mississippi River.
When the Civil War broke out, Twain headed West to Nevada and ended up writing for a local newspaper. Eventually his career took him to the Sandwich Islands (Hawaii) and then to the Mediterranean, Europe and the Middle East. He wrote about these travels in his book, "The Innocents Abroad."
Eventually Twain moved to Hartford, Conn., where he enjoyed a tremendously successful writing career. Unfortunately, after 17 happy years in Hartford with his family, Twain ran into financial troubles with bad investments.
Suddenly it became necessary for the family to downsize and recreate life anew. Twain, his wife and three daughters left for Europe where they lived and traveled for several years while Twain continued to write.
Soon Twain began a profitable and popular lecture tour that helped stabilize his finances. Sadly, while Twain yearned to return to his beloved home in Hartford with his family, this was not to be.
Time stands still for no man, and life changes while we must adapt. Twain lived his last years in New York City, continuing with his lectures and his writing. He died April 21, 1910, but his life and work live on in our memories.
Newport Beach resident SHERRY MARRON has a doctorate in American studies. She has taught at the University of Connecticut and Orange Coast College.
---
All the latest on Orange County from Orange County.
Get our free TimesOC newsletter.
You may occasionally receive promotional content from the Daily Pilot.