Commentary: Too many NCAA golf scholarships for women go unclaimed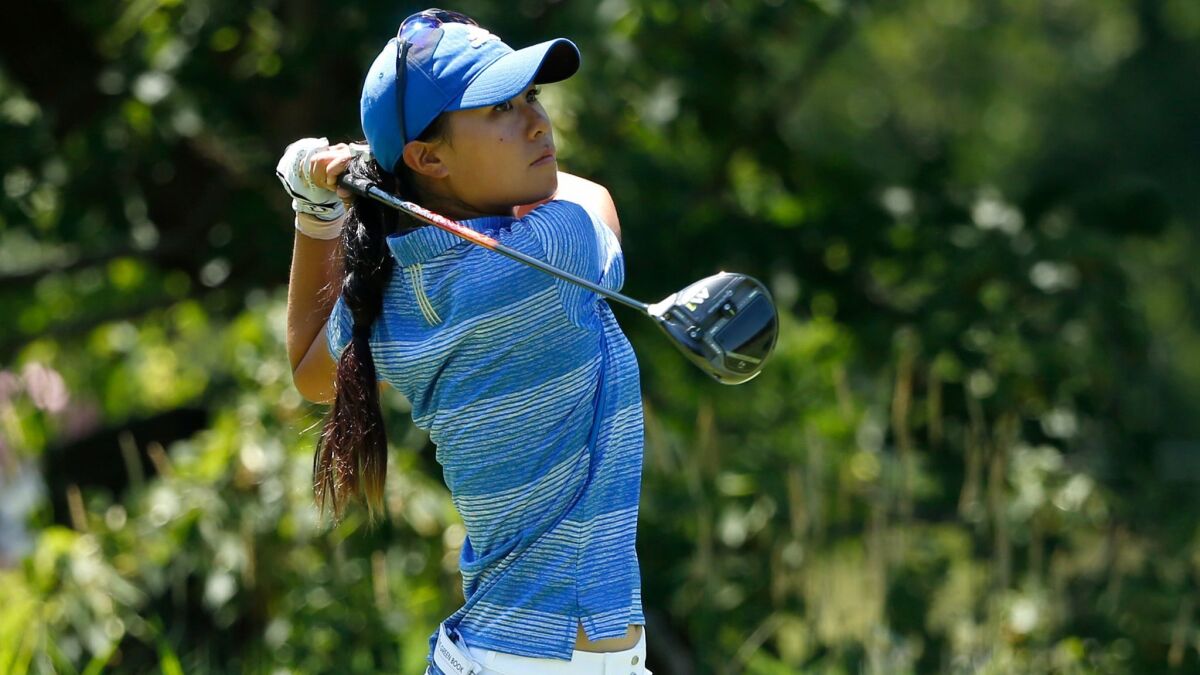 Give a girl a set of golf clubs, and you just might change her life.
The National College Athletic Assn. (NCAA) estimates that every year 200 college golf scholarships for young women go unclaimed. Too few girls compete in the sport to qualify for these scholarships, which means many young women are missing an opportunity that could make all the difference to their education, their income and their future.
As the father of a daughter, this statistic hit home for me. As the president and CEO of Goodwill Industries of Orange County, and the current chairman of the board of directors for Southern California PGA Foundation, I knew there was something we could do about it. Every day I witness how small acts of generosity can lift barriers to success.
When we learned about the unclaimed scholarships, my peers and I at our local section of the PGA launched Clubs Fore Kids.
In the first year, this novel program provided golf clubs, balls and access to golf professionals and their expertise to girls at low-income high schools. Through generous donations of the supporters of the Southern California PGA Foundation, we distributed 300 sets of golf clubs to girls' high school teams at 29 low-income schools in Southern California. Next year, we intend to double that.
In 2018, the Southern California PGA Foundation, the charitable arm of the Southern California Section of Professional Golfers Assn. of America, hopes to raise $200,000. Our plans in 2018 include expanding our program to include low-income boys.
Involvement in team sports has a proven effect on students' college-readiness. Education researchers have found that high school athletes have higher grade-point averages and fewer absentees than non-athletes. They learn teamwork, responsibility and the importance of persistence, patience and practice.
Golf is not like other sports. Long considered an elite recreational activity, golf requires specialized equipment, specialized knowledge gained through expert instruction and access to specific places to play — and none of these come cheap. Clubs Fore Kids provides the equipment, specialized lessons and access to play at nearby golf courses for students who would otherwise have little to no access to the sport.
In its first year, several hard and soft goods partners have stepped up to support our efforts with their equipment, including Wilson Sporting Goods. Moreover, the Southern California PGA has enrolled girls in the PGA Link program, which gives them access to golf courses and professional lessons taught by PGA professionals who are, by their vocation, the undisputed leaders in the growth of the game.
The Clubs Fore Kids program is opening up the possibility that the girls benefiting from this program could claim college sports scholarships and other opportunities previously out of their reach.
In the 2016-17 school year, more than 141,000 boys participated in a high school golf program, compared to only 75,000 girls. The reasons many experts cite is access to proper instruction, barriers to practice time and locations, and appropriate role models. We could change that in a few short years.
And we should.
Golf encourages sportsmanship, integrity and honesty. With no referees, it's up to each golfer to assess, as appropriate, penalties on themselves. That's one of my favorite aspects of the sport — and as long as we're talking about honesty, I think this might be a good time to admit I'm a terrible golfer.
But I deeply appreciate how golf serves as a reflection of everyday life. You can learn a lot about a person when you play a round of golf. If they hit a bad shot, do they curse and throw clubs? Do they display integrity? How you overcome adversity, the patience you show and whether you do the right thing is all evidenced on the golf course. This unavoidably carries over into life, and what a magnificent place this would be for us all if these traits carried over reliably and repeatedly.
Let's do the right thing and bring more girls into the game.
FRANK TALARICO is the president and CEO of Goodwill of Orange County and chairman of the Southern California PGA Foundation.
All the latest on Orange County from Orange County.
Get our free TimesOC newsletter.
You may occasionally receive promotional content from the Daily Pilot.