Commentary: Huntington Beach desalination project would help meet region's water needs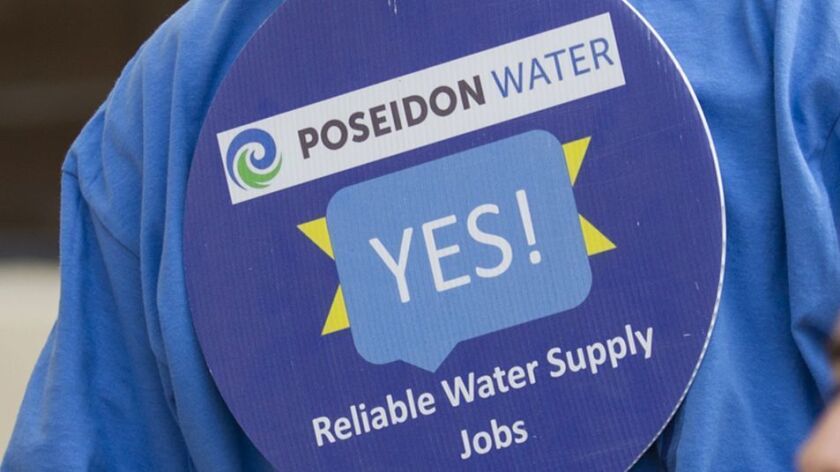 As the price of imported water continues to rise, and technological advances for seawater desalination improve efficiencies, California's time to turn ocean water into drinking water has come. Orange County is poised to integrate purified ocean water into its drinking water portfolio, just as San Diego has successfully done by producing 35 billion gallons of drinking water from the Pacific Ocean in just three short years.
The ocean is the world's largest reservoir; it's always full and sits on our front doorstep. At the cost of a half-penny per gallon, seawater desalination is cost-competitive with the development of other new water supplies.
As we experience hotter, drier and lengthier summers, we will inevitably see a reduction in available stormwater runoff locally as well as a reduction in snowmelt runoff from the Sierras. The Inland Empire will recycle and reuse the runoff coming from Big Bear, which means Orange County will need to use water more efficiently and develop our own supplies.
By producing 50 million gallons of drinking water per day, enough water for about 400,000 people, the proposed Huntington Beach seawater desalination project has the ability to meaningfully reduce Orange County's need to import water from Northern California or the Colorado River. Seawater desalination is drought-proof and impervious to climate and weather. It's Orange County's ticket to water independence.
The Orange County Water District and Poseidon have forged a public-private partnership that ensures the water reliability benefits of this project can be shared countywide while saving ratepayers money over the life of the project. The public-private partnership also ensures that ratepayers only pay for water that is delivered and are financially insulated from all permitting, construction and operating risks.
The Huntington Beach Seawater Desalination Plant has secured numerous local, state and federal environmental permits. In fact, no regulatory agency has ever rejected the plant. Once built the facility will be the most technologically advanced, energy efficient and environmentally sound desalination plant in the Western Hemisphere. The project is approaching the regulatory finish line and local and statewide bipartisan support for the project is deep and wide.
Not unexpectedly, narrow special interest groups that want to deny Orange County a large-scale, reliable water supply are getting desperate. Be wary of individuals and entities that try to pit Orange County against itself. These special interests are masquerading as ratepayer advocates, but no one is fooled.
Many of those who oppose desalination today also opposed Orange County's Groundwater Replenishment System (GWRS) 25 years ago when it was being proposed. Today, GWRS serves as the biggest and best water recycling project in the world, and water leaders from throughout the world visit us to better understand this water wonder.
Ironically, because we are conserving so much water and our new dishwashers, washing machines and toilets are so water efficient, the sewer flows are lower than anticipated, which means we don't have as much water to recycle as we otherwise would. Even recycled water is reliant on original source water from somewhere and with the inherent specter of drought, it is incumbent upon water leaders to identify and implement new viable water supplies.
One of the great benefits of desalination is that instead of just slicing the pie differently, desalination actually increases the size of the pie because it introduces a genuinely new water supply to the equation.
Seawater desalination is the final frontier that will help make Orange County more water independent and that time is now.
Dr. Allan Bernstein is on the Environmental Quality Policy Committee for the California League of Cities and is the Chairman of the Orange County Water Independence, Sustainability and Efficiency (OC WISE) coalition. He is also a Tustin councilman and chairman of the Assn. of California Cities Water Committee.
---
All the latest on Orange County from Orange County.
Get our free TimesOC newsletter.
You may occasionally receive promotional content from the Daily Pilot.