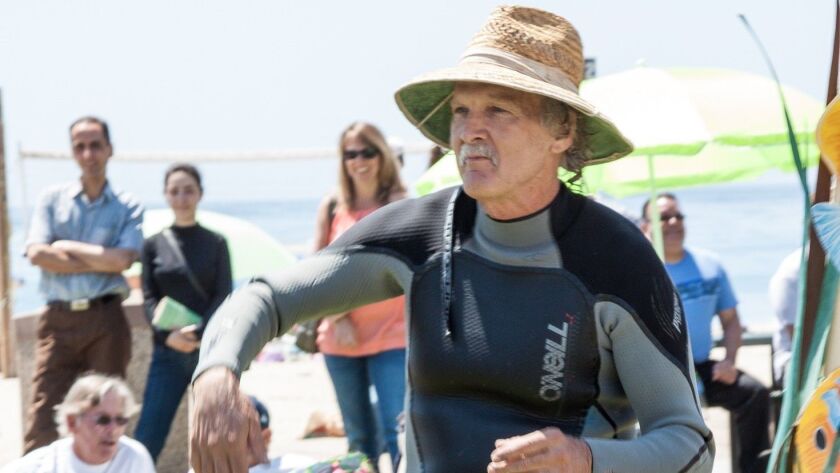 Nowadays, it's all about the catchy headline:
• Mussels test positive for opiates.
• 80% of starfish die mysteriously.
• Nuclear fish land on West Coast.
Just a few years ago, these would have been fake headlines in supermarket tabloids.
Now, they are the new normal. Not only that but you share these stories with a frown or an angry red scowl, then move on without really thinking.
Welcome to social media "outrage," nanoseconds of concern accentuated with fancy fonts and colored backgrounds. We frame our reality in a nice box to make it seem more important — as if the words alone are not enough.
It's the kind of armchair reaction that drives Mike Beanan nuts.
Beanan co-founded the Laguna Bluebelt Coalition. He's also a waterman and former U.S. Navy SEAL. For the sake of ocean awareness, he's not against donning self-effacing costumes for Laguna's annual Kelp Fest.
For years, Beanan has been preaching environmental stewardship, and for years he's largely been beating his head against an ocean wall.
"I try to remind everyone that the ocean is the economy in this area," he said. "It's not the arts, it's not our celebrity, it's not our restaurants and hotels. It's the ocean.
"And if the ocean's impaired, it will affect the economy. I think a lot of people see the ocean as kind of a backdrop canvas to their dramatic life. It's really reverse."
Beanan sees connections where others don't, and he often ends up on the right side of history. The mussels, starfish, the nuclear fish — they all point to anomalies with mankind at the center.
"Protecting our hillsides is important to me as are efforts to control mansionization of our village," he said. "However, I'm equally concerned about urban runoff at Aliso Creek and our other beaches, over-fishing, tide pool degradation, and the trash associated with heavy usage."
It was Beanan who emailed me the headline about the mussels.
"Yikes ... ever wonder what's in Laguna's daily ocean discharges of 1.67 million gallons per day of secondary sewage just 1.2 miles off of Aliso Beach and the Montage Resort?" he wrote.
I took the bait and asked.
He proceeded to send volumes of technical information, schematics, maps and stats.
I used the opportunity to ask him a question I've always wanted to know about Laguna, which is split in half by the ocean: "What happens when you flush?"
He started by calling it "wasted wastewater."
"We used to just discharge raw sewage in Laguna," he said. "But now it takes a long trip."
He went through every step, every pipe, every treatment plant from here to Aliso Viejo to Arizona and back.
Yes, our biosolids end up either drying in a field in Arizona or outside Bakersfield.
The irony is they usually end up as bags of "soil amendments" and sold back to Laguna homeowners for their lawns.
"In terms of economics," Beanan said, "it's insane."
The Laguna Bluebelt Coalition is expanding its reach inland to better educate people about pollution, especially near Aliso Creek. The group recently received a $12,000 grant from the Moulton Niguel Water District to help reduce contaminates into Aliso Creek.
In addition, the group sponsors an annual photography contest to raise awareness of Laguna's Marine Protected Area. There will be a reception and exhibit of the winning photos on June 8, from 5:30 to7:30 p.m. at Forest & Ocean Gallery, 480 Ocean Ave., Laguna Beach. To see the winning photos visit: lagunabluebelt.org/7th-annual-laguna-bluebelt-photo-contest-winners/.
For Beanan, everything hinges on the efficient use of water.
"The economy of water is really suffering," he said.
Beanan says we should use "every drop of water hopefully three times." 1. When it's delivered to our home. 2. Recycled at home as gray water. 3. In a citywide recycle system.
For Laguna, the citywide efforts have been hampered by slow investment, Beanan said.
"We have the technology but we don't want to spend the money," he said. "The city keeps saying it's an old city but I keep saying, 'Well, isn't Dana Point just as old?' It's a little irritating when people are saying it's an old city and they got the newest iPhone and Tesla."
For Beanan, the message is clear: Keep swimming forward, thoughtfully.
"Water is the answer, not goats stripping our steep hillsides and creating erosion and more stormwater runoff to the ocean while also removing sensitive wildlife habitat," he said. "Let's not get burned by public apathy, city complacency and inaction."
DAVID HANSEN is a writer and Laguna Beach resident. He can be reached at hansen.dave@gmail.com.
---