Column: Meet the man who wants to save Laguna Beach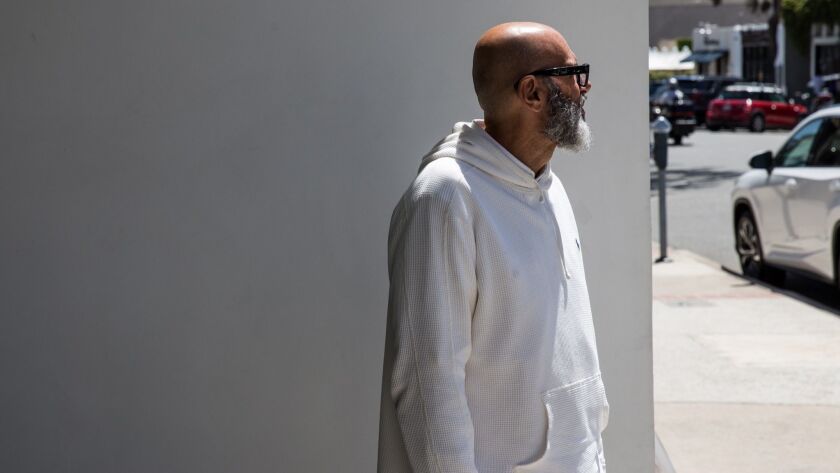 Surrounded by dry, languid hillsides, Laguna Beach is always at risk of fire, but this summer will be extra volatile because of a political firestorm heading its way.
His name is Peter Blake.
After years of seething frustration as a downtown business owner, Blake finally applied to run for a seat in the November City Council race.
In a lengthy interview at his art gallery on Ocean Avenue, Blake discussed the many reasons he's running and made no apologies for his upcoming scorched-earth strategy.
In many ways, his positions are not just about addressing individual issues but overhauling an anemic city leadership that he believes causes more problems than it solves.
"All of my friends are horrified when I start talking about the issues," he said, allowing a small, ironic grin. "This is not an intellectual endeavor by any means. It's really visceral. I can't [fricking] take it anymore. I'm sick of it."
He's frustrated over a long list of perceived missteps, failures and weak hearts within the city's echelon of power. He's tired of heavy-handed bureaucracy, hypocrisy, acquiescence, unfair influence, cronyism and puritanical fringe groups. The list is deep and wide and so is Blake's passion.
For 25 years, he has stood in front of his acclaimed modern art gallery and watched Laguna's underworld of misadventure: the homeless who urinate on his glass walls, who shoot up around the corner, who pass out drunk every day as police tend to other duties.
It's the homeless issue that probably gets Blake the most riled up. And it's because it is one of the most personal.
Years ago in the late 1980s, long before the gallery, he started as a waiter at Romeo Cucina. A transplant from Long Island, he knew the Italian way, as it were, and was embraced by the owner. The restaurant fed the homeless, and Blake truly believed things would get better.
Back then, Laguna was more family-like, more connected, more progressive and hopeful.
"The diversity in the community was incredible," Blake said. "Our diversity took us to a place where you could hold hands with your same-sex loved one. There were so many things about us that were so unique. There was something here that was more encompassing than I ever experienced."
But with the homeless, things never really got better.
"Despite the fact that we had unprecedented success in other social experiments, from 2009 to 2018, you would have to be blind not to realize that we failed miserably with the homeless. It's not working," he said.
The beginning of the end for Blake started in 2009 with the ACLU lawsuit, which sued the city on behalf of five homeless people who claimed unconstitutional treatment by the police.
"I was horrified that somehow or another the ACLU had come in and sued us because our police department was harassing the homeless," he said. "To me it was unthinkable because at Romeo we fed the homeless, and I knew every homeless person in town. And the thought that somehow our police department was harassing the homeless was to me just beyond — whatever."
Blake is almost apoplectic just recalling it.
Nonetheless, he was patient at the time, believing what he heard from the powers that be — groups like the Friendship Shelter and other homeless advocates who tried to manage the problem with the Alternative Sleeping Location (ASL) program and others.
Over time, however, he lost faith in the official version because the reality on the street took precedence. Now he watches inexplicably as the ASL van shuttles homeless people to the beach every day.
"I don't see underserved. I don't see vulnerable. I don't see the people we're supposed to be helping," he said. "I see what appear to be addicts and thugs, and now we have crime that is exploding downtown."
Over the next 20 minutes or so, Blake recounted all the crime stories he's heard and witnessed involving the homeless downtown — most not reported.
"The average person doesn't know," he said. "That thing in the canyon is nothing but housing for a bunch of crystal meth addicts and heroin addicts. They're being bused and dropped off into town. They're getting fed in the morning. They're high all day long. During the day they go off on a stealing spree while people are at work."
In vivid detail, Blake can paint the picture. It's a singular, uncomfortable picture, and he knows most residents don't want to hear it. But that's part of the problem, and it's not just about the homeless.
Blake is concerned about business regulations, the Design Review Board, Village Laguna, the view ordinance and "polyester Betties who dictate what architecture is going to look like in Laguna Beach."
"When someone like myself decides to step up and run, that means we're at a point where it's going to change," he said, confident that Laguna is ready to make tough new decisions.
"I couldn't sit back anymore," he said. "We're going to come to terms with all of this. I'm running to win. I'm going to be ruthless. This is going to be the most uncivil campaign in the history of Laguna Beach. I'm going after all of them."
But in his opinion he's doing it to save Laguna by burning the suffocating underbrush, not killing its soul.
"I'm not going to let my town become a place where you're afraid to go to Main Beach. You know how many times I've heard women tell me they won't go anywhere downtown? Too many times. That's unthinkable to me."
DAVID HANSEN is a writer and Laguna Beach resident. He can be reached at hansen.dave@gmail.com.
---
All the latest on Orange County from Orange County.
Get our free TimesOC newsletter.
You may occasionally receive promotional content from the Daily Pilot.