Letters to the Editor: Commentary on wedding cake case ignores religious and individual freedom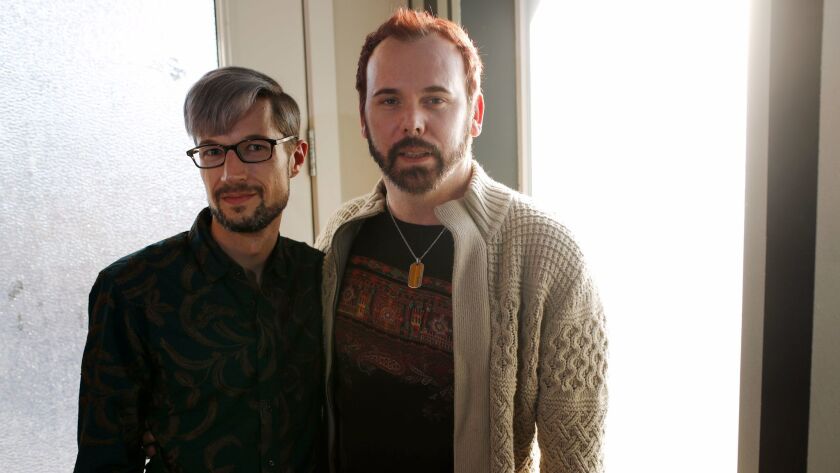 I respect the rights of David Mullins and Charlie Craig to have a ceremony they believe is appropriate. I respect the right of Ms. Halverson-Cano to support them ("Commentary: O.C. faith community to eat cake in support of LGBTQ rights," Dec. 1). I do not agree with Ms. Halverson-Cano's disrespectful attitude toward a local official who disagrees with her.
Furthermore, her Daily Pilot Commentary stating, "The two men could not for a moment imagine that their cake-shopping excursion would wind up before the U.S. Supreme Court" ... is misleading. Mr. Mullins and Mr. Craig are the individuals who pushed the case. The Colorado baker has every right, under our U.S. Constitution, to run his small business as he feels appropriate.
Mr. Mullins and Mr. Craig could have gone to many other local purveyors to have their cake baked. Instead, they chose to harass an independent business owner who philosophically disagreed with them.
We talk to our children about bullies. How will they respect us if we glorify bullies? Why is it no longer acceptable to respectfully disagree with one another? We are supposed to be the country that supports individual rights.
Iron sharpens iron. When we disagree, but are respectful of opposing views, we can all learn and grow. Beating one another up, as Mr. Mullins, Mr. Craig, and now Ms. Halverson-Cano, have done only builds walls. Shame on you, Daily Pilot, for inciting increased division with this commentary, especially since it did not include the full back story.
And to the local official who stood up for individual rights: Thank you for being brave enough to stand up for what you believe in! Please do not let this unfortunate incident dissuade you.
Kathryn Kendall
Newport Beach
All that glitters is not gold: The Republican 'Gold' Rush
The blatant, belligerent, pugnacious and sneaky practices of the Republicans in the current White House have alienated the people. They carved out a divide that can't be crossed. Citizens may get a shorter tax form, but with that we get an extra-long tax structure that chips away at the security of our future and the decency of this country.
When the senators signed off on this piece of half-baked legislation they took a terrible gamble. Their job is to uphold the highest standard of ethics, and they let us down. This tax bill dangles a fake carrot in front of our noses while stealing money out of our back pockets. The devil is in the details, and nothing could ring more true than with this tax bill and the $1 trillion deficit it promises to create on the backs of hardworking people.
This pie-in-sky, theoretical legislation, filled with unsubstantiated promises and assumptions that can't be proven, is immoral. Ethics is an irrevocable attribute. We, the people, hold our senators to a high standard, even if they themselves refuse to do so.
Finally, I have this to say to the Republican senators: "Gamble somewhere else, on someone else's dime. Not ours. Not everyone is fake rich like your president, Trump. Not everything that glitters is gold."
Jennifer Irani
Newport Beach
Planning must not add to traffic woes
There were many thoughtful and reasoned observations in Newport Beach City Council District 6 candidate Michael Toerge's recent letter ("Newport Beach must find solutions today (and for tomorrow's) traffic problems," Nov. 28). However, politicians, planners and developers have been all too quick to propose widening inland streets like Victoria and Hamilton to force increased traffic north and not south onto Pacific Coast Highway.
We have seen it with the proposed 19th Street bridge project and the proposed Banning Ranch project. This completely ignores the negative impacts on residential communities and commute routes in Costa Mesa and southeastern Huntington Beach. I realize that widening Coast Highway through Corona del Mar is a political third rail, but Newport Beach politicians and planners cannot simply dump their traffic problems elsewhere.
Proposed developments that generate the need for more parking and traffic-flow solutions must be solved locally and not on the backs of residents elsewhere. Hopefully, as Mr. Toerge proposes, General Plan revisions will address these. Politicians and planners must not forget residential quality of life in all of the affected areas under consideration. Making things better for the few must not make things worse for the many.
Tim Geddes
Huntington Beach
How to get published: Email us at dailypilot@latimes.com. All correspondence must include full name, hometown and phone number (for verification purposes). The Pilot reserves the right to edit all submissions for clarity and length.
---
All the latest on Orange County from Orange County.
Get our free TimesOC newsletter.
You may occasionally receive promotional content from the Daily Pilot.