In the Pipeline: Distracted driving leaves map of broken lives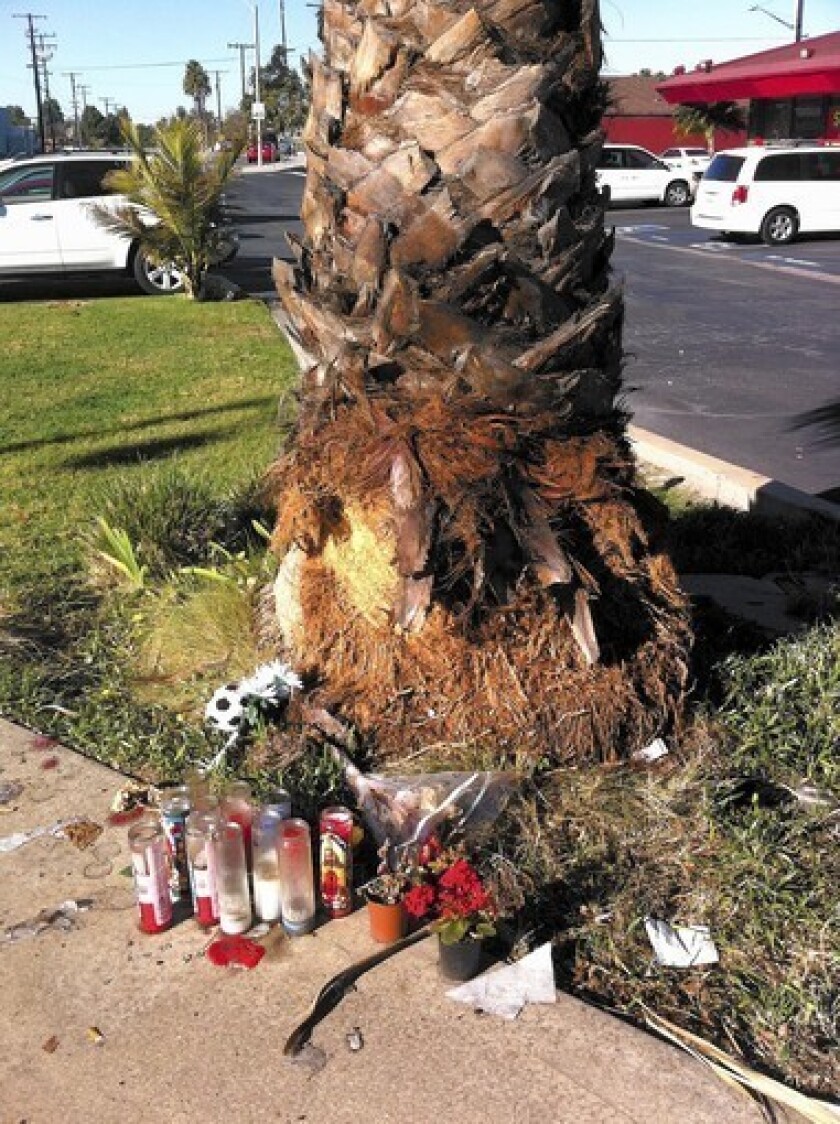 The other day I was driving down Talbert Avenue. When I reached Newland Street, I saw the shrine.
Poinsettias had been placed where a huge portion of the fence had been ripped out. That's where, on Dec. 14, a car driven by a 77-year-old man collided with one driven by a 51-year-old woman. He died at the scene.
A few minutes later, I crossed Beach Boulevard and Ellis Avenue. Adjacent to the Denny's parking lot was another shrine, this one made up of flowers and candles. It marked the spot where, on Dec. 16, two teenagers died after hitting a palm tree. Their vehicle had split into at least two pieces.
Later that day I passed Goldenwest Street and Yorktown Avenue. A couple of candles were placed in front of the now-destroyed Sea Cliff Shopping Center sign, marking the spot where, early Jan. 1, a motorcyclist died. Police said he lost control of his bike.
I have not yet driven past Garfield Avenue and Persimmon Street, but my hunch is that there is probably a shrine there too. That's where, on Dec. 18, a sedan struck and killed an 82-year-old man. No charges have been filed against the driver, police told the Independent in December.
These weren't the only traffic accidents in Huntington Beach during the holidays.
On Dec. 23, near Ellis and Demion Lane, a Nissan Cube hit a parked truck, according to police. The driver, who was airlifted to UC Irvine Medical Center with major injuries, was arrested on suspicion of driving under the influence.
On Dec. 28, at Brookhurst Street and Atlanta Avenue, a truck ran a red light, colliding with an SUV, according to witness accounts relayed by police. The truck rolled once before landing on its side. Both drivers suffered minor cuts and bruises. At the time, police said they were investigating.
And on New Year's Day, when I rode my bike past Warner Avenue and Pacific Coast Highway, I saw that one of the traffic light posts had been decimated the night before. The driver had been arrested on suspicion of DUI, said police Sgt. Dave Dereszynski.
As you can see, not all of these incidents involved suspected DUIs. I'm concerned about drivers in general — speeding, distracted and reckless.
Yes, this is unscientific, but every day I cannot help but notice the ever-increasing number of drivers texting, checking emails and yakking on their phones. You would've thought a law had been passed mandating that drivers use their cell phones at all times.
We are beginning to see what happens when these things go unchecked.
I am hopeful that the number of crashes will decrease as we move out of the holidays, but I will not be surprised if they don't. We are reaching critical mass.
Enough studies show that use of smartphones is as bad as or even worse than alcohol when it comes to driver impairment.
If you saw somebody chugging a bottle of whiskey at a red light, you would do something about it.
Why not when you see somebody texting while driving 45 miles an hour down Edinger Avenue?
What about people who wear ear buds while driving, desensitizing them to exterior noise?
While we are at it, let's apply the same safety standards to pedestrians who bury their noses in smartphones while crossing the street.
Awareness, on foot as well as behind the wheel, matters. It is sad to think that this even needs to be pointed out. But as with any addiction, common sense rarely enters the picture.
Unless we start taking seriously every aspect of driving, we are only going to see more reports of crashes with more innocent people involved.
I would like to see Huntington Beach become known as a zero-tolerance city when it comes to dangerous driving — and walking.
We are too big a destination not to start treating this for what it is: an open invitation to disaster. The more people Huntington Beach police can cite, the tougher and safer our city's reputation will be.
Prayers and condolences to the victims and their families suffering after the crashes this holiday season, and thanks to the Huntington Beach Police and Fire departments and all of the rescue services that responded so efficiently.
Here's to a safer and more sound 2014.
CHRIS EPTING is the author of 19 books, including the new "Baseball in Orange County," from Arcadia Publishing. You can chat with him on Twitter @chrisepting or follow his column at https://www.facebook.com/hbindependent.
---
All the latest on Orange County from Orange County.
Get our free TimesOC newsletter.
You may occasionally receive promotional content from the Daily Pilot.