'Unbelievably tragic': Ex-CdM athlete Matt Olson is killed when hit by cars while walking on 110 Freeway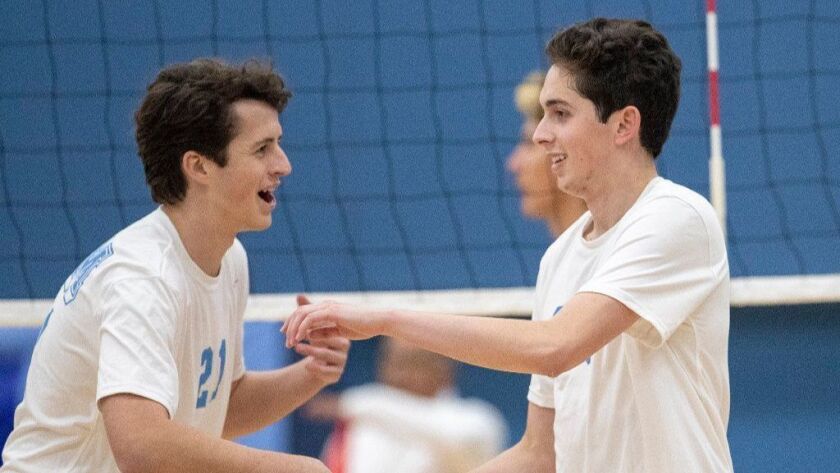 Matt Olson, a 2019 graduate of Corona del Mar High School who played on its boys' basketball and volleyball teams, died early Saturday in a hit-and-run collision while walking on the 110 Freeway near USC, the California Highway Patrol said.
Olson was walking south on the freeway between two FasTrak lanes north of 37th Street in Los Angeles when a car to the right of him hit him at 2:43 a.m. Olson fell into another FasTrak lane and was struck by another vehicle, which did not stop, according to authorities.
The driver of the first car stopped to help before the Los Angeles Fire Department arrived. Paramedics pronounced Olson dead at the scene.
"It is unknown at this time why [Olson] was walking in the freeway lanes," the CHP said in a news release.
Olson was set to begin his freshman year at USC, where he was planning to major in business.
Olson was a middle blocker for the CdM boys' volleyball team, helping the Sea Kings win the CIF Southern Section Division 1 crown, the CIF State Southern California Regional Division I title and the 2018 national championship as a junior.
He received a Coach's Award for Hardest Working Player.
Olson also participated in the Best Buddies club on campus, which helped form friendships with people with developmental and intellectual disabilities.
"He was such an unbelievable kid," Sea Kings boys' volleyball coach Sam Stafford said. "He was going to be, I'm sure, such an unbelievable person that it's hard to imagine something like this happening to somebody like that.
"I was fortunate to get to know him his senior year, and it's just hard. It's hard to put into words what you think when something like this happens."
Corona del Mar Principal Kathy Scott met with staff Monday morning about Olson's death and said resources would be available to students, who start school next week.
"This is an unbelievably tragic situation that the family and our community is faced with," Scott said in a statement. "We understand that a loss like this can be traumatic and that everyone grieves differently. We have supports and resources available to staff and students who may be affected by this tragedy."
USC also issued a statement expressing sadness.
"Our heartfelt condolences are with Matt's parents, family and friends as they mourn this terrible loss," the statement read.
The Southern California Volleyball Assn. posted a tribute to Olson on Facebook with comments from his coaches.
"Matt Olson was the heart and soul of the team," said one of his coaches, Matt Marrujo. "It is impossible to measure the impact he had on his teammates. He was an incredible young man that lived his life to the fullest. Matt was the type of player that made me a better coach and person."
Andrew Turner is a Daily Pilot staff writer. Alejandra Reyes-Velarde writes for the Los Angeles Times.
::
Support our sports coverage by becoming a digital subscriber.
For more sports stories, visit latimes.com/socal/daily-pilot/sports or follow us on Twitter @DailyPilotSport.
Updates
11:17 a.m. Aug. 26, 2019: This article was originally published at 9:33 p.m. Aug. 24 and has been updated with additional information and comments.
---
All the latest on Orange County from Orange County.
Get our free TimesOC newsletter.
You may occasionally receive promotional content from the Daily Pilot.