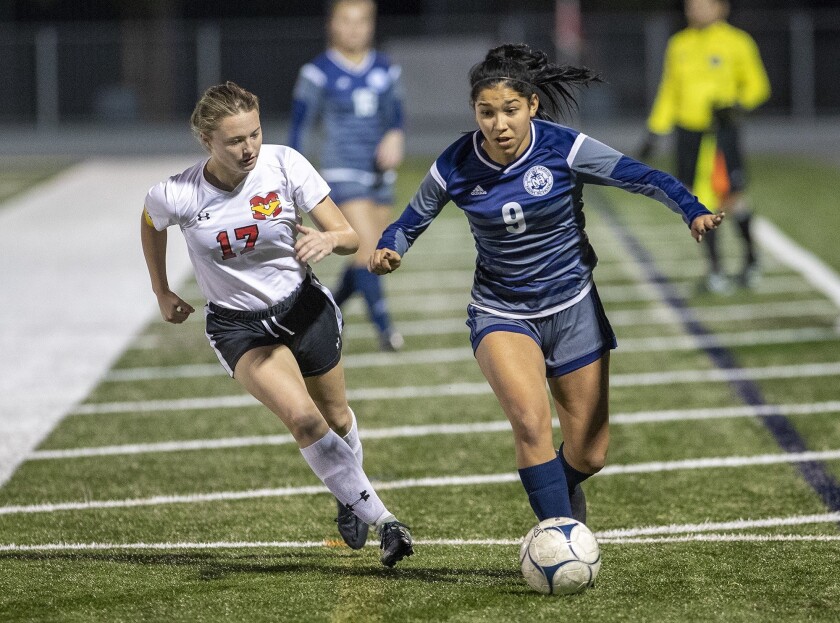 Skylynn Rodriguez, Reese Bodas, Kenna Robar and Mikayla Downey each scored a goal, and the Newport Harbor High girls' soccer team blanked Costa Mesa 4-0 on Wednesday in a Back Bay Invitational match at home.
Alyssa Sims had two assists for Newport Harbor (1-0), and Rodriguez and Nicole Laz had one assist each. Goalkeeper Jessica Gardner made one save in the shutout.
Costa Mesa is 1-1.
Newport Harbor hosts Oak Park on Friday at 6:30 p.m. in a Back Bay Invitational match, while Costa Mesa plays at Portola at 6 p.m. Friday.
Corona del Mar 5, Portola 1: Megan Chelf, Erin Galvin, Kennedy Campbell, Maddy Rosen and Erin Jones each scored for the Sea Kings in Wednesday's Back Bay Invitational match at Newport Harbor High.
Mia Ferrentino had two assists for the Sea Kings (1-0), while goalkeepers Gio Broderick and Sydney Walls each made two saves.
CdM continues the Back Bay Invitational with a match against Rolling Hills Estates Peninsula on Friday at 3 p.m. at Newport Harbor.
BOYS' BASKETBALL
Laguna Beach 56, Edison 52: Nolan Naess scored 24 points for the Breakers in Wednesday's Grizzly Invitational game at Godinez High.
Lucas Kravitz added 12 points for Laguna Beach (5-2), which plays San Clemente on Thursday at 7:45 p.m. at Godinez.
Bradley Luna led Edison (3-1) with 12 points.
San Clemente 79, Newport Harbor 63: Levi Darrow had 25 points for the Sailors in Wednesday's Grizzly Invitational game at Godinez High.
Ryan Miller added 20 points for Newport Harbor (5-2).
Villa Park 73, Huntington Beach 51: The Oilers fell to 2-6 after dropping Wednesday's Grizzly Invitational game.
Long Beach Wilson 57, Costa Mesa 45: The Mustangs are 2-4 after Wednesday's Grizzly Invitational game.
BOYS' SOCCER
Edison 2, Manhattan Beach Mira Costa 1: The Chargers received goals from Chandler Kane and Steven Garcia on Wednesday in their season opener at home.
Yorba Linda 2, Estancia 1: Felix Solis scored a goal for the host Eagles in Wednesday's nonleague match.
Estancia (1-3-1) remains at home to face Edison on Friday at 5 p.m.
Corona del Mar 4, Garden Grove 2: Zach Cohen had a hat trick for the visiting Sea Kings in their season opener on Wednesday.
Jennings Torgelson also scored for CdM. Aiden Holmes and Thomas Glessing each had an assist.
GIRLS' BASKETBALL
Long Beach St. Anthony 65, Corona del Mar 35: The Sea Kings dropped their second straight game in the Supreme Flight of the Hawk Holiday Classic at Ocean View High.
Trasara Alexander had 14 points for CdM (4-4).
Cypress 49, Edison 43: Lainey Johnson had 15 points and five rebounds for the Chargers in Wednesday's Ultimate Flight game of the Hawk Holiday Classic at Liberty Christian School.
Madison Copeland added seven points and 13 rebounds for Edison (3-4).
South Pasadena 44, Fountain Valley 36: The Barons lost Wednesday in a first-round game of the Norwalk Tournament.
Fountain Valley (1-3) will square off with tournament host Norwalk on Thursday at 5 p.m.
::
Support our sports coverage by becoming a digital subscriber.
For more sports stories, visit latimes.com/socal/daily-pilot/sports or follow us on Twitter @DailyPilotSport.
---