Kaytlin Taylor wasn't sure what to expect in her first year with the Huntington Beach High girls' tennis team.
Taylor's talent was obvious, but the junior left-hander had just spent two years at a hybrid high school, Pacific Coast in Tustin. How would she fit in on a Huntington Beach team coming off winning the CIF Southern Section Division 3 title last year, the program's first CIF crown?
"When I first decided to come in, I was like, 'I have to at least like one person, or get along with at least a couple [of] people,'" Taylor said. "But I really love every single one of the girls."
Taylor helped engineer yet another magical season for the Oilers (19-5). It included claiming the Wave League championship, which was the first league title in program history. And despite moving up two CIF divisions, Taylor helped lead Huntington Beach to the Division 1 semifinals before a 13-5 loss to top-seeded Corona del Mar, which went on to win the crown.
Taylor earns the 2019 Daily Pilot Girls' Tennis Dream Team Player of the Year award for her leadership and team-first attitude.
She also won the Wave League singles title in memorable fashion, with a 1-6, 6-3, 11-9 victory over Marina freshman Mika Ikemori. Taylor battled through cramps in the third-set super-tiebreaker, taking an injury timeout at 9-9 before winning the last two points.
Taylor giggles when the dramatic nature of the match is brought up. The win over Ikemori avenged the only loss of the regular season for Taylor, who finished 58-2.
She was undefeated in the team playoffs and advanced to the round of 16 in the CIF Southern Section Individuals singles tournament, before losing 6-0, 6-4 to No. 4-seeded Jordyn McBride of Valencia West Ranch.
"She's quite a player," Oilers coach Suzanne DeVries said. "Even after her final loss, she had a very calm demeanor. Very humble and grateful for her opportunities."
Taylor enjoyed the chance to help the Oilers again make history.
"I feel like we did much better than we were all expecting ourselves to do," she said. "I feel like it added a lot of confidence to our whole team together, for next year, not only just for this year. That was really fun to go through with [my teammates]."
COACH OF THE YEAR
Cathy Binnquist
Costa Mesa
Binnquist took over the Mustangs just before the start of the season, as the head coaching position had not been filled since Ryan and Meg Broccolo had resigned in June. It was rough sledding at first for Costa Mesa, which did not even have enough players to field a full lineup at the start of the season. Binnquist, an accomplished pickleball player who is the grandmother of Corona del Mar High football running back Riley Binnquist, still guided Costa Mesa to its second straight outright Orange Coast League title. The Mustangs finished 9-8 overall and 7-1 in the league, losing 11-7 to San Dimas in the first round of the CIF Southern Section Division 4 playoffs.
FIRST-TEAM SINGLES
Mika Ikemori
Marina | Fr.
Ikemori, an accomplished junior tournament player, did not disappoint in her first year of high school tennis. She was the Wave League singles runner-up for Marina (10-13, 0-6 in league) and advanced to the quarterfinals of the CIF Southern Section Individuals singles tournament. Known for her sportsmanship as much as her talent, Ikemori finished the season 36-2.
Hannah Jervis
Corona del Mar | Jr.
Jervis made this list in doubles last year, but she made the move to No. 1 singles this year for the Sea Kings. She helped lead CdM (18-5, 6-0 in Surf League) to league and CIF Southern Section Division 1 titles. Playing against many talented players in the Sea Kings' difficult nonleague schedule, Jervis still finished with a 40-15 record and advanced to the second round of the Individuals singles tournament.
Cindy Huynh
Huntington Beach | So.
Huynh was the top singles player on last year's CIF Southern Section Division 3 title team for the Oilers, and this year she moved to the No. 2 line with the addition of Taylor. The aggressive Huynh seemed to improve over the course of the season and finished 43-14. She was fourth in the Wave League singles tournament.
FIRST-TEAM DOUBLES
Ella Pachl and Sarah MacCallum
Laguna Beach | Sr. and So.
The UC San Diego-bound Pachl and MacCallum would typically both be singles players for the Breakers (9-9, 3-3 in Wave League to tie for second), but they teamed up in doubles for the CIF Southern Section Individuals tournament. It paid dividends. The Wave League doubles champions went 7-0 in the tournament and became just the second Laguna Beach doubles team to win the Individuals crown.
Reece Kenerson and Jane Paulsen
Corona del Mar | Jr. and So.
Kenerson and Paulsen settled in as the No. 1 doubles team for the Sea Kings. They finished 22-2 and came up with a clutch sweep in CdM's 11-7 CIF Southern Section Division 1 title match win over Los Angeles Marlborough, rallying for a key win in the second round. They advanced to the CIF Southern Section Individuals doubles round of 16, losing to the eventual finalists from Beckman.
Zoe Coggins and Kailee You
Edison | Sr. and So.
Coggins, who is bound for Dominican University of California and was the Chargers' No. 1 singles player for all four years, thought it would be fun to play in doubles for the postseason. She and You teamed up to become Wave League doubles finalists and advance to the round of 32 of the CIF Southern Section Individuals tournament. They also helped Edison finish 10-7 overall and 3-3 in the tough Wave League to tie for second.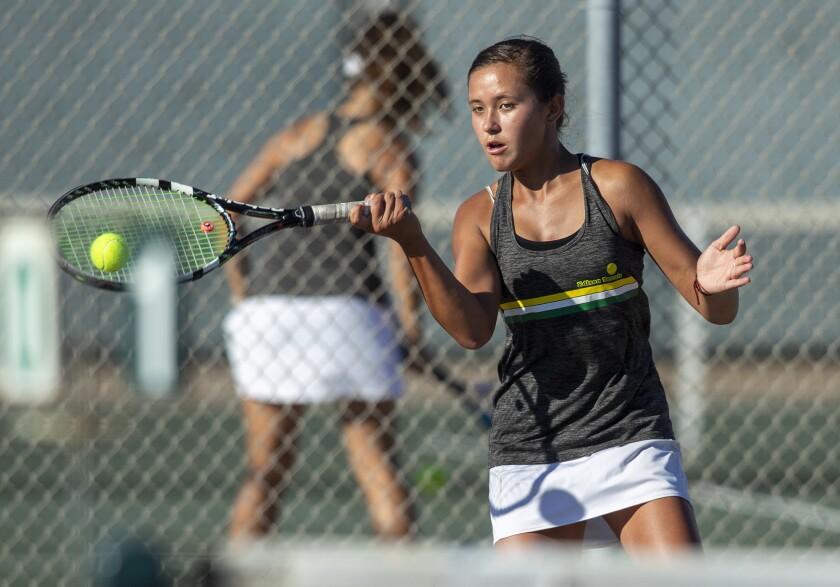 SECOND-TEAM SINGLES
Player, School, Year
Makenna Livingston, Marina, Jr.
Kristina Veskovic, Corona del Mar, So.
Leslie Delgado, Costa Mesa, Sr.
SECOND-TEAM DOUBLES
Players, School, Years
Madison Dao and Julia Yuen, Sage Hill, Seniors
Ashley Thomas and Cate Montgomery, Corona del Mar, Sr. and Fr.
Tori Varela and Olivia Sipiora, Corona del Mar, Juniors
::
Support our sports coverage by becoming a digital subscriber.
For more sports stories, visit latimes.com/socal/daily-pilot/sports or follow us on Twitter @DailyPilotSport.
---