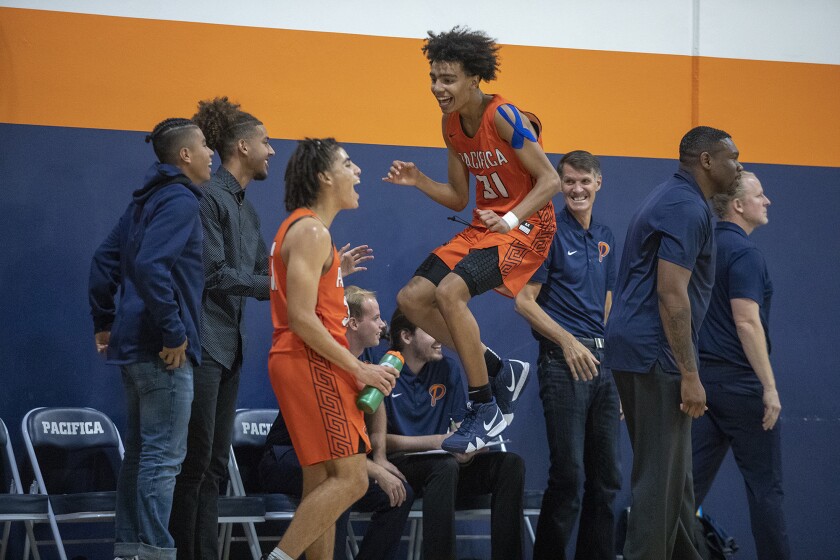 The Pacifica Christian Orange County High boys' basketball team defeated Rancho Cucamonga Los Osos 61-56 on Friday night to advance to the championship game of the CdM Beach Bash.
Houston Mallette had 19 points, nine rebounds and four assists to lead the Tritons (9-1). Charles Erving added 13 points, and Riyaan Jiwani chipped in with 10 points.
Pacifica Christian will oppose Mater Dei in the final on Saturday at 6:30 p.m.
Mater Dei 82, Edison 36: Connor Collins had a game-high 18 points for the Chargers in Friday's semifinal game of the CdM Beach Bash.
Edison fell to 6-3 overall.
Ontario Colony 53, Laguna Beach 50 (OT): A buzzer-beating three-pointer was the Breakers' downfall in the SoCal Elite/Gary Raya Tournament on Friday night.
Nolan Naess had a team-high 18 points for Laguna Beach (7-4). Willie Rounaghi added 14 points, and Brooks Hogenauer scored nine points.
GIRLS' BASKETBALL
Fountain Valley 45, La Quinta 28: Caitlin Okawa had eight points and seven rebounds to lead the Barons on Friday in the Artesia Tournament.
Kristen Ho had a team-high 12 points for Fountain Valley (5-6).
Pacifica Christian 33, Laguna Beach 29: Charis Wondercheck led all scorers with 19 points for the host Tritons in Friday's nonleague game.
Anna Eddy added six points for Pacifica Christian (4-5).
Laguna Beach fell to 6-6.
Edison 42, Westminster 27: Bailey Chang had a team-high 13 points, including a trio of three-pointers, for the host Chargers on Friday in a nonleague game.
Taylor Fullbright added 11 points for Edison, which plays at home against Woodbridge on Monday at 6:30 p.m.
BOYS' SOCCER
Edison 1, Phoenix Desert Vista 0: Luke Slavik scored the goal for the Chargers (4-0) in Friday's game of the Adidas West Coast Showcase at Bellflower High.
Santa Margarita 5, Estancia 0: The visiting Eagles (1-6-2) failed to score for the fourth straight outing on Friday in a nonleague road contest.
JSerra 5, Fountain Valley 1: Vladimir Tobon scored the lone goal for the visiting Barons (1-2) in Friday's nonleague match.
GIRLS' WATER POLO
Marina 16, Long Beach Jordan 2: The Vikings (8-4) advanced to the semifinals of the Westminster Tournament on Friday night.
Marina also beat the host Lions 16-4 to begin tournament play.
::
Support our sports coverage by becoming a digital subscriber.
For more sports stories, visit latimes.com/socal/daily-pilot/sports or follow us on Twitter @DailyPilotSport.
---