Laguna Beach High boys' soccer coach Andy Thomas might subscribe to the moniker that it is better to be lucky than good.
Thomas came away far from satisfied with his team's overall performance, but the Breakers found a way to steal a result on Friday afternoon.
Booker Frith's penalty-kick goal in the 78th minute completed Laguna Beach's 2-1 comeback victory over Ocean View in a nonleague road match.
The junior midfielder deposited the shot into the right side of the goal after Laguna Beach (2-2) created the chance with traffic in the box. Spencer Collins headed the ball into the box, and Griffin Kristensen drew a whistle against Ocean View center back Nathan Santy.
"I feel like as a captain, that's my role there to step up and finish that goal that was created by Griff," Frith said. "I just want to say he created a spark out there that made us eventually win, so I give all credit to Griff. He won that penalty."
Kristensen also had an assist on the tying goal after being activated from his defensive position in the late stages of the second half.
"It feels good," Kristensen said. "We didn't play the best, but we still found a way to win, and that's all that matters right now, just finding ways to win. We got to get better, and we can get better."

Laguna Beach had issues creating opportunities against Ocean View's back line, producing a singular wayward shot in the first half.
Ocean View (0-6-2) broke through for the opening goal in the 50th minute. A loose ball rolled to the feet of Zaul Tlatelpa Cruz, who swung his right leg through for the goal.
The Breakers changed their formation in hopes of becoming more dangerous on offense. Kristensen moved up from the sweeper position and made an immediate impact.
Working the left side of the field, Kristensen received a five-foot pass from Alex Neufeld to get down near the goal line. He dribbled past one defender before rolling a pass in front of the Ocean View goal to John Ford, who tied the score in the 68th minute.
"[The Seahawks were] very solid defensively," Thomas said. "They are technically very good. We tried different ways to break them down, and it wasn't working. We tried to possess. That didn't work. We tried to play direct. That didn't work.
"Obviously, changing the formation, putting our sweeper up front who [plays with] pace, that is what got in behind them, and that was the difference."
Odin Flores made five saves for Laguna Beach, and he also nullified several scoring opportunities by coming off his line to glove off the ball. In the 28th minute, he jumped and grabbed the ball just above the head of Ocean View's Parker Walpole.
"He had a good game today," Thomas said. "He is only a sophomore, so new to varsity, and he is playing above and beyond his age and his grade. He had a very good game today, and he has been playing well all season."
Ocean View has yet to collect its first win of the season after going 1-20 overall in the 2018-19 campaign. The Seahawks have played in six matches that were decided by one goal or ended in a tie.
"They're getting [better] slowly but surely," first-year coach Elmer Chacon said. "They say that slow progress is better than no progress, right? You do see the growth in them. It's going to take time. It's a treatment. It's not a cure.
"Over time, I see the boys improving a lot, and to me, that's a huge win in itself."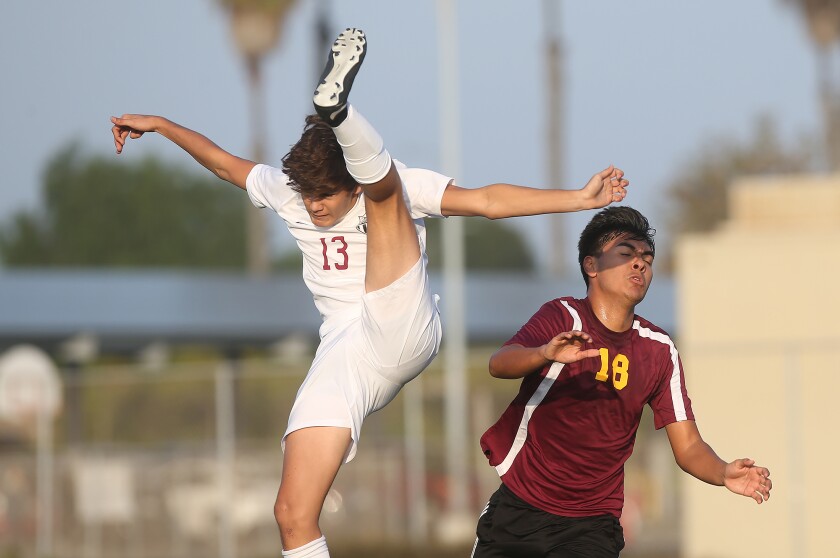 Support our sports coverage by becoming a digital subscriber.
For more sports stories, visit latimes.com/socal/daily-pilot/sports or follow us on Twitter @DailyPilotSport.
---