When talent meets hard work, success often follows.
The Fountain Valley High wrestling program has a solid mixture of both in its wrestling room right now.
Four years ago, the Genesis Wrestling Club got its start. Fountain Valley, which had already become the class of the Sunset League with four consecutive league championships at that point, had added a feeder program that helped ensure its growth.
An influx of talented wrestlers followed. The Barons have a trio of returners who qualified for the CIF State wrestling championships last season, and they are still going to be around for a while. The group includes junior Max Wilner, as well as sophomores Sean Solis and Zach Parker.
Fountain Valley also has a long list of coaches in the room. Brad Woodbury and Dennis Piramo are the co-head coaches of the program.
Additionally, the Barons have an experienced coaching staff that includes Danny Woiwor, Maolu Woiwor, Jeremy Thomas, Robert Vasquez, Blake Vasquez, Alex Damschen and Ben Yasatomi.
It would appear that the only way in which such a setup could work is if egos get checked at the door.
The Barons, who won the CIF Southern Section Northern Division title last year, enter the season as the top-ranked team in the Division 4 poll.
In the case of Solis, the ego is a nonissue. By all accounts, he observes the formalities. He shakes hands and thanks his coaches after practice, but his opponents see a different side of him.
"That just goes to show you how he was raised, and it speaks to his parents and his upbringing," Danny Woiwor said of Solis' personality off the mat. "As soon as he gets on the mat, it's just attack, attack, attack. He's always on the offense. He even told me at the beginning of this year, before last weekend's tournament, that he wants to be an aggressor.
"I think he showed that going and getting three falls and a tech fall in the finals. He's a great kid, but it's just seeing that tenacity really finally start to come out of him even more and more. It's awesome to see."
At the Cossarek Classic at Westminster High, Solis opened the season by earning the honor of lower weight MVP after winning the 113-pound title.
From a team standpoint, as well as individually, Solis' expectations could not be higher.
Fountain Valley won the CIF Southern Section Northern Division individual wrestling championships as a team last season. The Barons had three CIF individual champions that day in Solis (106), Wilner (160) and now senior Matthew Fee (220).
"We're a pretty deep team this year compared to last year, and now, the expectation is to win CIF, not just try to win," Solis said. "We have to win this year."
Fountain Valley enters the season as the top-ranked team in the Division 4 poll.
Solis fell one match shy of earning a state medal at 106 pounds last season, winning four straight matches in the consolation bracket after losing to No. 4-seeded Brayden Abell of Oakdale in the first round.
He hopes to improve upon that finish this season. Solis is the No. 10-ranked wrestler in the state at 113 pounds, per TheCaliforniaWrestler.com.
His father wrestled at Rio Hondo College, but Solis said that joining the sport was a decision that he made on his own. The sophomore started wrestling at age 7, and he got serious about his training by the time he was 12.
"I really wanted to [wrestle]," Solis said. "Wrestling is like my life. I love wrestling. Wrestling is the greatest thing that has ever been created.
"You have to be locked in. That's all you work for. You can't focus on two different sports and be good at wrestling."
Solis specializes in single legs and cradles to score points, especially as one of the taller wrestlers in his weight class. No matter what, he feels in control when he is on the mat.
"I also like to wrestle my match," Solis said. "I bring the tempo. It's my pace, my tempo, my moves, my attacks. I shoot, I score. You shoot, I score."
The rankings matter to Solis. As he sets his sights on another strong season, he has pointed to meetings with top-ranked teams like Clovis Buchanan at the tournaments as his opportunity to make a statement.
Piramo acknowledged that Solis' focus and attention to detail should serve him well going forward.
"He is very disciplined," Piramo said. "He's on a mission to do what he wants to do this year. His confidence is growing every tournament. His weight is under control. He gets great grades. He is just a student of the sport.
"He solidified his spot in the room, but obviously, every year is new, so he's got to continue to earn it every weekend."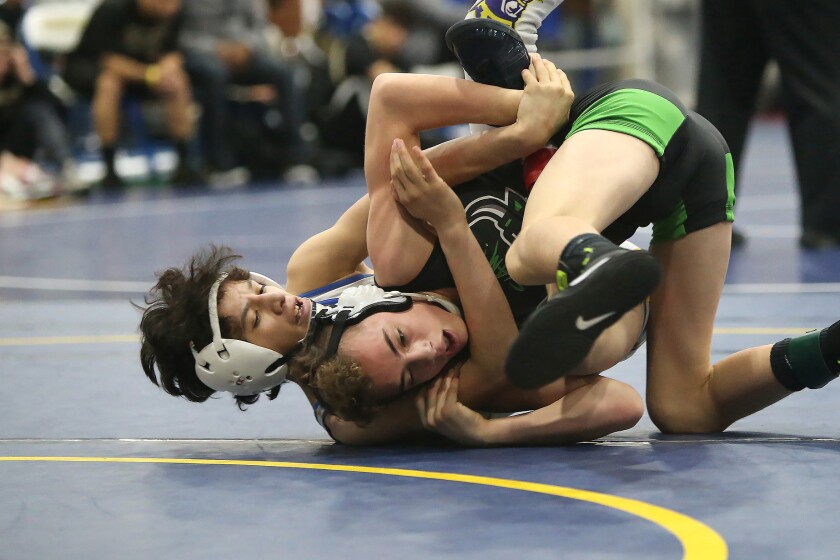 Sean Solis
Born: Oct. 17, 2003
Hometown: Fountain Valley
Height: 5 feet 7
Weight: 113 pounds
Sport: Wrestling
Year: Sophomore
Coach: Brad Woodbury and Dennis Piramo
Favorite food: Carne asada burrito with bean and cheese
Favorite movie: "Avengers: Endgame"
Favorite athletic moment: Solis qualified for the CIF State wrestling championships last season as a freshman at 106 pounds. He went 4-2 in his first appearance at the state tournament, which included a 1-0 loss by decision to No. 4-seeded Brayden Abell of Oakdale in the first round of the main draw.
Week in review: Solis won the 113-pound title in the Cossarek Classic at Westminster High on Dec. 7. He recorded three pins and a technical fall en route to being named the lower weight MVP of the event.
::
Support our sports coverage by becoming a digital subscriber.
For more sports stories, visit latimes.com/socal/daily-pilot/sports or follow us on Twitter @DailyPilotSport.

---