High School Roundup: Marina girls' soccer blanks Estancia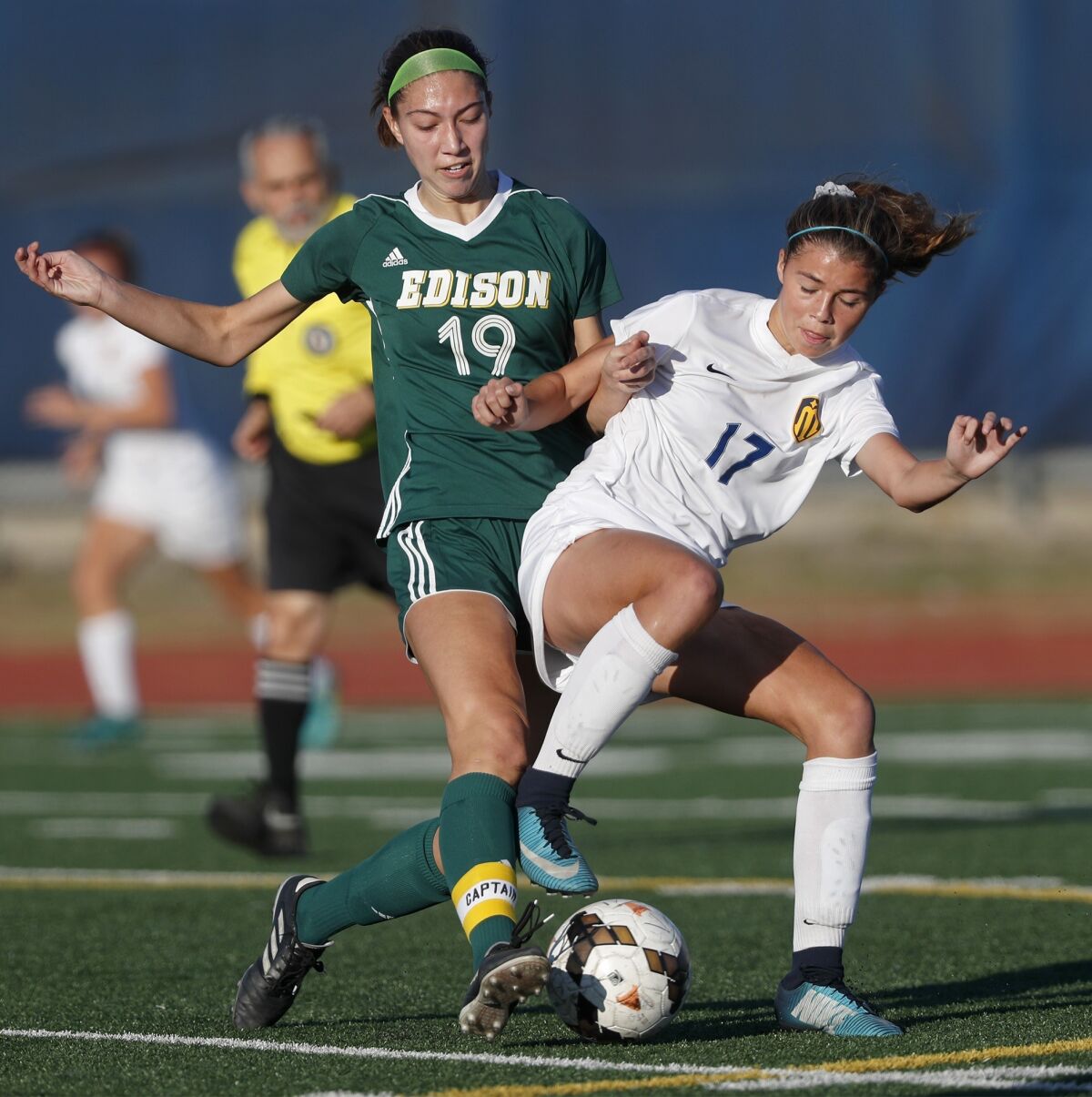 Kaitlyn Paculba and Haley Boren each had goals for the Marina High girls' soccer team in a 2-0 nonleague win at Estancia on Thursday.
Marina (2-4-1) plays in the Best in the West Winter Classic Saturday. The Vikings play Menifee Paloma Valley at 8 a.m. at Warren High in Downey.
Estancia (0-4-1) continues Best in the West tournament play Saturday at 8 a.m. against Ontario Christian at Westminster High.
Newport Harbor 3, Santa Ana 0: Skylynn Rodriguez had three goals for the Sailors in Thursday's nonleague home match.
Alyssa Sims, Sadie Pitchess and Emmie Degen all had assists for the Sailors (8-1). Goalkeepers Jessica Gardner and Itzia Rivera combined on the shutout.
Newport Harbor, ranked No. 6 in the CIF Southern Section Division 1 poll, plays Temecula Valley in the Best in the West Winter Classic "ABCD" Division semifinals Saturday at 11 a.m. at home.
San Clemente 3, Laguna Beach 1: The Breakers are 2-2-1 after dropping Thursday's nonleague home match.
BOYS' BASKETBALL
Fort Lauderdale (Fla.) 57, Fountain Valley 53: Jeremiah Davis had 29 points, five rebounds and two assists for the Barons in Thursday's Eastbay Division game of the Tarkanian Classic at Faith Lutheran High in Las Vegas.
Fountain Valley (5-3) continues in the tournament Friday.
Brethren Christian 60, Torrance Ambassador 53: The Warriors are 9-3 after Thursday's Liberty Christian Tournament game.
Edison 38, Sanger 34: Luke Serven scored 11 points for the Chargers in Wednesday's Maui Invitational game in Hawaii.
Kyle Boyce, Connor Collins, Jackie Kwok and Brad Luna all scored six points for Edison (7-4).
GIRLS' BASKETBALL
Huntington Beach 55, Concord Carondelet 47: Andie Payne led the Oilers with 17 points in Thursday's game of the Nike Tournament of Champions in Phoenix, Ariz.
Akemi Tanga added 14 points for Huntington Beach (6-3).
La Puente Bassett 45, Fountain Valley 43: Zoe Ziegler had a team-high eight points for the visiting Barons on Thursday in a nonleague game.
Madison Suekawa had seven points, and Caitlin Okawa added six points for Fountain Valley (6-7).
The Barons had the final possession with 14 seconds remaining, but Bassett made the stop on defense.
Tesoro 64, Edison 45: Gwen Ontiveros had a team-high nine points on a trio of three-pointers for the visiting Chargers in a nonleague game on Thursday.
Lainey Johnson and Sarah Gray both had eight points for Edison (7-6).
Newport Harbor 28, Northwood 23: Chloe Swanson had seven points and 14 rebounds for the visiting Sailors in a nonleague game on Thursday.
Cydney Jover added eight points and three steals, and Genevieve Perry chipped in with seven points and five rebounds for Newport Harbor (9-4).
Corona del Mar 65, El Modena 10: The Sea Kings improved to 9-4 overall following Thursday's nonleague road game.
Laguna Beach 34, Saddleback Valley Christian 14: The host Breakers (8-7) snapped a four-game losing streak in Thursday's nonleague game.
GIRLS' WATER POLO
Estancia 12, Los Amigos 2: Sydni White had six goals for the Eagles in Thursday's nonleague game at Costa Mesa High.
Gidget Brestel scored three goals for Estancia (8-4), and Giannina Bauer made seven saves.
::
Support our sports coverage by becoming a digital subscriber.
For more sports stories, visit latimes.com/socal/daily-pilot/sports or follow us on Twitter @DailyPilotSport.
All the latest on Orange County from Orange County.
Get our free TimesOC newsletter.
You may occasionally receive promotional content from the Daily Pilot.