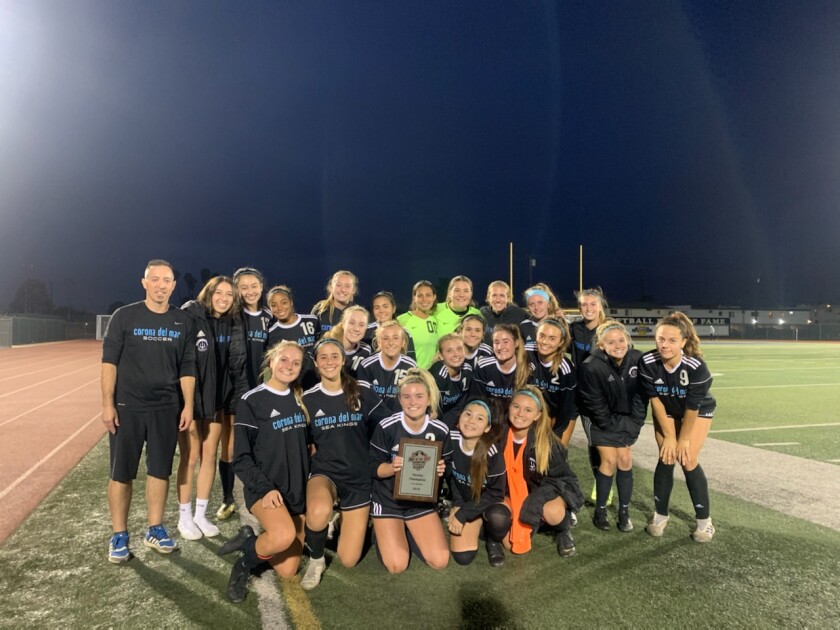 Emiko Tachiki scored the game-winning goal as the Corona del Mar High girls' soccer team beat La Serna 1-0 in the Best in the West Winter Classic "EFGH" Division title match Saturday at Warren High in Downey.
Goalkeeper Sydney Walls made five saves for the Sea Kings (9-0), ranked No. 5 in CIF Southern Section Division 1.
Earlier Saturday, CdM beat Warren 3-1 in the division semifinals. Megan Chelf scored two goals, and Mia Ferrentino added a goal.
Erin Jones and Maddie Rosen each had an assist, and Walls made six saves.
CdM returns to action when it kicks off Sunset Conference play with a crossover match against Marina on Jan. 4 at Bonita Creek Park.
Newport Harbor 3, Long Beach Millikan 1: Reese Bodas scored two penalty kicks for the Sailors in Saturday's Best in the West Winter Classic "ABCD" Division match at Newport Harbor High.
Nicole Laz also scored on a penalty kick for the Sailors (10-2), who earlier Saturday lost in the division semifinals, 2-1 to Temecula Valley. Bodas scored on a penalty kick.
WRESTLING
Edison Beach Bash
Marina's Mike McCoy and Edison's Jacob Iida each won individual titles in the tournament Saturday at Edison High.
McCoy was first at 126 pounds, registering three pins and one decision win in the tournament. Iida placed first at 160 pounds, with two pins and one decision.
Marina's Jared Causse finished second at 170 pounds and Corona del Mar's Emilio Franco placed second at 220 pounds.
Zinkin Classic
Fountain Valley's Max Wilner was a finalist at 170 pounds in Saturday's tournament action at Clovis Buchanan High.
Wilner lost via decision to Giano Petrucelli of Clovis in the title match, 3-2.
Ed Springs Tournament
Kai Villasenor finished second at 106 pounds for Newport Harbor on Saturday at Brea Olinda High.
The Sailors' JJ Perez placed fourth at 220 pounds, and Aidan Gassel was seventh at 138 pounds. Newport Harbor placed 13th as a team.
BOYS' BASKETBALL
Valencia of Placentia 84, Ocean View 74: Slater Miller had 21 points for the Seahawks in the Loara/Godinez Tournament title game Saturday at Loara High.
Luke Washington added 19 points for Ocean View (8-6).
Newport Harbor 64, Sage Hill 40: Robbie Spooner had 13 points and 10 rebounds for the Sailors in Saturday's nonleague game at Sage Hill.
Nick Silva also scored 13 points for Newport Harbor (11-3).
Sage Hill fell to 3-8.
Fountain Valley 67, Eastvale Roosevelt 60: The Barons finished 3-1 in the Tarkanian Classic Eastbay Division after Saturday's win in Las Vegas.
Fountain Valley is 7-3 overall.
Laguna Hills 50, Huntington Beach 48: Freshman guard Congley Tu scored 15 points for the Oilers in Saturday's North/South Challenge game at Tesoro High.
Huntington Beach fell to 4-8 overall.
Estancia 72, Avalon 51: The Eagles improved to 10-3 after Saturday's nonleague road win.
Edison 58, El Toro 42: Connor Collins scored 26 points for the Chargers in Saturday's Maui Invitational semifinal game.
Edison (9-4) played in the tournament final against Mission Viejo late Saturday.
GIRLS' BASKETBALL
Los Angeles Marlborough 29, Huntington Beach 25: Alyssa Real had a team-high 14 points for the Oilers on Saturday in the final of the Nike Tournament of Champions in Phoenix, Ariz.
Andie Payne also had four points, seven rebounds and three blocked shots for Huntington Beach (8-4).
GIRLS' WATER POLO
Laguna Beach 12, Orange Lutheran 6: Kenedy Corlett scored three goals for the Breakers in Saturday's nonleague match at Newport Harbor High.
Morgan Van Alphen, Emma Singer and Molly Renner each scored twice for Laguna Beach (7-0), the top-ranked team in CIF Southern Section Division 1 and 2. Rachael Carver had five assists.
::
Support our sports coverage by becoming a digital subscriber.
For more sports stories, visit latimes.com/socal/daily-pilot/sports or follow us on Twitter @DailyPilotSport.
---