Rival Back Bay girls' soccer teams both off to quick starts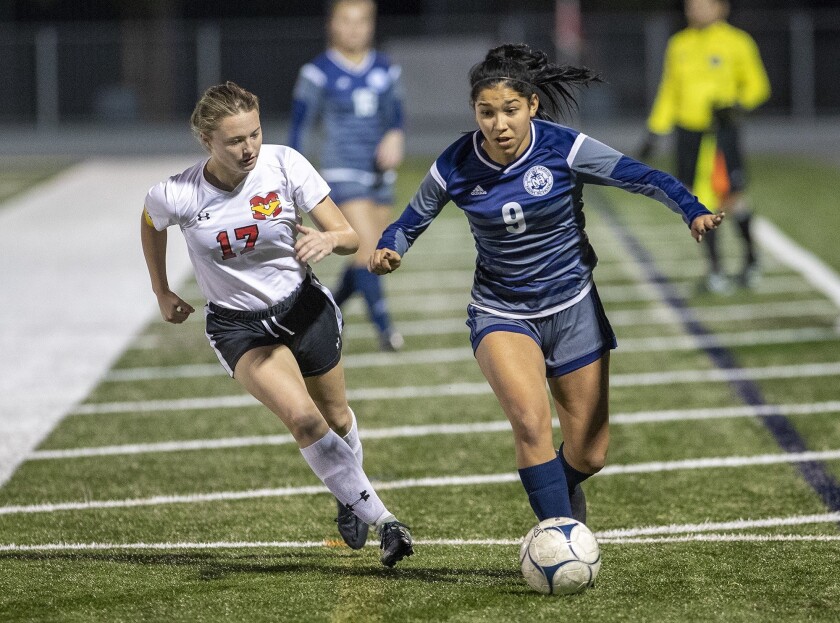 Fast starts have been the norm for the Corona del Mar and Newport Harbor high school girls' soccer teams this season.
In two different matches, University of Arizona-bound CdM senior striker Megan Chelf has scored a goal within a minute of the opening whistle, coach Bryan Middleton said.
Putting opponents on the defensive early has paid dividends for the Sea Kings (9-0) and Sailors (11-2), who are ranked Nos. 5 and 6 in CIF Southern Section Division 1 respectively. Both have tournament championships under their belts, as CdM won the Best in the West Winter Soccer Classic "EFGH" Division title on Dec. 21. On Saturday, the Sailors won the North Orange County Classic "ABCD" Division for the first time in program history.
They are among the strongest teams in the Sunset Conference, and that makes their crossover match even more interesting. The defending Wave League champion Sailors will host the Battle of the Bay match for the first time in recent years, on Jan. 9 at 5 p.m.
"I think it's great, with Newport Harbor back to a level of play where they're a top 10 team, we're a top 10 team, and we're both in the same district with players from our home schools," CdM coach Bryan Middleton said. "It shows the depth of the players within our district."
Chelf has 12 goals for the Sea Kings, who have also benefited from the play of senior volleyball standout Nikki Senske at the right forward spot. Senske was a talented club teammate of Chelf with the SoCal Blues, before deciding to focus on volleyball in high school. But she decided to come out for girls' soccer as a senior.
"When she was able to come out when volleyball was done, you could just see her athleticism in the first 10 minutes," Middleton said. "So far, she's fit great on the team. She tried a little defense, which she can play with her athletic abilities, but she's risen to the occasion at right forward. She's earned quite a few assists and a few goals, and she's just a strong, physical presence on the field."
Senior Mia Ferrentino, bound for Columbia University, has been a key player in the midfield for CdM, which also has a strong back line. Seniors Alex Ianni and Sophia Harvey are on the outside, with juniors Avery Doherty and Anna Neiger playing center back. Junior Maddy Rosen is another versatile player for CdM.
Sophomore goalkeeper Sydney Walls, also a standout softball player, has stepped up with junior keeper Giovanna Broderick out with a foot injury in the last couple of weeks. Middleton said that senior defender/midfielder Jordan Needham, a transfer from Edison, has served her CIF sit-out period and should make her season debut in Saturday's Sunset Conference crossover match against Marina.
Like Chelf, Long Beach State-bound senior Skylynn Rodriguez leads Newport Harbor with 12 goals. Her six assists tie her for the team lead with junior midfielder Reese Bodas, who also has seven goals.
Senior Sadie Pitchess is another talented player on offense for the Sailors, who have 15 returners from last year's team that advanced to the Division 1 quarterfinals.
Newport Harbor lost Daily Pilot Dream Team Player of the Year Emily Johnson and fellow captain Sofia Velazquez to graduation in the midfield. But coach Justin Schroeder, in his fourth season, said that players like junior Ande Siegel and sophomore Gigi Davila have filled in those roles well.
The Sailors also have an experienced back line led by University of Houston-bound senior Nicole Laz, seniors Liz Peters and Makenzie Trigo, as well as junior center backs Samara Golan and Jenna McConnaughey.
Schroeder expects Newport Harbor to be ready for the Battle of the Bay, which the Sailors won 3-0 last year. Newport Harbor is 2-0-3 in the last five matchups against rival CdM. The Sailors open Sunset Conference crossover play at home against Huntington Beach on Thursday at 5 p.m.
"It's just a motivated group," Schroeder said. "This isn't a team that's whining about training or anything. They're motivated. They get it. They know the work that needs to be done to get you to win league and then do fairly well in the playoffs."
::
Support our sports coverage by becoming a digital subscriber.
For more sports stories, visit latimes.com/socal/daily-pilot/sports or follow us on Twitter @DailyPilotSport.
---
All the latest on Orange County from Orange County.
Get our free TimesOC newsletter.
You may occasionally receive promotional content from the Daily Pilot.